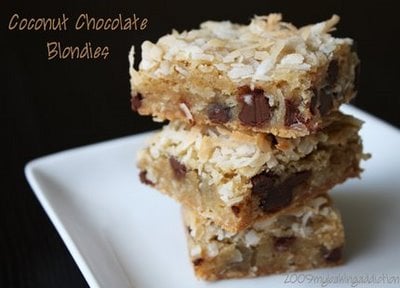 I saw this recipe a few weeks ago on Maria's blog, Two Peas and Their Pod. She posted them for her first wedding anniversary. Be sure to check out the post to see how absolutely adorable she is! I was drawn to the recipe for its simplicity and the fact that I had everything in my pantry to make them.
Maria makes some great recipes, so I decided to try them exactly how she made them, which is a very hard thing for me to do! I am usually one to play with recipe ingredients – tossing in a little extra something here, deleting something there.
This recipe could not come together quicker and that ease of preparation makes them perfect for the a mid-week dessert. I also found that they travel extremely well and think they would be a delectable treat to earn ya some brownie… I mean… blondie points at work.
These were such a hit in my house and at Bri's work, I have made them twice and making a recipe twice in my kitchen is not something that occurs often, especially within a couple of weeks! Next time I make these, Bri wants me to leave out the coconut because he thinks these will be "the best" chocolate chip cookie bars.
If you have a little extra time this evening, whip these together and make someone in your life feel extra special!

Coconut Chocolate Chunk Blondies
July 10th, 2009
Ingredients:
1 cup all-purpose flour
1/8 teaspoon salt
4 ounces unsalted butter, melted and cooled to room temperature
1 cup light brown sugar
1 large egg
1 1/2 teaspoons vanilla extract
1 cup sweetened flaked coconut
1 cup chocolate chips or chunks
More Coconut-for sprinkling on the top of the bars.
Directions:
1. Preheat oven to 350°F. Spray an 8-inch square baking pan with cooking spray.
2. Combine the flour and salt; whisk and set to the side.
3. Stir together the melted butter and brown sugar until smooth and creamy; beat in egg and vanilla extract until well blended.
4. Slowly beat in the flour and salt mixture until just blended. Next, stir in the coconut and chocolate chips. Scrape the batter into the pan. Make sure the batter is spread evenly, smooth with a spatula. Sprinkle extra coconut on top of the bars.
5. Bake for 25-30 minutes, or until set in the center but still soft. Do not overbake the bars. Let cool slightly before serving. Cut the bars into squares.
[pinit]
If you enjoyed this recipe, you may like...