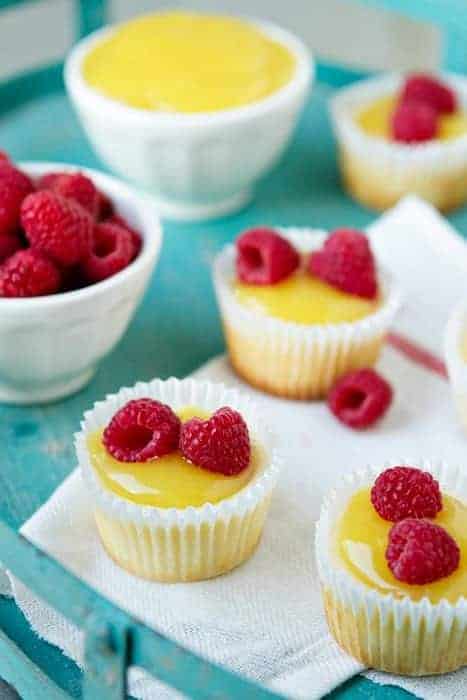 Mini Lemon Cheesecakes topped with homemade lemon curd and fresh raspberries creates the perfect dessert for any Mother's Day celebration.
I come from a cheesecake obsessed family. Whether it's mini cheesecakes in jars for a spring birthday party or a pumpkin cheesecake on Thanksgiving, a cheesecake of some variety graces our table for almost every occasion. It's one of those desserts that immediately takes me back to being a kid and baking with my Nana.
Perched up on a kitchen stool, I'd help her every step of the way. From sifting cups of flour and cutting shapes into pie dough to rolling up the perfect pumpkin roll, I was always her right hand girl. Many times, we'd bake the day away and then deliver our sweet treats to neighbors, church friends, and family. I loved every minute of it. In that kitchen is where my love for baking began.
When McCormick asked me to bake and share a recipe that reminded me of my mom or grandma, I knew exactly what I wanted to share with you – yep, you guessed it – cheesecake. And since Mother's Day is just around the corner, I thought Easy Mini Lemon Cheesecakes would be the perfect way to celebrate the day.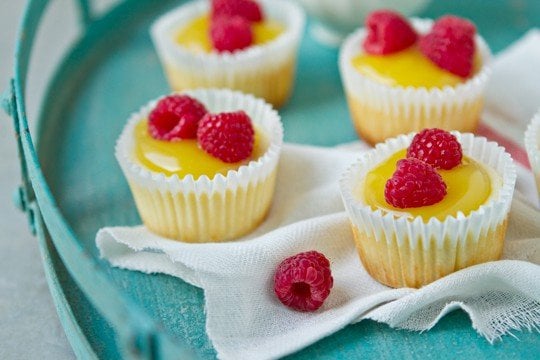 I'm always been a fan of individual desserts. They're super cute and come with built in portion control, which is definitely a good thing for this cheesecake loving girl! With a short list of ingredients and about 30 minutes, you'll have perfectly baked cheesecakes that are full of spring flavors and fit for any Mother's Day brunch.
Nana always used McCormick vanilla extract, it was a staple ingredient in all of her baked goods. And there's no question why – McCormick's Pure Vanilla Extract has been one of America's essential baking ingredients for over a century. Starting with a staff of three in 1889, McCormick has grown to become the country's largest producers of extracts. Every time I pick up a bottle of McCormick vanilla extract, I'm reminded of our time in Nana's kitchen.
This year, McCormick marks its 125th anniversary by celebrating the role flavor plays in all of our lives, inspiring conversation, and giving back to communities around the world. Launched in December 2013, the Flavor of Together program aims to start a global conversation about food and flavor by asking people to share their experiences with one another. The program is also a way to give back; for every story shared using #FlavorStory or on FlavorofTogether.com, McCormick will donate $1, up to $1.25 million, to United Way – to help feed those in need. Pretty awesome, huh?
To learn more about the Flavor of Together program and find helpful tips and delicious recipes, be sure to follow McCormick on Facebook and Pinterest.
GIVEAWAY DETAILS
– Share your own unique flavor story about your mom by commenting on this post using the hashtag #flavorstory and be entered for a chance to win a McCormick Anniversary Pack. The pack includes exclusive McCormick product, a McCormick recipe book, a Bodum French Press, and a branded canvas tote – all valued at $100.
– Open to USA residents only. Void where prohibited.
– Giveaway will run from May 8, 2014 to May 13, 2014 at 11:59pm EST.
Mini Lemon Cheesecakes
May 8th, 2014
Yield: 12 servings
Prep Time: 15 minutes
Cook Time:
Ingredients:
2 packages (8 ounces each) cream cheese, softened
2/3 cup granulated sugar
zest of one large lemon
2 large eggs, room temperature
2 teaspoons McCormick® Pure Vanilla Extract
1 tablespoon freshly squeezed lemon juice
12 vanilla wafers
1 cup homemade lemon curd
fresh raspberries
Directions:
1. Preheat oven to 325°F. Line 12 muffin cups with paper baking liners.
2. In the bowl of a stand mixer fitted with the paddle attachment or in a large bowl with an electric mixer, beat cream cheese for about two minutes.
3. In a medium bowl, combine sugar and lemon zest. Mix with your fingertips until sugar becomes moist and fragrant. Add lemon sugar to cream cheese and mix until light and fluffy. Add eggs, vanilla and lemon juice; beat well.
4. Place a wafer in the bottom of each muffin cup. Spoon batter into each cup, filling each 2/3 full.
5. Bake 22 to 24 minutes or until centers are almost set. Cool in pan on wire rack. (Mini cheesecakes will deflate in center upon cooling.).
6. Refrigerate 4 hours or overnight. Just before serving, garnish cheesecakes with lemon curd and fresh raspberries.
Recipe adapted from McCormick Easy Mini Cheesecakes
Disclosure: This is a sponsored post written by My Baking Addiction on behalf of McCormick® Pure Vanilla Extract . The views and opinions expressed on My Baking Addiction are purely my own.
If you enjoyed this recipe, you may like...