One Very Moist Banana Cake…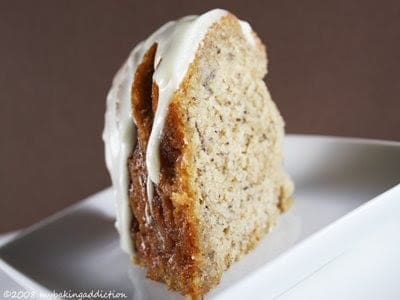 Let me start by saying I hate the word moist…always have, always will. It's one of those words that makes my nose wrinkle. However, I must use the word moist throughout this post because, well, there is really no other way for me to describe this banana cake. I have mentioned in other blog entries that I have a problem with buying bananas and never eating them in their yellow state. Instead, I wait until they are a nice shade of rotten before contemplating their fate. Once they hit the "nasty" stage I start searching…this week I went for a recipe that I have seen several times on various food boards.
It is from Recipe Zaar and has an interesting preparation method. After you bake the cake at a low 275 degrees, you immediately chuck the cake into the freezer for 45 minutes. Apparently this is what makes this cake so….well, moist! I cooked this in a bundt pan because I am on a bundt pan kick right now, don't worry, it will pass. The cake took a lot longer to bake, so I had to keep checking it, which was really infringing on my Sunday night TV time, but it turned out to be amazing. The icing is to die for and adds the perfect amount of sweetness to the cake. If you have some rotten bananas and are looking to make a moist, delicious treat, look no further, this is a winner!

The Best Ever Banana Cake
Yield: 12 servings
Prep Time: 20 minutes
Cook Time: 60 minutes
Ingredients:
For the Cake
1 1/2 cups rip bananas, mashed
2 teaspoons lemon juice
3 cups all-purpose flour
1 1/2 teaspoons baking soda
1/4 teaspoon salt
3/4 cup butter, softened
2 1/8 cups sugar
3 large eggs
2 teaspoons vanilla
1 1/2 cups buttermilk
For the Frosting
1/2 cup butter, softened
1 (8 ounce) package cream cheese, softened
1 teaspoon vanilla
3 1/2 cups confectioners' sugar
Directions:
Preheat oven to 275°. Grease and flour a 9 x 13 pan.
In a small bowl, mix mashed banana with the lemon juice; set aside.
In a medium bowl, mix flour, baking soda and salt; set aside.
In a large bowl, cream 3/4 cup butter and 2 1/8 cups sugar until light and fluffy. Beat in eggs, one at a time, then stir in 2 tsp vanilla.
Beat in the flour mixture alternately with the buttermilk. Stir in banana mixture.
Pour batter into prepared pan and bake in preheated oven for one hour or until toothpick inserted in center comes out clean.
Remove from oven and place directly into the freezer for 45 minutes. This will make the cake very moist.
For the frosting, cream the butter and cream cheese until smooth. Beat in 1 teaspoon vanilla.
Add icing sugar and beat on low speed until combined, then on high speed until frosting is smooth.
Spread on cooled cake.
72 Responses to "One Very Moist Banana Cake…"