Thin Mint Brownies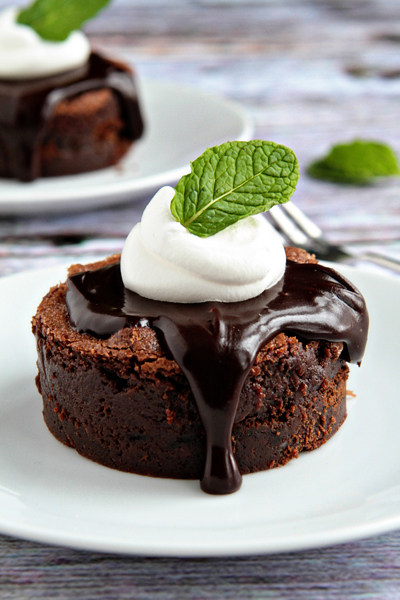 I have and probably will always have a slight obsession with Girl Scout Cookies. I blame this craziness on my dad. Ever since I was a kid, I remember him ordering Thin Mints in excess- filling our freezer to the brim with green boxes of mint chocolate goodness. He used to blame it on the fact that he simply couldn't deny any of the cookie toting little girls, so he had to order a couple of boxes from all of them. He's kind of a sucker like that.
On a recent trip to visit my dad and Louie, I opened his snack cabinet and was greeted by a sea of primary colors – yes, his cabinet was literally bulging with boxes upon boxes of Girl Scout Cookies. He tossed a couple of them my way and instructed me to bake something with them. So, bake something with them I did.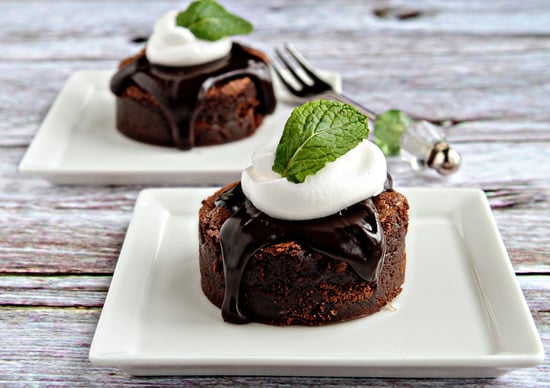 I took my absolute favorite recipe for homemade brownies and baked a layer of chopped Thin Mints into the center. As though that wasn't enough, I decided to make them a little more decadent by serving them with a drizzle of delicious, peppermint infused Hot Fudge Sauce and a dollop of freshly whipped cream. Indulgent? Yes. Delectable? Absolutely.
Whether you're looking for a way to use up your Girl Scout Cookies or you're just a mint chocolate fan, I think these brownies are the perfect way to get the best of both worlds.
[pinit]

Thin Mint Brownies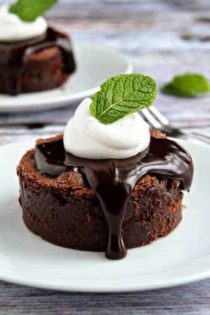 Ingredients:
4 ounces unsweetened chocolate; coarsely chopped
3/4 cup butter, cut into large cubes
1 1/4 cups white sugar
3 large eggs
1 teaspoon pure vanilla extract
1/4 teaspoon peppermint extract
1/4 teaspoon fine grain salt
1 cup all-purpose flour
10 Thin Mint Cookies, roughly chopped
Directions:
1. Preheat oven to 350 degrees. Line an 8×8 inch baking pan with foil and spray with nonstick cooking spray.
2. In a large microwave-safe bowl, melt the chocolate and butter on medium (50% power) for 3-4 minutes or until butter is melted.
3. Whisk until chocolate is melted. Stir in sugar and add in eggs, extracts and salt; mixing until thoroughly combined. Gradually add in flour and stir until just combined.
4. Spread 1/2 of the batter into prepared pan. Add an even layer of Thin Mint Cookies and cover with remaining 1/2 of brownie batter. Bake for 30-35 minutes; do not over bake.
5. Remove to cooling rack. Allow to cool completely before cutting.
6. If desired, top with Hot Fudge Sauce and a dollop of freshly whipped cream.
Notes:
- No Thin Mints? Try using Keebler Grasshopper Cookies as a great alternative.
- I used a large round biscuit cutter to create circular shaped brownies.
- I added 1/4 teaspoon of peppermint extract to my Homemade Hot Fudge Sauce for a little added mint flavor.
All images and text ©
Follow Jamie on Instagram. We love to see what you're baking from MBA! Be sure to tag @jamiemba and use the hashtag #mbarecipes!
This post may contain affiliate links. We are a participant in the Amazon Services LLC Associates Program, an affiliate advertising program designed to provide a means for us to earn fees by linking to Amazon.com and affiliated sites.