My dad and brother came to visit last weekend. I used delicious food to lure them into town to assist Brian and I with the process of installing a new dishwasher and refrigerator. The lovely people at KitchenAid offered to spruce up the MBA kitchen with a few new, shiny appliances.
Brian and I have been contemplating a kitchen remodel for months, but after countless estimates and a pile of tile samples that's taller than I care to admit – we've put the project on hold. Mainly because we thought we could totally channel our inner Bob Villa and do some of the work ourselves, but after installing the appliances, we've realized we're more likely to channel Tim "The Tool Man" Taylor. The installation process wasn't a disaster, but let's just say it wasn't awesome.
After a few hours of manual labor, we sat down to a meal of braised short ribs, mashed potatoes, roasted broccoli and pumpkin crème brulee. And since I can't send crème brulee home with the pops for leftovers, I made a batch of Peanut Butter Apple Cookies. After a quick clean up, we piled all of the dirty dishes into our new KitchenAid dishwasher and crossed our fingers – hoping that we attached everything correctly. The result? Perfectly washed dishes. We patted ourselves on the backs, breathed a sigh of relief and ate a few Apple Peanut Butter Cookies as a reward for a job well done!
Grated apples combine with creamy peanut butter to create a fun and unique spin on a classic combination. Serve them alongside a glass of ice cold milk and you have the perfect after school snack for a chilly Fall day.
So tell me – have you ever attempted a home improvement project on your own? If so, I'd love to know how it turned out, so please, spill the details!
[pinit]

Apple Peanut Butter Cookies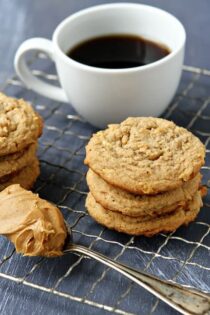 Ingredients:
1/2 cup butter flavored shortening
1/2 cup creamy peanut butter
1/2 cup granulated sugar
1/2 cup packed light brown sugar
1 large egg
1/2 teaspoon pure vanilla extract
1-1/2 cups Gold Medal all-purpose flour
1/2 teaspoon baking soda
1/2 teaspoon salt
1/2 teaspoon homemade apple pie spice
1/2 cup grated peeled apple
Directions:
1. Preheat oven to 375°F. Line a baking sheet with parchment paper.
2. In a large bowl with an electric mixer, cream the shortening, peanut butter and sugars until light and fluffy, about 3 minutes. Beat in egg and vanilla. In a medium bowl, combine flour, baking soda, salt and homemade apple pie spice. Gradually add the dry ingredients to creamed mixture, mixing until well combined. Stir in grated apple.
3. Drop by rounded tablespoonfuls 2 in. apart onto prepared baking sheet. Bake in preheated oven for 10-12 minutes or until golden brown. Cool for 5 minutes before removing to wire racks.
Notes:
- Depending upon the type of apples you use, you may end up with a great deal of liquid after grating the apples. I suggest using only the grated apples, not the liquid that is produced. If necessary, lightly squeeze the apples to release any excess juice before adding them to the batter.
- If you want a little crunch, feel free to substitute crunchy peanut butter for the creamy.
- I have not tried this recipe with butter, so I cannot attest to the results of that substitution.
My Baking Addiction slightly adapted from Taste of Home
All images and text ©
Follow Jamie on Instagram. We love to see what you're baking from MBA! Be sure to tag @jamiemba and use the hashtag #mbarecipes!