I think it's fair to say I am not the best traveler in the world. Big airports give me anxiety. I'm claustrophobic, so the bathrooms on planes are out of the question. And sitting so close to random people in a confined space? Makes me itchy, twitchy, and miserable. Especially when your row mate eats a Caesar salad for dinner and then falls asleep with their mouth agape 6 inches from your face.
It was sort of good that the fellow passed out, though. I was tired of trying to covertly read 50 Shades of Gray on my iPad without him glancing over and catching a glimpse of the naughty words. That book is something else – and that's the last of my words on that particular subject.
Despite my utter disdain for traveling, my recent trip to Kansas City with Gold Medal Flour did have some amazing positives: fantastic people, incredible food, and I got to tour a factory and get up close and personal with a combine. More on that experience will come later this month. Just know: it was pretty awesome.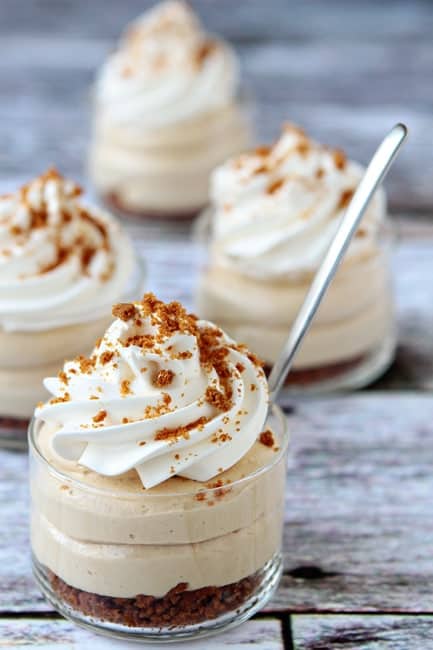 While intermittently holding my breath and attempting to breath through my mouth instead of my nose due to said sleeping man, I decided to distract myself with 15 minutes of free internet and Biscoff Cookies – thank you, Delta. I always forget how delightful these crisp, caramelly cookies are. As I munched away, happily distracted from Caesar-breath, the idea for No Bake Biscoff Cheesecakes was born.
Imagine a crisp, cookie crumb foundation topped with a deadly combination of Biscoff Spread, cream cheese and Cool Whip. While it's an incredible simple dessert to prepare, any crowd you serve it to is going to be wowed by your creativity and Biscoff genius.
The fact that this Biscoff cheesecake isn't baked makes it perfect for Summer. I don't know about where you are, but it's seven shades of Hades here in Ohio today, and just the thought of turning on my oven made me sweat a little. Cold, creamy and full of cinnamon – that is what I'm all about with this cheesecake.
*See recipe notes for details on how to find Biscoff Cookies and Spread in your area.
Biscoff No Bake Cheesecake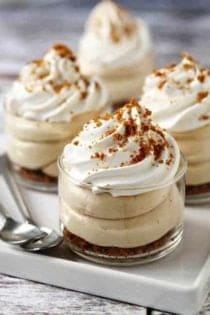 Ingredients:
For the Crust
12 Biscoff cookies, crushed into crumbs
2 tablespoons unsalted butter, melted
For the Filling
1 (8 ounce) package cream cheese, softened
2/3 cup Biscoff Spread
1 teaspoon pure vanilla extract
1 (8 ounce) tub frozen whipped topping, thawed
For the Garnish
whipped topping, optional
Biscoff cookie crumbs, optional
Directions:
In a medium bowl, stir together the Biscoff cookie crumbs and melted butter. Evenly divide the crumbs between your individual serving dishes and press into the bottoms of the dishes to form a crust layer.
In a large bowl, with an electric mixer, beat the cream cheese and Biscoff Spread on medium-high speed until smooth and creamy, about 3 minutes. Add vanilla and mix to combine. Using a rubber spatula, fold in the whipped topping until well blended and no streaks remain.
Evenly pipe or spoon the filling into individual serving dishes. Cover with plastic wrap and refrigerate for at least 2 hours before serving.
If desired, garnish with additional whipped topping and Biscoff cookie crumbs.
Notes:
I have not tried this recipe using fresh whipped cream, so I cannot attest to the results.
Source: My Baking Addiction
All images and text ©
Follow Jamie on Instagram. We love to see what you're baking from MBA! Be sure to tag @jamiemba and use the hashtag #mbarecipes!