Blueberry Doughnut Muffins bake up high and mighty and are topped with a sweet and tangy lemon glaze. They're perfect for breakfast or an afternoon snack.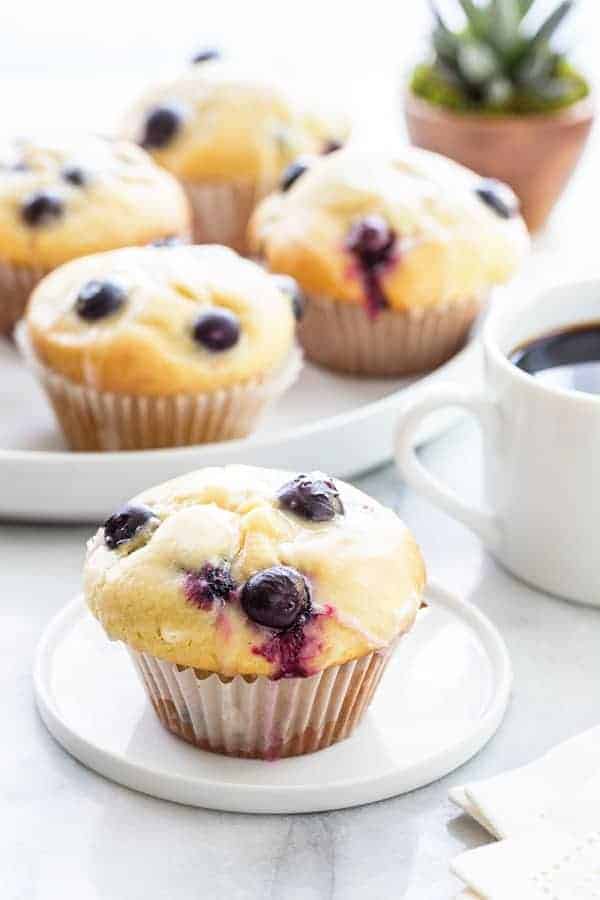 My mornings have definitely been starting a bit earlier since I began working out on a consistent basis. And since I struggle to be on time to pretty much everything, meeting my personal trainer at the gym at 6:45 AM is challenging to say the least.
He pretty much knows to expect me to run up the stairs around 6:50 each morning.
I have never been and probably never will be a morning person. Instead, I'm that person who sets their alarm to buzz about 30 minutes before I have to wake up just so I can hit the snooze button several times – it makes me feel like I'm pulling one over on the Sandman.
However, I'm pretty sure that I'm just annoying my husband. But hey, he knew this about me before we got married.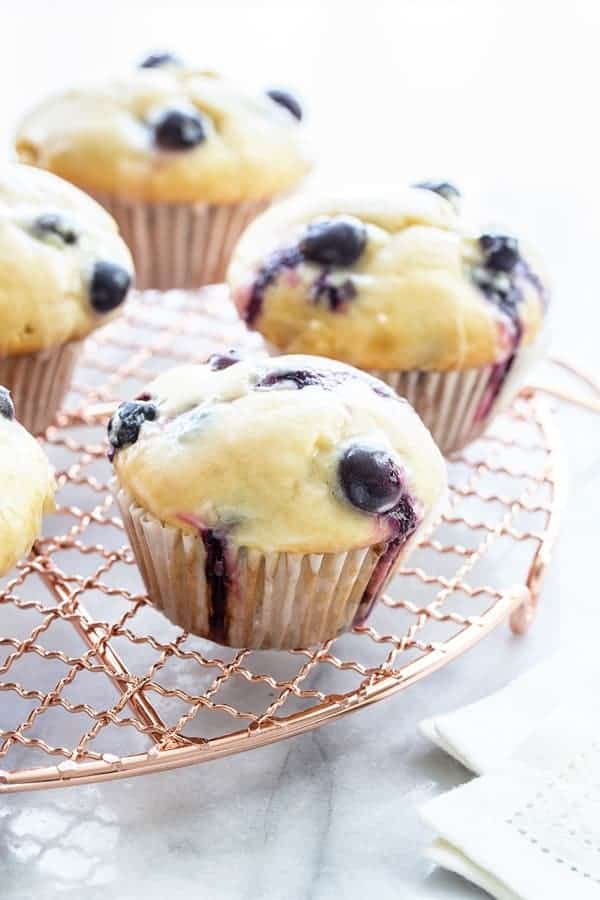 When I say I'm not a morning person, it really means that I'm not a get up out of bed person. Once I'm up, moving, and have had a cup of coffee (or two), I'm usually good to go.
Often times, I'm sitting in the grocery store parking lot before it opens because I honestly like to shop when it's quiet and the bread from the bakery is still nice and warm.
My husband, on the other hand, is the complete opposite. It used to really bother me that Eric was a quiet, slightly crabby version of himself each morning, but now I've come to just accept it. Much like he accepts me leaving clothes and makeup all over the bathroom and being late for everything.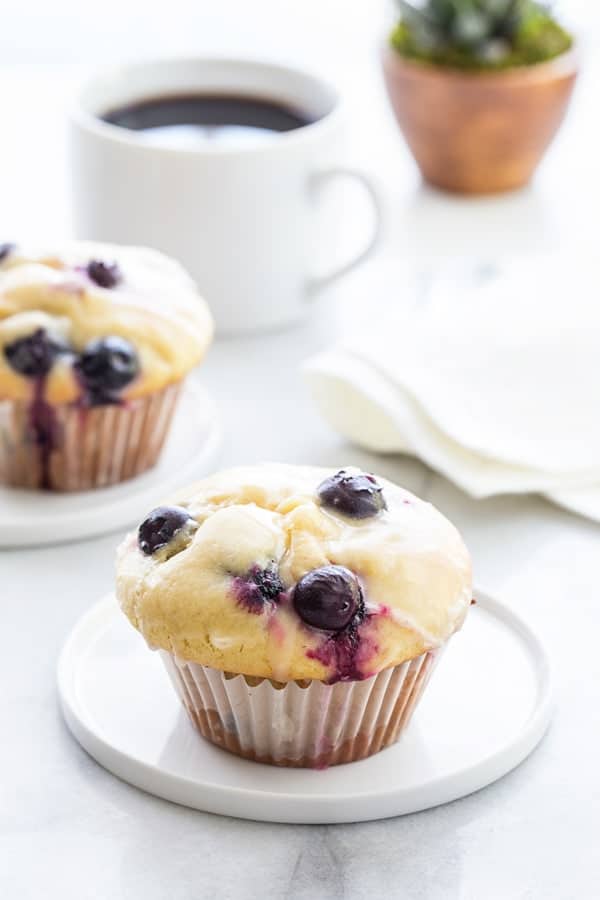 One thing that's sure to perk up anyone first thing in the morning are muffins. Especially Blueberry Doughnut Muffins with a sweet and tangy lemon glaze.
I've made these muffins countless times since they first appeared here on MBA in 2012 and over 5 years later, they're still one of my very favorite muffin recipes to make AND eat!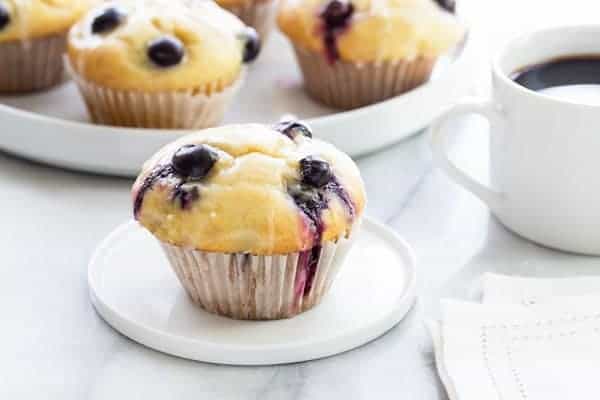 These muffins are also great for brunch on Sundays, or as a treat during the last week of school. I know most of us are phoning it in at that point because OMG SUMMER, but what a treat these would be!
For more delicious muffin recipes, be sure to check out these Blueberry Muffin Top Cookies and this Homemade Blueberry Sauce.
This Blueberry Doughnut Muffins post was updated from the archives. It originally appeared on My Baking Addiction in 2012.
Blueberry Doughnut Muffins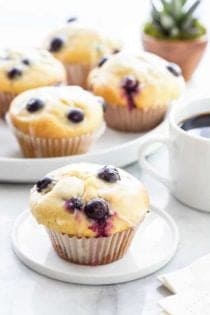 Ingredients:
For the Muffins
zest of 2 lemons
1/2 cup granulated sugar
1/3 cup brown sugar
1/4 cup unsalted butter, softened
1/4 cup vegetable oil
2 large eggs
1 teaspoon pure vanilla extract
2 2/3 cups all-purpose flour
1 1/2 teaspoons baking powder
1/4 teaspoon baking soda
3/4 teaspoon salt
1 cup milk
1 1/3 cup fresh blueberries
For the Glaze
3 tablespoons unsalted butter; melted
1 cup confectioners' sugar; sifted
1/2 teaspoon pure vanilla extract
1 tablespoon freshly squeezed lemon juice
1 tablespoon warm water
Directions:
Preheat the oven to 425°F. Lightly grease a standard muffin tin, or line with 12 paper muffin cups.
In a medium bowl, combine the lemon zest and sugars. Use your fingertips to incorporate the zest into the sugars until it is moist and fragrant.
In the bowl of a stand mixer fitted with a paddle attachment or in a large mixing bowl with an electric mixer, cream together the butter, vegetable oil, and sugars until smooth. Add the eggs and vanilla, beating to combine.
In a medium bowl, combine the flour, baking powder, baking soda and salt. Stir the flour mixture into the butter mixture alternately with the milk, beginning and ending with the flour and making sure everything is thoroughly combined. Fold in the blueberries.
Spoon the batter evenly into the prepared pan, filling the cups nearly full.
Bake the muffins for 15 to 17 minutes, or until they're a pale golden brown and a cake tester inserted into the middle of one of the center muffins comes out clean.
In a medium bowl, prepare the glaze by mixing together the melted butter, confectioners' sugar, vanilla, lemon juice and water. Whisk until smooth.
When muffins have cooled slightly, dip the muffin crown into the glaze and allow the glaze to harden. At this point, you can leave them as is or go for the double dip. I glazed my muffins twice.
Serve warm, or cool on a rack and wrap airtight. Muffins will keep at room temperature for about a day.
Notes:
If you prefer a little more intense kick of lemon, feel free to substitute more lemon juice for the water in the recipe for the glaze.
Follow Jamie on Instagram. We love to see what you're baking from MBA! Be sure to tag @jamiemba and use the hashtag #mbarecipes!