This classic carrot cake recipe is sure to be a crowd pleaser! Three layers of perfectly spiced carrot cake are paired with cream cheese frosting for a dessert that is as delicious as it is beautiful.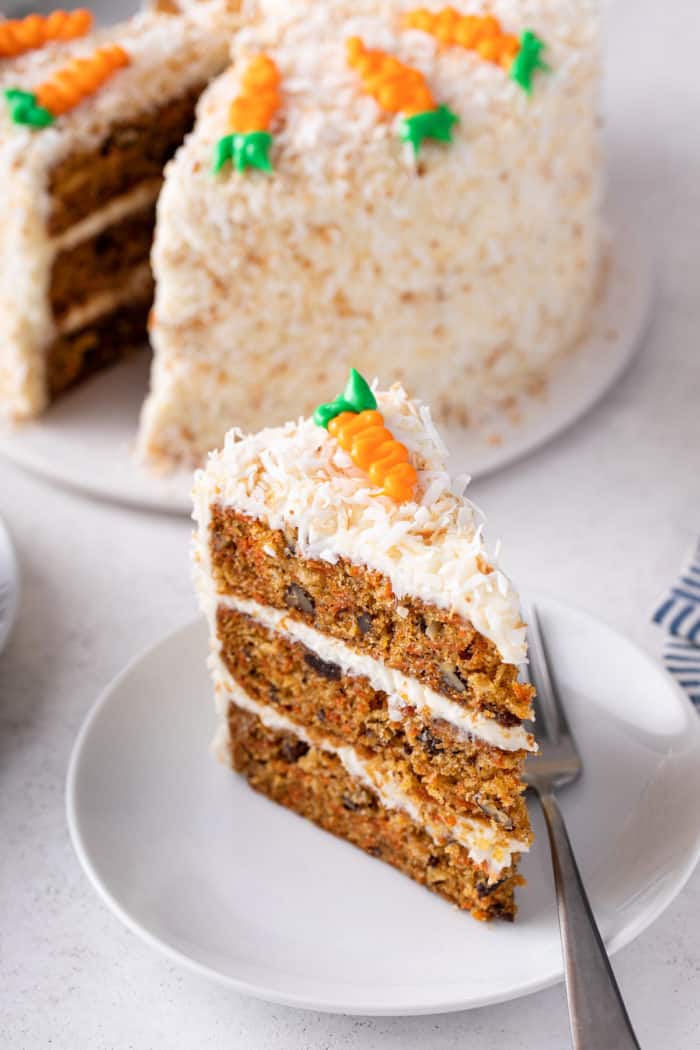 I know that a lot of people make carrot cake for Easter, but for me, it's a year-round kind of dessert.
In fact, I often ask for my husband to make J. Alexander's carrot cake for my birthday cake! That's how much I love carrot cake.
I mean, can you really beat a moist, flavorful cake topped with cream cheese frosting? There really isn't a wrong season for it.
Whether you're planning Easter dinner, a springtime brunch, or just want to enjoy cake on a random Thursday afternoon, this classic carrot cake recipe is one that you'll want to come back to again and again.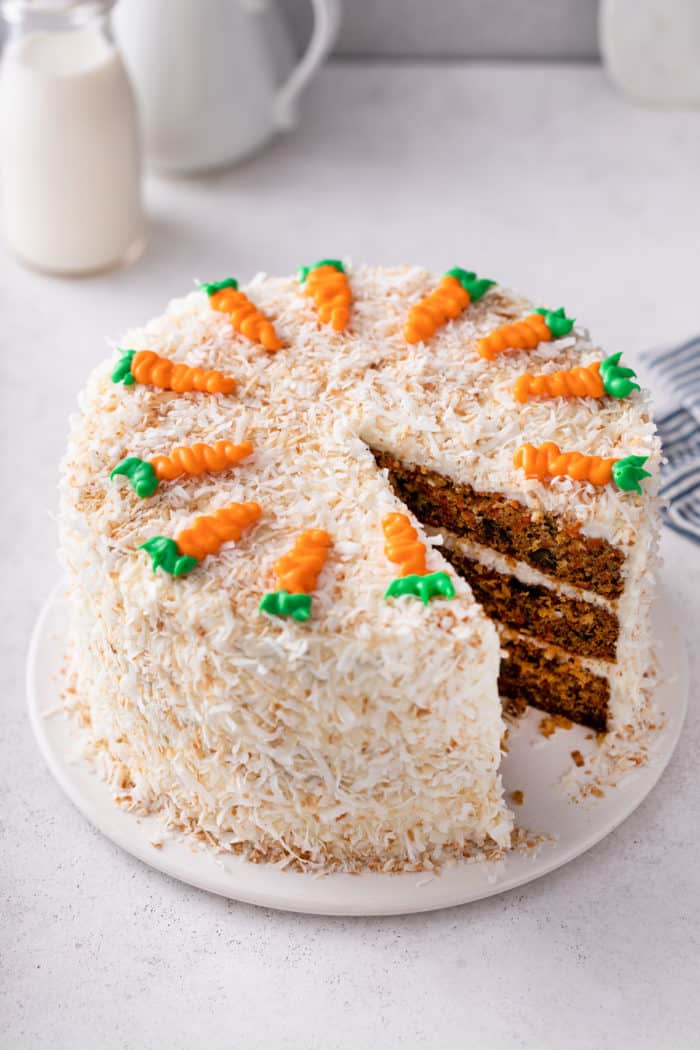 THE BEST LAYERED CARROT CAKE
There are so many carrot cake variations out there, from sheet cakes to cupcakes to bundt cakes and more.
But sometimes you just want a slice of classic carrot cake: A layered cake covered with tangy cream cheese frosting.
That's when I turn to this recipe. The cake itself has just the right amount of spice, tons of carrots, chopped nuts, shredded coconut, and plump raisins. Top it with cream cheese frosting (with an optional coconut filling) and it's perfection.
You'll notice that this version doesn't have any pineapple in it. While I personally love pineapple in carrot cake, I know not everyone enjoys pineapple and some folks are allergic to it – so if you're that person, this is the recipe for you!
You can also omit the nuts and/or the coconut if you need to due to allergies as well.
But please don't skip the raisins! I know some people have mixed feelings about raisins, but they really are so good in this cake and add so much flavor and texture.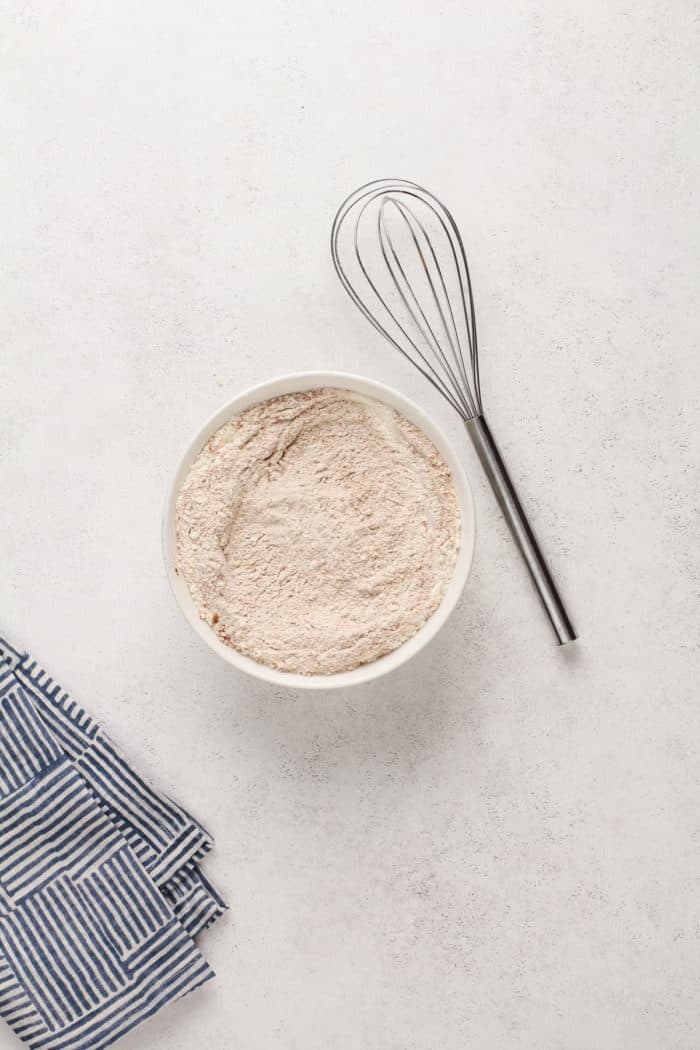 HOW TO MAKE THIS CLASSIC CARROT CAKE
Layered cakes like this one always take a smidge more time to make simply because you have to assemble them, but that doesn't mean that they are hard to make!
Why use oil instead of butter?
Carrot cakes almost always call for vegetable oil (or another neutral-tasting oil) instead of butter. But why?
Because oil is liquid at room temperature, it helps keep the cake moist. It also contributes to that slightly denser texture that we enjoy in carrot cake because you don't get any of the aeration that comes from creaming butter and sugar together.
Cakes made with butter tend to dry out faster, too, but the oil will help your carrot cake stay moist for longer.
If you don't like to use vegetable oil, avocado oil is a good neutral-tasting substitute.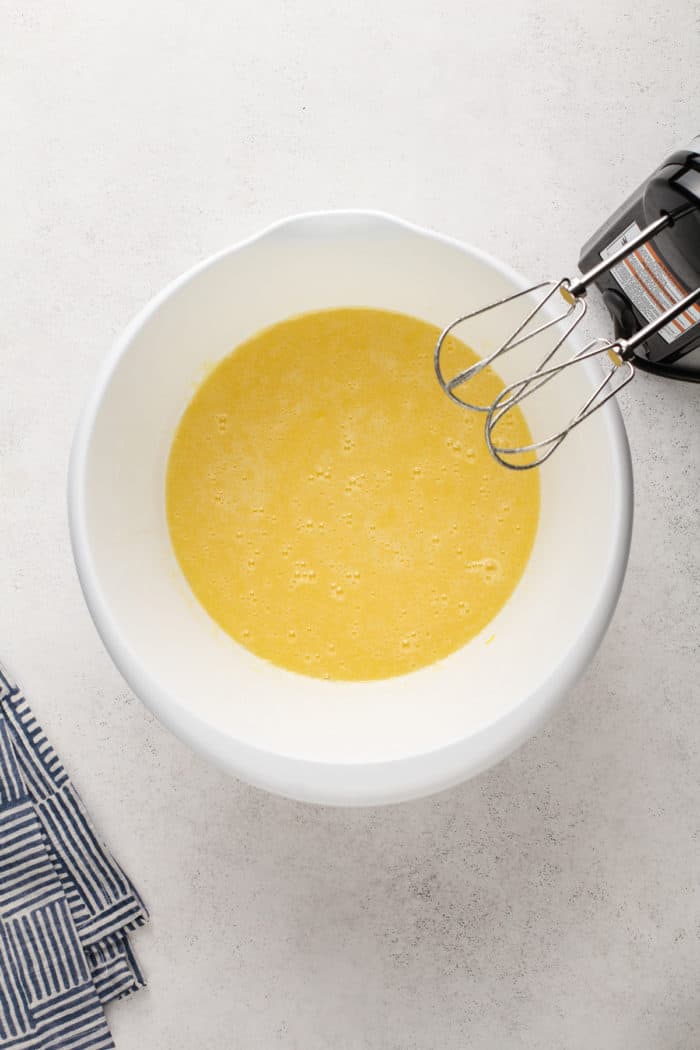 Making the cake
Even though most cakes bake at 350°F, this cake bakes for a bit longer at 325°F. You'll need 3 9-inch cake pans – make sure to butter and flour all of them.
Whisk together the dry ingredients: flour, baking powder, baking soda, cinnamon, and salt.
In another bowl, mix together the grated carrots, chopped nuts, coconut, and the raisins. As a note, I prefer to use unsweetened coconut in the cake batter, but you can use sweetened if you like.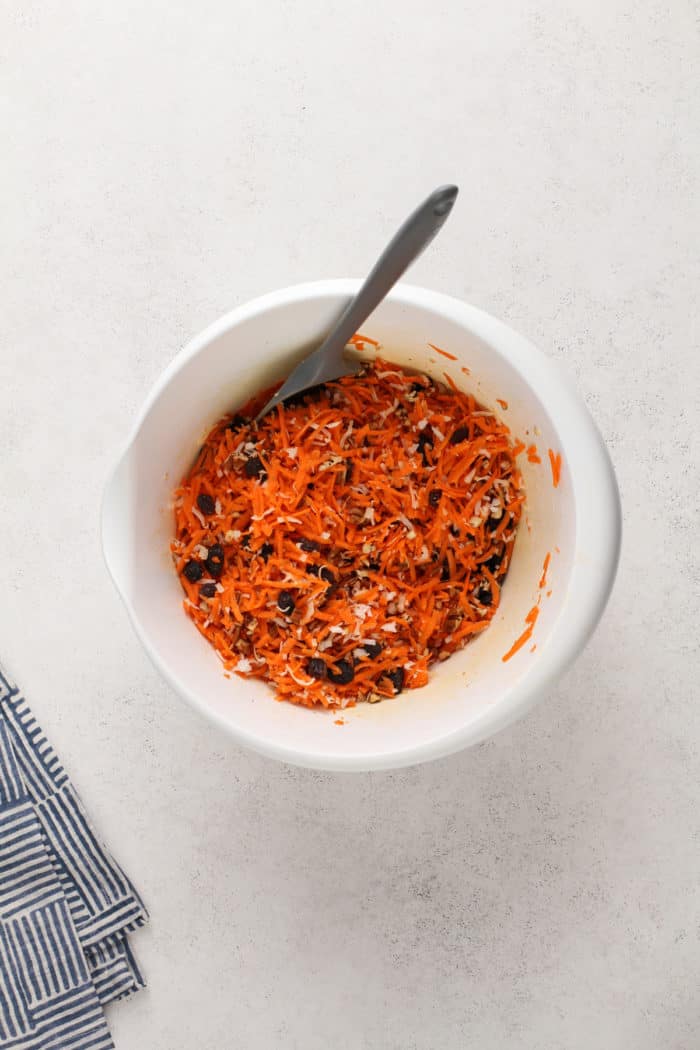 Using a mixer, beat together the oil and the sugar, then add the eggs one by one. Turn the mixer to low and add the flour, mixing until just combined. Then fold in the carrot mixture.
Divide the batter between the prepared pans and bake for about 40-50 minutes; I recommend rotating the pans just past the halfway point.
Once the cakes are baked, let them cool in the pans for 10 minutes before turning them out onto a wire rack to cool completely.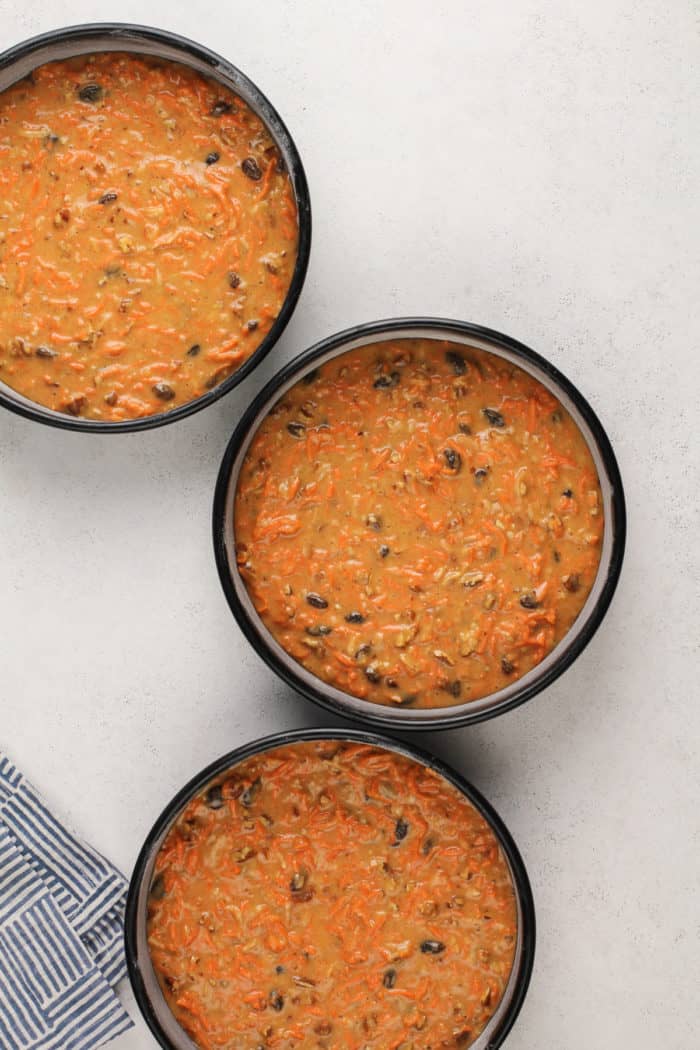 Assembling the cake
I like to pair this carrot cake with my go-to cream cheese frosting. If you like coconut, divide the frosting in half and stir some coconut into one half of the frosting to use as the cake filling. (I like sweetened coconut for this.)
To assemble the cake, place one of the cake layers on a cake plate or a cardboard cake round.
TIP: To keep the cake plate clean while frosting, tuck pieces of parchment paper under the edges of the cake to cover the plate. Once you're done frosting the cake, remove the parchment and your cake plate will be frosting-free!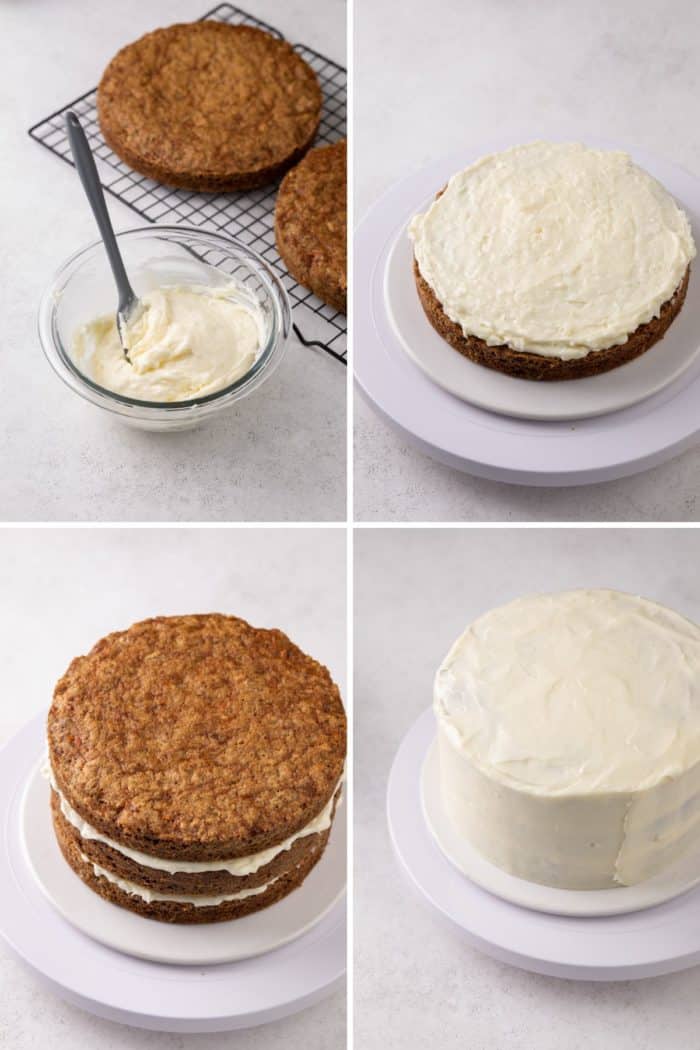 Spread half of the coconut-filled frosting on top of the layer (or use about ¼ of the plain frosting if you want to forego the coconut). Top with another layer of cake and repeat with the rest of the filling or another ¼ of the plain frosting.
Add the last layer of cake on top. Cover the tops and sides of the cake with the remaining frosting.
From there, you can decorate the tops and/or sides of the cake with chopped nuts or toasted coconut if you'd like.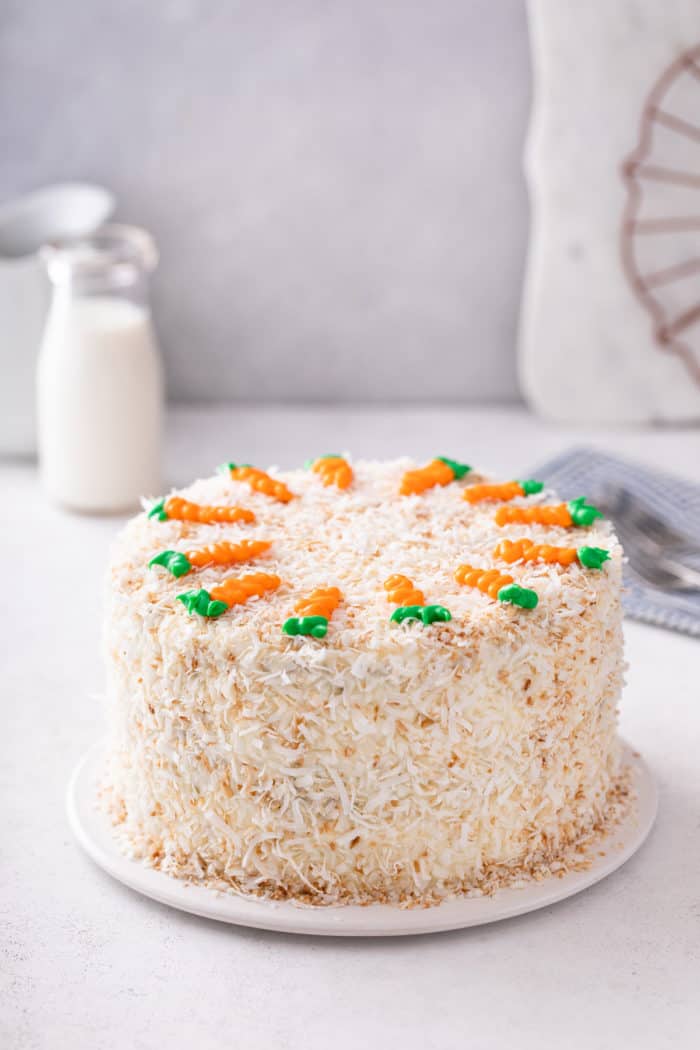 STORAGE AND FREEZING
There are several ways you can store both the components of the cake and the fully assembled cake.
Storing carrot cake layers and frosting
Once the cake layers are fully cooled, you can wrap them tightly in plastic wrap and store them at room temperature overnight before frosting.
You can also wrap them in plastic and then a layer of foil and freeze them for up to 2 months.
The cream cheese frosting can be frozen for up to 3 months in an airtight container. Thaw it in the fridge for 24 hours, let it come to room temperature after thawing, and whip it with your mixer to revive the consistency before frosting the cake.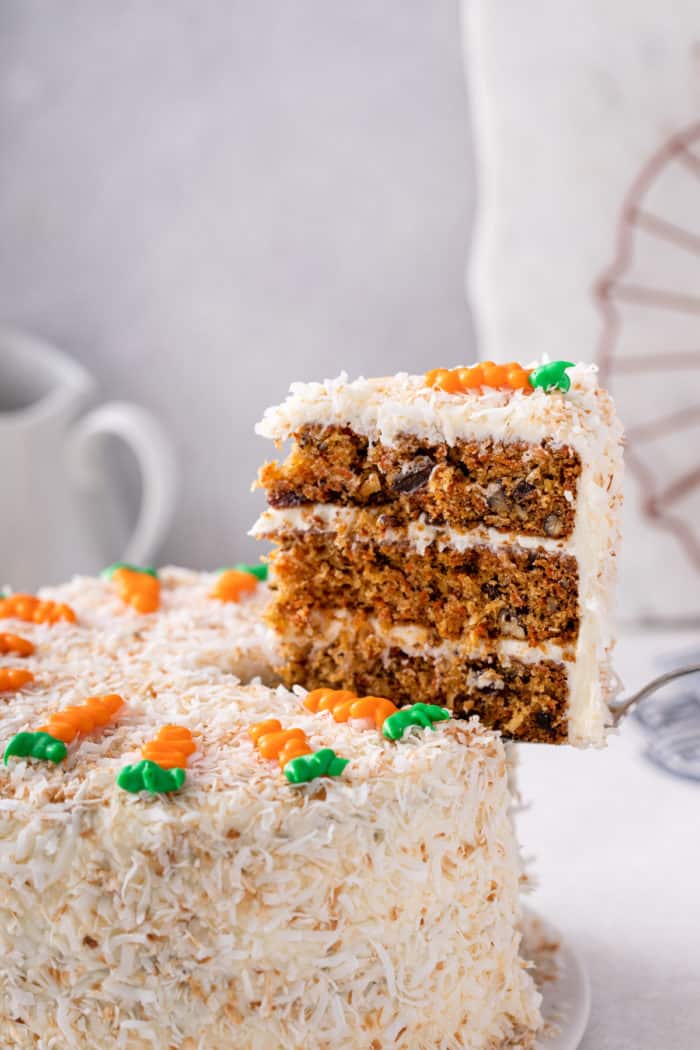 Storing the assembled cake
Once the cake is assembled, you can store it, covered, in the refrigerator for up to 3 days. I recommend bringing it to room temperature before serving.
You can also place the entire cake, uncovered, in the freezer for 1-2 hours. Once the cake and the frosting are both firm, wrap the cake well and freeze it for up to 2 months.
Let the cake thaw, still wrapped, in the refrigerator overnight.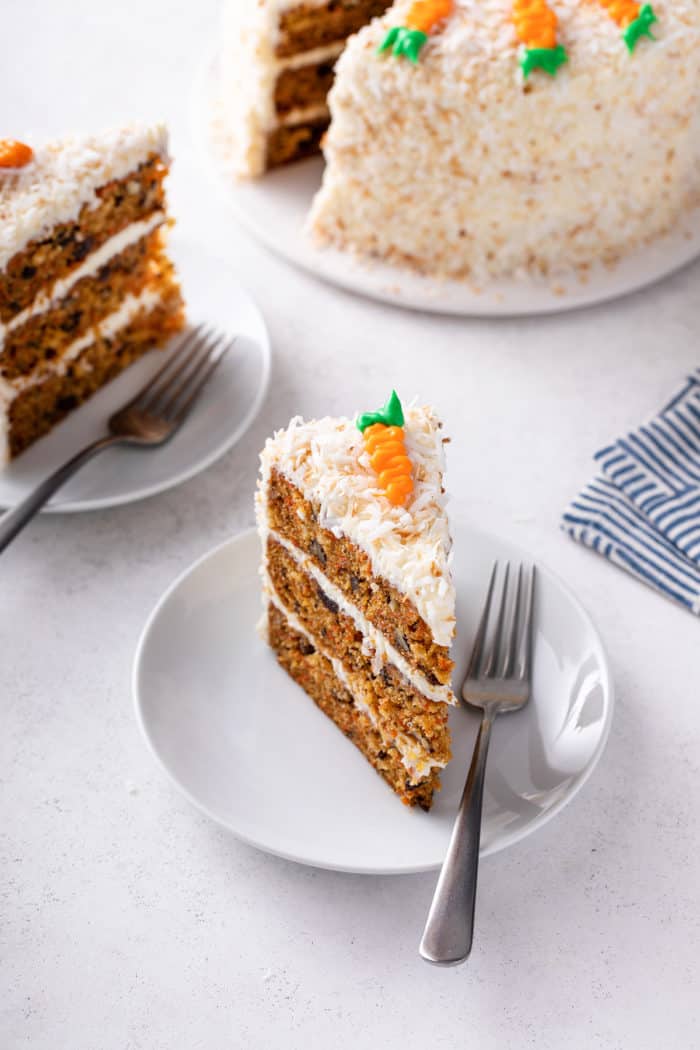 MORE SPRINGTIME DESSERTS
Looking for more springtime desserts to add to your menu alongside this classic carrot cake? I've got you covered with these delicious options: