Last week I posted a recipe for Orange Whipped Cream Cake. The cake was very moist, tasty and was full of spring flavors…it even made the Foodbuzz Top 9 on Friday. The cake was adapted from Rose's Heavenly Cakes and the post included a giveaway for Rose's cookbook. In order to enter the giveaway, I asked my readers to describe the best cake they had ever tasted.
I was excited to read every single comment; all of the cakes sounded divine and I will likely make many of them in the coming months! But one of the cakes would not leave my thoughts, it had me thinking about chocolate and espresso for days. One of my readers, Jessie posted a link to a Chocolate Cake with Espresso Buttercream from Oprah's website. I was smitten with this cake at first glance and knew I had to make it immediately! Okay, not immediately because Jessie posted it at almost 10 pm, but I did make it a couple of days later! Before I get to the recipe for this fabulous cake, I first want to mention and link you to some (although I would love to list them all) of the other wonderful cakes my readers posted…
Peanut Butter Cake is Allie's fave
Coconut Cake mentioned by Catey
Apple Pound Cake was Pam's favorite
LaRae loves her Peppermint Ho-Ho-Ho Cake
Niki adores her Carrot Cake
Maria and her hubby are smitten with her Plum Nectarine Cake
Now I can move on to this stunningly gorgeous and absolutely delicious Chocolate Cake with Espresso Buttercream. This recipe originally appeared in the July 2004 edition of O Magazine and it may seriously be the absolute best cake I have ever made. The cake has a rich, deep, chocolate flavor and the buttercream has an amazing satin-like texture that pairs beautifully with the cake. The ganache, oh the ganache just puts it over the top and into the realm of pure bliss! If you are looking for a show-stopper, definitely give this cake a try! It takes a little time and effort, but it is very much worth every minute! Make this for Valentine's Day and you will definitely impress your sweetie!
Oh and Congratulations to Sheena of the blog, The Hungry Panda. Sheena is the lucky winner of Rose's Heavenly Cakes! I hope you enjoy this book as much as I have.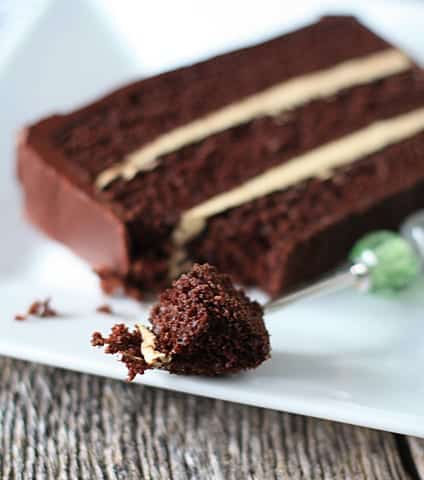 Chocolate Cake & Espresso Buttercream
Ingredients:
For the Cake
1 1/2 cups sugar
1 1/3 cups all-purpose flour
2/3 cup unsweetened cocoa
1 teaspoon baking powder
1 teaspoon baking soda
3/4 teaspoon salt
2 large eggs
3/4 cup milk
6 tablespoons canola oil
2 teaspoons pure vanilla extract
3/4 cup very hot water
For the Buttercream
4 large egg yolks
3/4 cup sugar
2 sticks unsalted butter , softened
2 teaspoons instant espresso powder
1 teaspoon very hot water
12 ounces bittersweet chocolate , chopped (I used semisweet)
4 tablespoons unsalted butter , softened and diced
1 cup heavy or whipping cream
1 tablespoon sugar
Directions:
For the Cake
1. Preheat oven to 375°F. Line a 15 1/2" x 10 1/2" jelly-roll pan with parchment paper; spray paper with nonstick cooking spray.
2. In the bowl of an electric mixer fitted with a whisk attachment, combine sugar, flour, cocoa, baking powder, baking soda, and salt at medium speed until blended. In another bowl, whisk eggs, milk, oil, and vanilla. Gradually beat egg mixture into flour mixture, about 5 minutes. Shift mixer to low speed; add hot water until blended. Pour batter into pan. Bake until toothpick comes out of the center clean, 20 to 25 minutes. Cool cake completely.
3. Invert cake onto a large wire rack; peel off parchment paper. Invert cake again onto a large cutting board. With a serrated knife, cut cake into equal thirds.
4. Set a large wire rack over a sheet of waxed paper. Arrange one cake layer on rack; spread half of buttercream evenly over top. Add another cake layer; spread top with remaining buttercream. Place remaining cake layer on top.
5. Pour ganache over top of cake, spreading with a spatula so it coats the sides. If ganache does not cover sides completely, pour any excess that has collected on the waxed paper back into bowl and spread again. Refrigerate cake until ganache sets, about 1 hour. Use two large spatulas to transfer cake onto a serving plate
For the Buttercream
1. In the bowl of an electric mixer fitted with a whisk attachment, beat egg yolks at medium speed until they become lemon colored and ribbon like when beaters are lifted, about 5 minutes. Meanwhile, in a small saucepan, combine sugar and 1/4 cup water. Cook over medium-low heat, swirling pan occasionally, until sugar completely dissolves and syrup just comes to a boil. Increase heat to high; boil syrup until it registers 238°F on a candy thermometer. With the mixer on medium speed, immediately add syrup to beaten egg yolks in a thin, steady stream. Beat mixture until it cools to room temperature and is light and fluffy, about 10 minutes. Gradually add butter, 1 tablespoon at a time, until completely incorporated. In a cup, dissolve espresso powder in hot water; beat into buttercream.
2. In a large bowl, combine chocolate and butter. In a small saucepan, heat cream and sugar over medium-high flame, stirring occasionally, until small bubbles appear around edge of pan. Pour hot cream over chocolate; stir until chocolate and butter melt and mixture is completely smooth. Cool, stirring occasionally, until thickened but not pasty, about 15 minutes.
Notes:
- I used semisweet chocolate for the ganache.
- I used a hot knive to cut the slices.
This recipe is from Oprah.com
All images and text ©
Follow Jamie on Instagram. We love to see what you're baking from MBA! Be sure to tag @jamiemba and use the hashtag #mbarecipes!
[pinit]