Ooey gooey coffee cake made with yeast and loaded with caramel and chocolate.
I have a life-long obsession with all things caramel. From ice cream to candies, if there's caramel in it – I'm all about it. Toss on a crumbly topping and a sprinkling of chocolate chips and this girl is diving in head first.
When Fleischmann's® Yeast asked if I was willing to create and share a recipe here on My Baking Addiction, I knew exactly which recipe I was going to bake first – Chocolate Caramel Coffee Cake.
If you've read My Baking Addiction for any length of time, you may know that I'm not exactly the most comfortable with yeast. Much like household plants, I have an irrational fear of killing it (and my hopes for fresh baked bread). My guess is that I'm not alone, so I'm happy be sharing Become A Better Baker, an awesome resource whether you're a yeast novice like myself, or an old pro.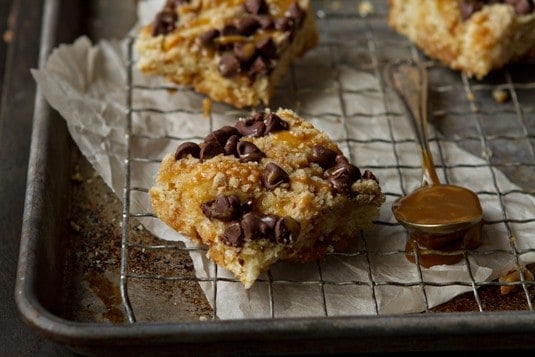 Become A Better Baker is loaded with recipes, tips, and techniques for every level baker. It also has a brand new Yeast 101 section that will guide you through supplies, yeast choices, and some mighty delicious recipes to get you comfortable with yeast baking in no time flat.
One of my favorite Yeast 101 features are the videos – like many of you, I'm a visual kind of girl, so getting some help in video form is always a bonus! From using rapid rise yeast to adding flour and kneading dough, the video resources will help you every step of the way.
From baking the perfect loaf of bread to learning how to make candy, the passionate baking experts at Become a Better Baker and Yeast 101 have you covered. Their baking experts can help you tackle just about any baking question you throw at them either by email, phone or even on their Facebook Page. I kind of love that they're just a click away! They can help you every step of the way, even when you think you may have just screwed up royally. I'm pretty sure if there's a way to save the recipe, they can help you do it.
Coffee cake takes on many forms. Sometimes it's more quick bread-like, and contains no yeast. But I love the extra flavor boost yeast can provide to lots of things. Overnight pancakes made with yeast? Amazing. And so is this Chocolate Caramel Coffee Cake. The flavors are deeper, the crumb lighter. You're going to want a slice with your first cup of the day, and your afternoon pick-me-up.
So what do you say? Bake this up with me, and if you need help along the way, Become a Better Baker is at your service – for free, I might add. You can do it! You CAN bake with yeast.
Chocolate Caramel Coffee Cake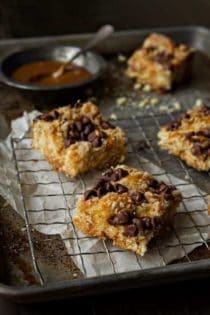 Ingredients:
1-3/4 cups all-purpose flour
1 envelope Fleischmann's® RapidRise Yeast
2 tablespoons sugar
1/2 teaspoon salt
3/4 cup very warm milk (120° to 130°F)
1/4 cup butter, melted
1 egg
1 package (9 ounces) Werther's® Original® Baking Caramels, divided
Topping:
1/4 cup brown sugar
1/4 cup all-purpose flour
2 tablespoons butter
1/4 cup semi-sweet chocolate chips
1 tablespoon milk
Directions:
1. Mix flour, undissolved yeast, sugar and salt in a large bowl. Add milk, butter and egg and beat until smooth. Set 10 caramels aside. Unwrap remaining caramels and cut each into 4 pieces. Stir caramel into batter. Pour into greased 8 x 8-inch baking dish.
2. Combine brown sugar and flour in a small bowl. Cut in 2 tablespoons butter with a pastry blender or 2 forks. Sprinkle over coffee cake. Top with chocolate chips. Cover and let rise for 30 minutes.
3. Bake in preheated 350°F oven for 25 to 30 minutes until browned and done in center. Remove to wire rack to cool. Unwrap and microwave the 10 reserved caramels and 1 tablespoon milk for about 45 seconds, until caramels are melted and smooth. Drizzle over coffee cake and serve immediately.
Follow Jamie on Instagram. We love to see what you're baking from MBA! Be sure to tag @jamiemba and use the hashtag #mbarecipes!
Disclosure: This is a sponsored post written by My Baking Addiction on behalf of Fleischmann's® Yeast and Become A Better Baker™. The views and opinions expressed on My Baking Addiction are purely my own.