I like things to be easy – recipes that allow me to toss everything together within minutes are amongst some of my favorites. There's definitely a time and a place for gourmet ingredients and fancy techniques, but that place is not a Saturday morning when a little girl has a hankering for a breakfast studded with her favorite sweet treat.
My friend's daughter has an affinity for all things chocolate – from Milk Duds to Homemade Hot Cocoa, she definitely swoons for sweets. She also loves helping out in the kitchen – in fact, I think she cracks eggs better than I do and has recently started photographing our creations on her iPod. Seriously, how adorable is that?
Although she'll happily sample anything that we create in the kitchen, her one true love is pretty simple – milk chocolate chips. She loves them in pancakes, cupcakes, or pulled straight out of the bag and popped directly into her mouth.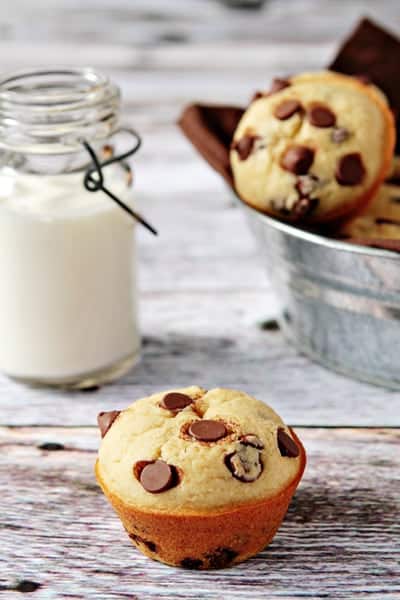 Last weekend I decided to switch up her usual weekend breakfast of scrambled eggs and pancakes for scrambled eggs and chocolate chip muffins. Let's just say they were a raging hit and I was deemed "the best cook ever" for about the 1,000th time – which I'll totally take.
Whether you're baking for a chocolate loving tween or just looking to brighten someone's day with a little muffin love, I hope you enjoy these Chocolate Chip Muffins as much as we did.