Coconut muffins made with coconut oil, coconut yogurt and shredded coconut are perfect for any coconut lover.
I've always liked coconut, but lately I've developed a serious thing for it. From coconut almonds and yogurt to coconut chips – I'm obsessed.
I've even been slathering my hair in coconut oil for a deep conditioning treatment and let me tell ya, it's pretty darn amazing. It kinda makes me feel like I'm at a spa even if I happen to be sporting sweats, no makeup, and a spit up covered burp cloth on my shoulder 24-7.
I bookmarked a recipe for Double Coconut Muffins from Smitten Kitchen months ago and finally decided to give them a whirl last week – I just kicked up the coconutty goodness because like I said – I'm obsessed!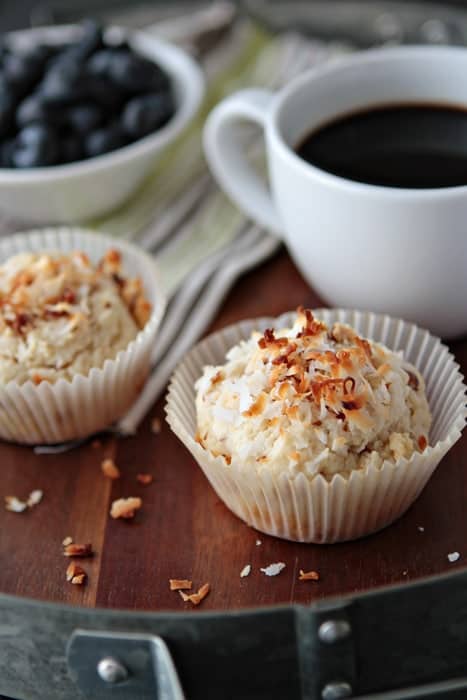 I loaded the already delicious batter with full fat coconut Greek yogurt, coconut almonds and a little extra shredded coconut – seriously, they're coconut muffin perfection. And the texture is to die for – think scone meets muffin. Now ya want a scone, don't ya?
These coconut muffins also stay super moist for a couple of days which is an added bonus if you don't have people to pawn them off on. Being on maternity leave omits a great deal of mouths that I'm able to fill will baked goods, so it was great to be able to nosh on these over the course of a few days.
Whether you're looking for a new muffin recipe or a little treat for the coconut lover in your life – these coconut muffins are perfect.
Coconut Muffins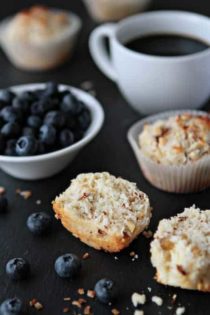 Ingredients:
1/2 cup extra virgin coconut oil
1 1/4 cups all-purpose flour
1 1/2 teaspoons baking powder
1/4 teaspoon salt
1 cup sweetened shredded coconut, divided use
1 cup full fat Greek-style coconut yogurt, at room temperature
1/3 cup granulated sugar
1 large egg, at room temperature
1 teaspoon vanilla extract
1/2 cup chopped almonds (see note below)
Directions:
1. Preheat oven to 375°F. Line a muffins tin with paper liners or spray with nonstick cooking spray.
2. In a small saucepan, over low heat, warm your coconut oil until it's just melted.
3. In a medium bowl, whisk together flour, baking powder and salt. Stir in 3/4 cup shredded coconut. In a large bowl with an electric mixer, mix together coconut oil, yogurt, sugar, egg and vanilla. Stir dry ingredients into wet ingredients until just combined. Fold in chopped almonds. Using a large scoop (3 tablespoons), divide batter among prepared muffin wells and sprinkle the top with remaining 1/4 cup shredded coconut.
4. Bake in preheated oven for 18-20 minutes or until a toothpick inserted into the center comes out clean. Transfer muffins to a rack and let cool.
Notes:
- I found that these muffins were best served the day they were made. However, they will keep in an airtight container at room temperature for up to 3 days.
- I used Blue Diamond Toasted Coconut Almonds. They're so delicious and perfect for snacking.
Follow Jamie on Instagram. We love to see what you're baking from MBA! Be sure to tag @jamiemba and use the hashtag #mbarecipes!