I have seen these cute Hostess inspired cupcakes popping up on Tastespotting and Foodgawker for quite some time, but I successfully withstood the peer pressure to make them until now!
Ya see, Bri is a serious cupcake fanatic, and always wants chocolate on chocolate, but being a food blogger I am not really one to repeat recipes. So when he requested his BORING chocolate on chocolate combo for the 1,263rd time, I decided to make these babies as a way to please him, but also try a new recipe.
A quick search on Foodgawker led me to the recipe for the filling and ganache. I used the recipe off the Hershey's Cocoa can for the cake and used the other recipes found on Beantown Baker's blog.
The filling is essentially Seven Minute Frosting. The icing is a simple ganache. But when all of these elements combine, they make one amazing cupcake. Plus, the Hostess swirls and surprise filling will bring a smile to anyone's face.
These were loved by all and I thought they looked super adorable, especially with my beloved chocolate brown cupcake liners! Have a great day and thanks so much for stopping by!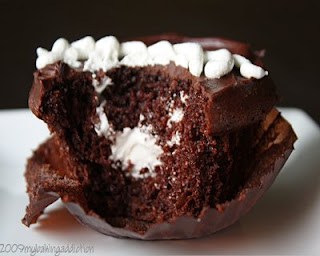 Hostess Inspired Cupcakes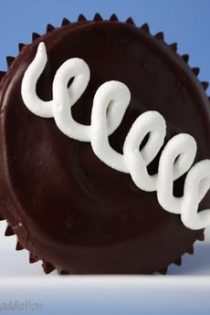 Ingredients:
For the Cake
2 cups sugar
1 3/4 cups all-purpose flour
3/4 cup HERSHEY'S Cocoa
1 1/2 teaspoons baking powder
1 1/2 teaspoons baking soda
1 teaspoon salt
2 eggs
1 cup milk
1/2 cup vegetable oil
2 teaspoons vanilla extract
1 cup boiling water
For the Filling
2 large egg whites
1/2 cup sugar
1/4 cup light corn syrup
2 tablespoons water
1 1/2 teaspoons pure vanilla extract
For the Ganache Frosting
1/4 cup cream
4 ounces bittersweet chocolate, finely chopped (I used semi-sweet)
1 tablespoon unsalted butter, softened
Directions:
1. Heat oven to 350°F. Line cupcake tins with paper baking cups.
2. Stir together sugar, flour, cocoa, baking powder, baking soda and salt in large bowl. Add eggs, milk, oil and vanilla; beat on medium speed of mixer 2 minutes. Stir in boiling water (batter will be thin). Pour batter into prepared cupcake pans; 2/3 full
3. Bake 22 to 25 minutes. Cool completely. Frost. About 30 cupcakes. (I got 26 cupcakes)
4. While waiting for cupcakes to cool, combine filling ingredients with a pinch of salt in a metal bowl set over a saucepan of simmering water and beat with a handheld electric mixer at high speed until frosting is thick and fluffy, 6 to 7 minutes. Remove bowl from heat and continue to beat until slightly cooled. Reserve 1/2 cup of the filling to use for piping the swirls on top of the cupcakes at the end.
5.Once cupcakes are completely cooled, use the cone method (click here for Beantown's post on this technique) to fill with filling.
6. Once all cupcakes are filled, make the ganache. In a small saucepan, heat cream until steaming. Remove from the heat, add chocolate and let stand for 5 minutes. Add the butter and stir until smooth. Transfer the frosting to a small bowl and dip the top of each cupcake to thoroughly coat. Spoon the reserved filling into a pastry bag fitted with a very small plain tip and pipe swirls across the center of each cupcake. Refrigerate the cupcakes for 10 minutes to set the frosting.
Notes:
- I doubled the ganache frosting recipe
Follow Jamie on Instagram. We love to see what you're baking from MBA! Be sure to tag @jamiemba and use the hashtag #mbarecipes!
[pinit]