Ridiculously Simple Chocolate Crinkle Cookies
If you follow My Baking Addiction on a regular basis, you may have caught on to the fact through my Lemon-Blueberry Coffee Cake post or through Facebook that I am going through an incredibly lazy phase. I'm going to pull a little Milli Vanilli circa 1989 and blame it on the rain.
The weather is incredibly depressing here in Ohio. The gloomy skies are perfect for mid-afternoon naps, but they're quite awful for natural light food photography. In fact the photos in this post were taken during a storm; needless to say, they are certainly not my best work.
Amidst my lazy phase, Brian needed a chocolate fix and asked me to make chocolate chip cookies. I totally wasn't feeling it, but since every relationship is based upon compromise, I offered him an alternative that would quell his craving and take me no longer than 10 minutes to prepare. That way I was able to get back to my couch, fuzzy blanket, and DVR while he had his chocolate demons quieted.
These cookies are so ridiculously simple that I'm almost embarrassed to post them. But I figured we all have those moments when a craving strikes and baking from scratch is the last thing we want to do. Taking a little help from a box mix may not be for everyone, but sometimes I'm all about taking a help from where ever I can get it! Last week was certainly one of those times. With five simple ingredients, you'll have warm gooey chocolate crinkle cookies in no time. They're soft, slightly chewing and definitely satisfying.
Simple Chocolate Crinkle Cookies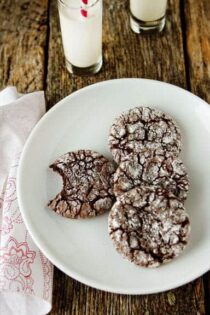 Ingredients:
1 (18.25 ounce) box Devil's Food Cake Mix
2 large eggs
1/3 cup vegetable oil
1 teaspoon vanilla extract
1/3 cup confectioners' sugar
Directions:
1. Preheat oven to 375 degrees F (190 degrees C). Line a baking sheet with parchment paper, set aside.
2. In the bowl of your stand mixer fitted with the paddle attachment, or in a large bowl with a hand mixer, combine cake mix, eggs, oil, and vanilla extract until well blended. Place confectioners' sugar into a medium bowl.
3. Using a medium cookie scoop (1 ½ tablespoons), drop balls of dough (dough will be sticky) into the confectioners' sugar, roll to coat. Gently form dough into a ball by lightly rolling between your palms.
4. Place dough balls on prepared baking pan about two inches apart.
5. Bake in preheated oven for 7 to 9 minutes. The bottoms will be set but middles will look slightly undercooked. Allow cookies to cool for 5 minutes on pan before removing to a wire rack.
Notes:
- These cookies are best served fresh out of the oven; however, they will keep in an airtight container for 2 days.
- Doctor up these cookies even more by playing with different extracts and add ins. I think a little orange zest would be a great addition, or try adding in a little mint extract for easy Chocolate Peppermint Crinkles.
- This base recipe does work well with other box flavor varieties, I have tried it with lemon cake mix which resulted in delicious, chewy lemon cookies.
All images and text ©
Follow Jamie on Instagram. We love to see what you're baking from MBA! Be sure to tag @jamiemba and use the hashtag #mbarecipes!