With summer vegetable crops overflowing, it seems like everyone with a garden is passing out veggies. Earlier in the week, Bri came home with summer squash from a co-worker and I had no clue what to do with them. I love vegetables, but squash does not rank high on my list. Although I find it edible, it's definitely not a favorite.
If you follow me on twitter, you may recall me asking my twitter peeps for squash recommendations. They offered up recipes ranging from squash bread to squash casserole.
All of the ideas looked very promising, but I was really intrigued by the recipe for these Farmer's Market Quesadillas sent to me from Short Bread City. Random thought… every time I hear the word quesadilla, I think of the movie Napoleon Dynamite. Please tell me I am not alone here!
I had all of the ingredients on hand, including a red jalapeno from my mini patio garden. The great thing about this recipe is that is comes together in a snap and can be used with a huge variety of different veggies to suit your individual taste.
These are also quite healthy, which is always a plus in my book! These Farmer's Market Quesadillas were a very tasty and satisfying weeknight summer meal and would also make a fabulous appetizer. Trust me, you really won't miss the meat! Bri gave this vegetarian dinner a thumbs up and he would eat steak every day of the week if I would let him!
We served these up with a spicy taco sauce and reduced fat sour cream. I think black bean salad would have been an amazing compliment as well! If you have an overflowing garden give this recipe a try, I bet they will be a huge hit your family and friends.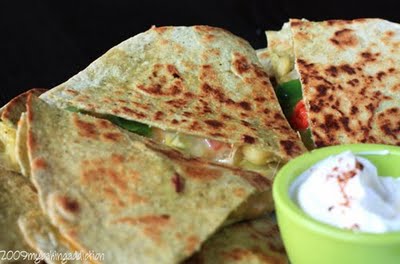 Farmer's Market Quesadillas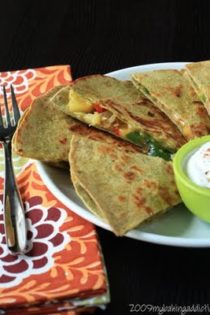 Ingredients:
1/2 cup chopped red bell pepper (I used green)
1/2 cup chopped zucchini
1/2 cup chopped yellow squash
1/2 cup chopped onion
1/2 cup chopped mushrooms (I used canned mushrooms because it was all I had)
1 chopped jalapeno; seeds removed
1 tablespoon olive oil
cooking spray
6 (9 inch) whole wheat tortillas (I used Jalapeno-Cilantro Tortillas)
1 1/4 cups shredded reduced-fat sharp Cheddar cheese
Directions:
1. In a large nonstick pan, cook red pepper, zucchini, yellow squash, onion, and mushrooms in olive oil over medium to medium-high heat for about 7 minutes, or until just tender. Remove vegetables from pan.
2. Coat the same pan with cooking spray, and place one tortilla in pan. Sprinkle 1/4 cup of cheese evenly over tortilla, and layer 3/4 cup of the vegetable mixture over the cheese. Sprinkle another 1/8 cup of cheese on the vegetables, and top with a second tortilla. Cook until golden on both sides, for approximately 2 to 3 minutes per side.
3. Remove quesadilla from pan, and repeat with remaining ingredients. Cut each quesadilla into 8 triangles with a pizza cutter. Serve hot.
- adapted from AllRecipes
All images and text ©
Follow Jamie on Instagram. We love to see what you're baking from MBA! Be sure to tag @jamiemba and use the hashtag #mbarecipes!
[pinit]