Due to non-stop rain here in Ohio, my garden is going completely insane! I'm talking waist high zucchini plants, vines crawling up (and over) the neighbor's fence, and way more peppers than I know what to do with. I personally think that fresh serrannos, habaneros (and even jalapeños) are too hot to eat raw or even cooked on a daily basis, so I have begun infusing anything I can get my hands on!
Fresh fruit pairs beautifully with hot peppers and what pairs beautifully with that combo? Tequila of course! Fruity margaritas aren't a new thing, but add some hot pepper infused simple syrup and your cocktail gets a completely different twist. Pictured is a margarita made with sweet ripe peaches and jalapeno simple syrup. A perfectly refreshing summer drink that's a little bit sweet and a little bit spicy!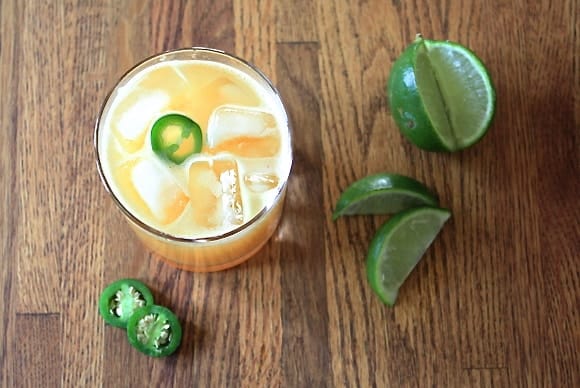 Hot Pepper Infused Fresh Peach Margarita
A sweet and spicy margarita made with fresh peaches and jalapeño, serranno, or habanero infused simple syrup.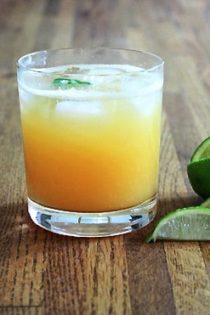 Ingredients:
For the margarita:
3 large ripe peaches
6 ounces silver tequila
2 ounces orange flavored liquer such as triple sec or cointreau
2-4 ounces simple syrup (start with a little and add more if you want more spice)
Juice of one large lime or 2 small
Juice of one orange juice
For the syrup:
1 cup water
1 cup sugar
2 fresh jalapenos, 2 fresh serranos, or 1 habanero (depending on preferred spice level)
*Feel free to change the sugar to water ratio to less if you like your drinks less sweet. I usually do 1/2 cup sugar to 1 cup water.
Directions:
To make the simple syrup cook the sugar, water and peppers (cut in half) together on low until the sugar is dissolved. Let the syrup cool and strain the peppers and seeds.
Peel and remove the pit from the peaches, and blend with all the other ingredients. Here you can use a regular blender or an immersion blender. Pour over ice and enjoy!
*Save leftover syrup and try this drink with different fresh fruit blends!
Notes:
If you don't like tequila just substitute vodka for an equally delicious cocktail!
All images and text ©
Follow Jamie on Instagram. We love to see what you're baking from MBA! Be sure to tag @jamiemba and use the hashtag #mbarecipes!