Frozen Banana Ice Cream is a sweet, easy and healthy way to make ice cream at home: no ice cream machine needed!
The weather in Ohio is a fickle thing. We had record temperatures and snow falls this Winter (as did the entire country) and in the span of 24 hours it can go from 45 degrees to 85 degrees. Needless to say, getting the kids dressed inthe morning is a complete guessing game. Short sleeves, long sleeves, parka, spring jacket – I've given up trying to figure it out. I just throw some bizarre grouping of layers on the kids, send them on their way and hope for the best.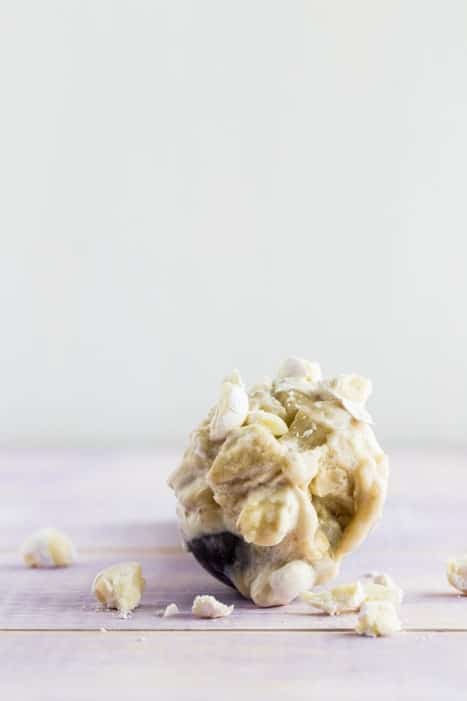 With these new random heat waves has come the ever increasing desire for ice cream. My six-year-old is a self proclaimed ice cream connoisseur and we have gotten in the habit of keeping 3-4 types of ice cream in the freezer at a time. Yes, I'm fully aware that seems like overkill, but we tend to eat it slowly and just like a variety. At least I tell myself that we eat it slowly so I don't feel so guilty.
In an effort to feel even less guilty about eating ice cream and also feeding it to my kiddos several nights a week, I wanted to try my hand at making banana ice cream. It's really only one ingredient: bananas. Processed frozen bananas take have an uncanny similarity to ice cream. It's pretty darn awesome. All you have to do is cut up a banana and freeze it for a few hours, then pop it into your food processor and bam – ice cream.
You won't believe it until you try it, so you better go give it a try. This banana ice cream was fabulous on it's own but I couldn't leave well enough aloneso I threw a little leftover Easter candy in there. These white chocolate eggs are delectable and paired wonderfully with this frozen banana treat. I love the idea of making this sweet treat for my kiddos knowing it's all fruit – with maybe just a touch of candy. It is dessert, after all.
Frozen Banana Ice Cream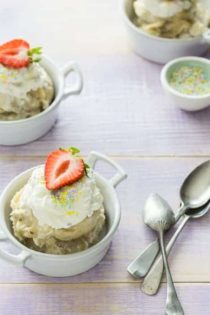 Ingredients:
4 ripe bananas, cut into pieces and frozen for about 2 hours
1/2 cup of mix-ins such as candy, nuts, Nutella or chocolate chips (I used leftover white chocolate Easter egg candy that I crushed)
Directions:
1. Place frozen banana pieces into food processor. Blend until bananas are smooth and creamy, stopping to scrape down the sides of the bowl if necessary.
2. Add 1 tablespoon of water if mixture is a little too thick. Stir in your mix-ins and spoon ice cream into a freezer safe container. Ice cream can be eaten immediately or stored in the freezer for later.
Enjoy!
All images and text ©
Follow Jamie on Instagram. We love to see what you're baking from MBA! Be sure to tag @jamiemba and use the hashtag #mbarecipes!