These super easy gluten-free pumpkin pie bars have an oat-based streusel crust as well as topping and are sure to be a hit at the Thanksgiving dessert table!
While I prefer pie to cake and other desserts, I don't make pies very often because I find pie crust to be too fussy. Not only that, but I usually don't even like the taste of pie crust and I'm more than perfectly content with just the filling. All of those problems go out the window with these pumpkin pie streusel bars! The crust couldn't be simpler and it doubles as a streusel topping.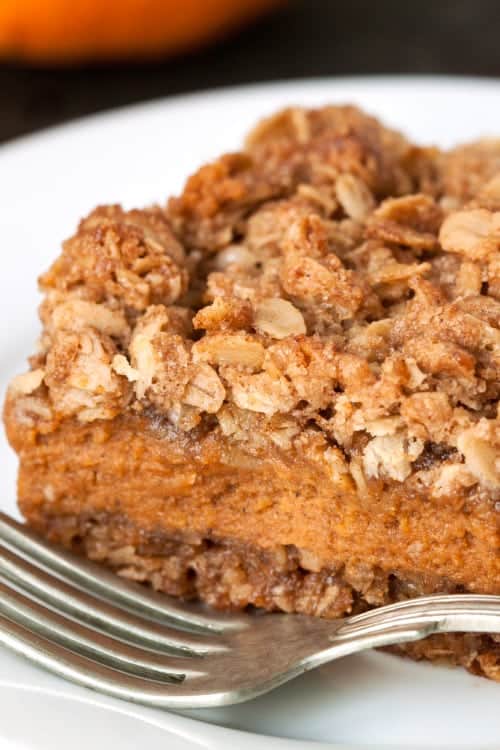 I sometimes find classic pumpkin pie a little boring and if given the option between it and something else, I have to admit, I normally reach for something a little more out of the ordinary. That's why I loaded these pumpkin pie bars with streusel! Who can resist a thick layer of buttery, crisp streusel?
Just like in my last post (these gluten-free apple spice cookies), I used a mix of oats and oat flour, which makes this a great recipe to start off with if you're new to gluten-free baking. They're also coincidentally 100% whole grain. More importantly, nobody will be able to tell that these are gluten-free or whole grain! The texture of the streusel is just like that of one with all-purpose flour and I was also generous with the cinnamon, which covers up any whole grain taste.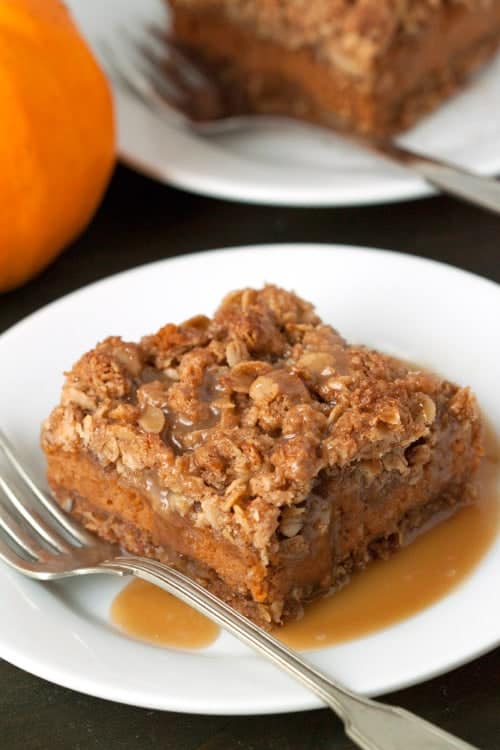 You can either top these bars off with whipped cream or for even more of a treat – this salted maple caramel sauce! It's quick, easy and there's no candy thermometer needed. If you prefer cream, 1 cup of cream yields about 2 cups of whipped cream, which is just the right amount for these bars. I like to add a tablespoon of powdered sugar while I'm beating the cream and to briefly beat in a teaspoon of vanilla once my whipped cream has reached the soft peak stage.
Whether or not you have a gluten-free family member at Thanksgiving, these pumpkin pie streusel bars would make an awesome addition to your dessert table!
Gluten-Free Pumpkin Pie Streusel Bars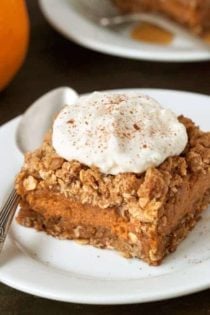 Ingredients:
For the crust and topping:
1 1/4 cups certified gluten-free oat flour*
2 cups certified gluten-free rolled oats
1 tablespoon cinnamon
1 cup brown sugar
1/4 teaspoon salt
3/4 cup + 2 tablespoons unsalted butter, melted and cooled slightly
For the filling:
1 15-ounce can pumpkin puree
2 large eggs
1/3 cup granulated sugar
1/3 cup brown sugar
2 1/2 teaspoons pumpkin pie spice**
1 teaspoon vanilla extract
1/4 teaspoon salt
1/2 cup evaporated milk
Directions:
1. Preheat the oven to 350∞F. Line an 8" x 8" pan with parchment paper and set aside.
2. Prepare the crust and topping. In a large mixing bowl, stir together the oat flour, oats, cinnamon, sugar and salt. Stir in the butter until well combined.
3. Pat half of the mixture firmly onto the bottom of the prepared pan.
4. Bake for 18-22 minutes or until lightly golden brown. The crust will bubble a little during baking.
5. Let the crust cool for 5-10 minutes while preparing the filling.
6. In a large mixing bowl, stir together all the filling ingredients. Pour evenly over the crust and bake for 12 minutes.
7. Remove from the oven and add walnut-sized pieces of the remaining oat mixture over the filling. It will be a very thick layer and some of it will sink a little into the filling. Bake for another 30 minutes or until the filling is golden brown and firm and the middle is set.
8. Let cool for 1 hour and serve with whipped cream or maple caramel sauce.
Cool completely before covering. Store at room temperature for up to 2 days or in the refrigerator for up to 4 days.
Notes:
* To make oat flour, pulse quick or rolled oats in a food processor or coffee grinder until finely ground.
** If you don't have pumpkin pie spice on hand, make your own using 1 teaspoon cinnamon, 3/4 teaspoon ginger, 1/2 teaspoon allspice, and 1/4 teaspoon nutmeg.
Follow Jamie on Instagram. We love to see what you're baking from MBA! Be sure to tag @jamiemba and use the hashtag #mbarecipes!