I'm been enduring quite a bit of harassment at work. No, not that kind of harassment, but harassment nonetheless. Ya see, I haven't been baking a lot lately. I was sick, then lazy, then sick again and the coworkers weren't getting their weekly sugar high, so my boss and the building resource officer set out to basically annoy me into baking.
I have not been greeted with a "Good Morning," nope, it's more like "Where are the cupcakes?" Which typically I'd brush off, but since Justin is moving to giant piece of self-sufficient land in the middle of nowhere very soon, I thought I'd give the guy a proper send off.
Both my boss and Justin are candyholics, yep, they're the guys noshing on chocolate at 7:30am and have no qualms about consuming cupcakes with their morning coffee. Due to their love affair with chocolate, candy bars, and cupcakes, I set out to create something that encompassed all of these things.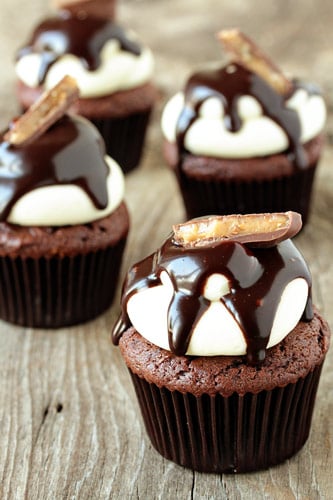 These Heath Bar Cupcakes have that delicious, buttery toffee flavor baked right into the cake. They're then topped with my favorite buttercream frosting and a drizzle of rich, dark chocolate ganache. As if that wasn't enough, I nestled a piece of Heath Bar directly on top of each cupcake for a finishing touch.
These Heath Bar Cupcakes went over famously and were just what the coworkers were harassing me for. I don't know what they're going to do all summer without their cupcake fix because tomorrow is my last day or work. Woo-Hoo! I'm so excited to blog full time for the summer and can't wait to share delicious recipes and giveaways with you all summer long!
Heath Bar Cupcakes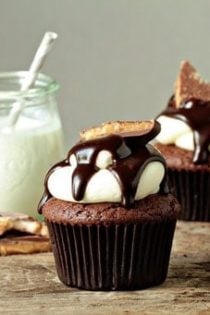 Ingredients:
For the Cupcakes
1 (18.25 ounce) package devil's food cake mix
1 (5.9 ounce) package instant chocolate pudding mix
1 cup sour cream
1 cup vegetable oil
4 eggs, lightly beaten
2 teaspoons pure vanilla extract
1 tablespoon instant espresso granules dissolved in 1/2 cup warm water
1 cup Heath English Toffee Bits
For the Buttercream
4 sticks unsalted butter, softened
pinch of fine grain sea salt
1 tablespoon clear vanilla extract
2 pounds confectioners' sugar, sifted
4-6 tablespoons heavy cream or milk
For the Ganache
4 oz bittersweet chocolate, chopped into very small pieces
1/2 cup heavy whipping cream
2 tablespoons honey
2 tablespoons light corn syrup
2 teaspoons vanilla
5 1.4-ounce Heath Bars, chopped into large pieces
Directions:
For the Cupcakes
1. Preheat oven to 350 degrees F. Line muffin tin with paper liners or spray with non-stick cooking spray.
2. In the bowl of a stand mixer, fitted with the paddle attachment, or with a hand mixer in a large bowl, beat together the cake and pudding mixes, sour cream, oil, eggs, vanilla and espresso water mixture. Beat for about two minutes on medium speed until well combined. Fold in Heath English Toffee Bits.
3. Using a large cookie scoop, distribute the batter between 24 muffin wells; about 3 tablespoons of batter per well.
4. Bake in preheated oven for 18-22 minutes or until the tops of the cakes spring back when lightly touched. Allow cupcakes to cool inside muffin tins for about 10 minutes.
5. Remove cupcakes from muffin tins and allow to fully cool on a wire rack. Once cupcakes are cool, prepare your frosting.
For the Buttercream
1. In a large mixing bowl, cream butter until fluffy. Slowly add in confectioner's sugar, and continue creaming until well blended.
2. Add salt, vanilla, and 3 tablespoons of heavy cream or milk. Blend on low speed until moistened. Add an additional 1 to 3 tablespoons of heavy cream or milk until you reach the desired consistency. Beat at high speed until frosting is smooth and fluffy.
For the Ganache
1. In a small saucepan over medium heat, warm the heavy cream until very hot, but not boiling.
2. Place chocolate pieces in a heat safe bowl. Pour the hot cream over the chocolate and allow it to sit for about 5 minutes. Whisk the cream and chocolate until smooth and thoroughly combined. Whisk in the honey, corn syrup, and vanilla. Allow to cool for about 15 minutes. Do not let the glaze sit for too long or it will harden up before you spoon it over the frosting.
3. Spoon the glaze on the tops of the frosted cupcakes, allowing it to drip down the sides a little bit. Don't add too much glaze or it will drip all over your liners.
4. Top each cupcake with a piece of Heath Bar.
5. Store cupcakes in the refrigerator. Remove them to room temperature one hour before serving.
Notes:
- If you are not a fan of doctored cake mixes, no worries. Simply sub in your favorite from scratch recipe.
- Recipe for the ganache is from the fabulous Kristan, of Confessions of a Cookbook Queen.
- Brown cupcake liners are from Bake It Pretty.
- Frosting was piped using the large round tip from Bake It Pretty.
- For piping tips, check out my How To Video.
All images and text ©
Follow Jamie on Instagram. We love to see what you're baking from MBA! Be sure to tag @jamiemba and use the hashtag #mbarecipes!