I hope all of you had an amazing holiday full of family, friends, and of course, food. It's always crazy to me how quickly the season flies by.
Now it's time to pack up the décor and take a break from the cookie baking! Today's recipe is for a delicious beef stroganoff that is full of the robust flavors of winter.
Tender strips of beef and mushrooms marry with Holland House Red Wine for Cooking and sour cream to create an incredibly hearty and delicious meal. Serve this beef stroganoff over cooked egg noodles or a bed of whipped mashed potatoes for a perfect meal worthy of any occasion.
Be sure to head over to goodLife eats and check out Katie's recipe for chicken marsala, it looks incredible!
[pinit]

Beef Stroganoff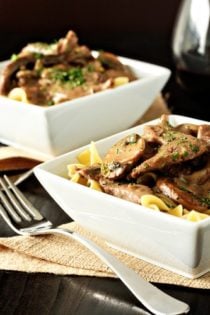 Ingredients:
2 pounds beef chuck roast
1 teaspoon salt
1/2 teaspoon ground black pepper
1/2 teaspoon garlic powder
6 ounces Holland House Red Cooking Wine
2 tablespoons butter
1/2 pound white button mushrooms; sliced
4 green onions, sliced (white parts only)
3 tablespoons vegetable oil
4 tablespoons all-purpose flour
1 (10.5 ounce) can condensed beef broth
1 teaspoon prepared mustard
2 teaspoons Worcestershire sauce
1/3 cup sour cream
salt to taste
ground black pepper to taste
fresh parsley to garnish
Directions:
1. Remove any fat from the roast and cut into strips 1/2 inch thick by 2 inches long. Season beef with salt, pepper and garlic powder. Place sliced beef into a resealable bag and pour Holland House Red Cooking Wine over the beef. Place in refrigerator and marinate for about one hour.
2. Remove beef from refrigerator. In a large pan, melt butter over medium heat. Add in mushrooms and sauté until lightly browned and softened; about 4-5 minutes. Add in green onions and cook with the mushrooms for 2 minutes. Remove mushrooms and onions from pan and set aside.
3. Add vegetable oil to the same pan and heat over medium high heat. Use a slotted spoon to remove beef from wine marinade; reserve marinade. Use paper towels to pat the beef dry.
4. Add beef to the pan and cook until it is browned and cooked through. Whisk the flour into the beef and juices. Pour in beef broth and reserved red wine marinade. Bring to a boil, stirring constantly. Lower the heat and stir in mustard and Worcestershire sauce. Cover and simmer for 1 hour or until the meat is tender.
5. Five minutes before serving, stir in the mushrooms, onions and sour cream. Heat for approximately 5 minutes. Salt and pepper to taste. Serve over mashed potatoes or cooked egg noodles and garnish with fresh parsley.
All images and text ©
Follow Jamie on Instagram. We love to see what you're baking from MBA! Be sure to tag @jamiemba and use the hashtag #mbarecipes!