Hot chocolate seems to be the staple for cold weather and the holiday season. There's something about a hot mug full of rich, chocolately goodness that propels you instantly back to your childhood. When hours of playing in the snow had ended, you'd wander into the house with rosy cheeks and a frosty little nose for a steaming mug of liquid gold – hot chocolate with marshmallows. If you were lucky, you might even find a gingersnap or two. I don't know about you, but sipping hot chocolate on a snowy evening definitely instigates a flashback to those times and a healthy dose of nostalgia.
I remember sledding for hours on our hometown hill and looking forward to warming up fireside with a hot mug in hands brimming with mini marshmallows that I tried to strategically fish out with every sip. I'd like to say that attempting to do that is also a distant memory, but who am I kidding, I totally still do that – minus the whole sledding thing.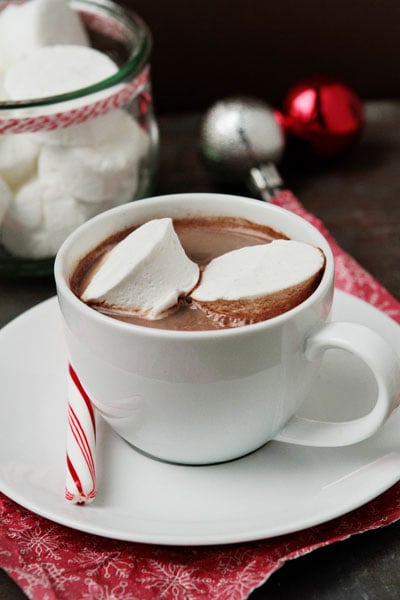 Over the last several weeks, I've been taking a lot of time to concentrate on homemade, edible gifts that are way better than anything you'd buy in a store. This Hot Cocoa Mix In A Jar is no exception. Although it's a delicious homemade gift on its own – I couldn't help whipping up a batch of homemade Vanilla Marshmallows to include for my nearest and dearest.
Making a rich decadent cocoa mix from scratch is almost as easy as ripping the top off of the Swiss-Miss packet and trust me, it's much tastier! With a few simple ingredients including Dutch-process cocoa, confectioners' sugar and powdered milk, it takes virtually no time to mix up batch.
Presented in a beautiful shaped glass jar and fancied up with a homemade tag and festive red and white baker's twine, it'll look as though you spent hours making a unique and fabulous gift. And of course the addition of the Homemade Vanilla Marshmallows makes it just a little sweeter! No one needs to know you churned out holiday gifts for the entire family in just a few hours, right?
Tag Info
– The jar seen in the photos is a Weck 3/4 Liter Mold Jar.
If you have a Silhouette Machine and are interested in the shapes and font I used, here is the info:
– Square Tag (Rudolph Reindeer Card) by Loni Stevens cut on light blue card stock with a 4.0 inch width (will be folded in half).
– Mittens (Cocoa, Mittens, and Hat) by KI Memorie cut on red card stock with a 1.0 inch width
– Font used is called Last Words
– Baker's Twine was purchased from Amazon

Hot Cocoa Mix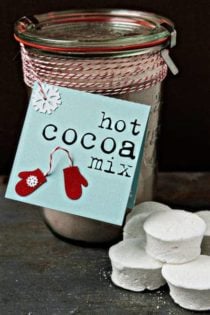 Ingredients:
2 cups powdered sugar
1 cup cocoa (Dutch-process preferred)
2 1/2 cups powdered milk
1 teaspoon salt
2 teaspoons cornstarch
Directions:
To Make The Mix
1. In a large bowl, combine all ingredients and whisk until evenly incorporated.
2. Pour hot cocoa mix into an airtight container and store in a cool, dry place.
To Make Hot Cocoa
Fill a mug half full with the hot cocoa mix and pour in hot water. Stir to combine. Seal the rest in an airtight container. This also works great with warm milk.
Notes:
Alton Brown recommends adding a pinch of cayenne pepper to the mix; however, I omitted this ingredient.
Source: My Baking Addiction slightly adapted from Alton Brown
All images and text ©
Follow Jamie on Instagram. We love to see what you're baking from MBA! Be sure to tag @jamiemba and use the hashtag #mbarecipes!