Fundamentals: How to Toast Nuts
How to Toast Nuts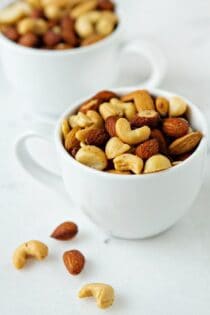 Ingredients:
| Nut | Time |
| --- | --- |
| Almonds (sliced) | 7-10 minutes |
| Almonds (whole) | 10 minutes |
| Chestnuts | 25 minutes |
| Hazelnuts | 12-15 minutes |
| Macadamia Nuts | 12-15 minutes |
| Pecans | 10-15 minutes |
| Pine Nuts | 5 minutes |
| Walnuts | 10-15 minutes |
| Peanuts (in shell) | 15-20 minutes |
| Peanuts (shelled) | 20-25 minutes |
Directions:
Microwave Method
Spread a single layer of nuts on a microwave safe plate.
Cook them in 1 minute intervals on full power, until the nuts have a crisp crunch, toasted flavor, and have become fragrant. The amount of time it takes varies per nut. You will not get the same dark color you get from oven or pan toasting, but this will do in a hurry when you don't want to dirty a pan or heat up the oven for such a simple task.
Stovetop Method
Heat a large frying pan on the stove top. Turn on medium-high heat.
When the pan is hot, add a single layer of nuts. Do not add any oil or cooking spray – the nuts have enough oils on their own to cook.
Stir frequently with a spatula until the nuts turn golden brown and smell mouth-watering.
Remove from heat, and if necessary, from pan, as they will continue to cook after being removed from the heat.
Oven Method
The oven method is the most often used when toasting a large volume of nuts. Preheat the oven to 350°F. When the oven is ready, use the table below to cook to your specified nut.
Spread the nuts in a single layer on a baking sheet. If using mixed nuts, 15-20 minutes will probably suffice to make sure all the nuts are done, but check them often. You may also want to stir and flip the nuts at the half way mark on time, to make sure that all nuts are heating evenly, but it is not necessary.
Skinning Nuts
If you have toasted any nuts that have skins on them, like peanuts or hazelnuts, simply allow them to cool for a few minutes, and then place the nuts in a clean and dry kitchen towel.
Rub them vigorously with the towel, and the skins will slip right off. Don't worry about any skins that do remain, however. They will not affect any food you add them to, and the skins are safe to eat.
The table above is a simple time guide. Ovens heat differently, so your timing may vary. Please check the nuts often, and make sure to stir them if it appears the nuts are getting more done on one side of the oven. You can also rotate the baking sheet in the oven.
All images and text ©
Follow Jamie on Instagram. We love to see what you're baking from MBA! Be sure to tag @jamiemba and use the hashtag #mbarecipes!