The Breakstone's Triple Churned Blogger Contest has asked that I create a holiday menu using Breakstone's triple churned sour cream. Earlier this week I featured my Mini Potato Bites for the appetizer and here is the second component to the menu: Individual Turkey Pot Pies.
Leftover turkey from your latest holiday spread? Instead of noshing on a mundane turkey sandwich, whip up these simple, individual turkey pot pies. This satisfying entrée starts with a rich and hearty Breakstone's sour cream sauce, which is the perfect texture and consistency to warm you up on that lazy, chilly afternoon.
By simply cutting up leftover Thanksgiving turkey and adding some flavorful vegetables, you are able to create a hearty and scrumptious pot pie filling that no one will be able to refuse. The finishing touch? Top this savory sauce with flaky puff pastry that is filled with buttery goodness.
By serving these in a single size bowl, your family and guests will get the perfect serving to feel delighted and satisfied with your meal. These turkey pot pies are a surefire way to turn ordinary leftover turkey into something extraordinary.
VOTE for my menu and enter for a chance to win up to $1,000! You can vote once every 24 hours. Thanks so much for your support!
Individual Turkey Pot Pies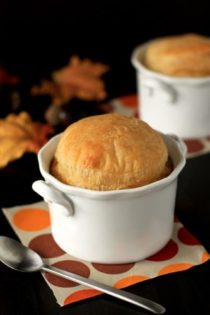 Ingredients:
4 cups turkey or chicken stock;
12 tablespoons butter
2/3 cup all-purpose flour
1 1/2 teaspoons kosher salt
1/2 teaspoon fresh ground pepper
2 sprigs fresh thyme (leaves only)
16 ounce package of frozen vegetable for soup mix
4 cups turkey; cooked and shredded
1/2 cup Breakstone's Sour Cream
1 sheet frozen puff pastry dough; thawed according to package directions
Directions:
1. Preheat oven to 375 degrees Fahrenheit. Lightly butter the insides of six oven-safe ramekins.
2. In a small saucepan, heat stock until hot, but not boiling.
3. In a large pot or Dutch oven, melt butter. Add flour and stir constantly over low heat for 2 minutes.
4. Slowly whisk in the heated stock and simmer for 5 minutes or until sauce has thickened.
5. Add in salt, pepper, thyme, frozen vegetables and shredded turkey; heat until vegetables and turkey are heated through; about 10 minutes. Stir in Breakstone's Sour Cream until fully incorporated.
6. Meanwhile, lightly flour a work surface and unfold your sheets of thawed puff pastry. Roll the dough slightly. Use the top of a ramekin as a template to cut out 6 circles from the puff pastry sheet.
7. Divide turkey mixture evenly between the six oven-safe ramekins.
8. Place a puff pastry circles directly on top of the each ramekin. Place ramekins on sheet pan.
9. Bake for 18-20 minutes or until the pastry is golden brown.
All images and text ©
Follow Jamie on Instagram. We love to see what you're baking from MBA! Be sure to tag @jamiemba and use the hashtag #mbarecipes!