Inside-Out Apple Crisp
Fall is in the air! After a trip to our local orchard, it was clear that we could use the abundant selection of fresh picked apples for a festive fall dessert! We were thrilled to gather two large baskets full of Granny Smith and Honey Crisp apples, which are delicious at this time of year. The smell of the apple trees, apple cider, and freshly baked apple donuts definitely got my mind churning for an apple dessert that was bound to hit that fall craving. Let the baking begin!
Don't be fooled by the less than smooth appearance, these Inside Out Apple Crisps are bursting with flavor and are definitely elegant enough to be served at a dinner party full of autumn fervor. As with any new recipe, I definitely hit some kinks along the way, but this dessert was just too good not to persevere and come up with the perfect combination of sweetness, tart, and texture.
I chose four plump Granny Smith apples, cored them and hollowed them out slightly beyond the cored center. The apples were stuffed with a simple, yet tasty, rolled oat and brown sugar mixture. I lightly packed the apple with the mixture and put them oven. They were then drizzled with caramel sauce giving them the finale that they deserved!
The Inside-Out Apple Crisps needed about 30 minutes to bake, but be careful; I happened to get caught up in doing other things and next thing I knew, I had an apple ooze fest on my pan after having them in the oven for over 40 minutes. Not to worry, though, after working out the kinks, this apple dessert, turned into an easy yet scrumptious fall treat. If you want an apple that will wrinkle less during the baking process, opt for the Honey Crisp variety. The wrinkled appearance did not bother us, because the tartness of the Granny Smith apples perfectly complimented the sweetness of the filling and caramel drizzle.
This recipe took, at most, 5 minutes to prepare, but the mouth-watering aroma that filled the air when baking, was absolutely divine. This is a great recipe for the family when you have little time to prep and bake, but want a sweet ending to your meal!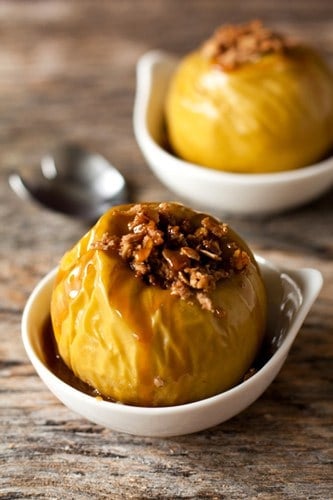 Inside-Out Apple Crisp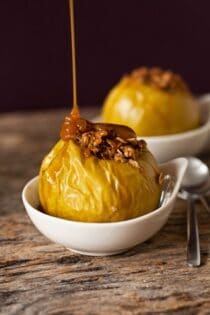 Ingredients:
4 Granny Smith apples (cored and slighty hollowed down)
Filling:
1/2 cup rolled oats
2 tablespoons butter
3 tablespoons brown sugar
1 teaspoon of pumpkin spice
caramel sauce for drizzling over baked apple
Directions:
1. Preheat oven to 350 degrees
2. Core and slightly hollow out the apples beyond the cored center. (Don't go to far or the apple will loose its shape when baked).
3. Mix together the oats, pumpkin pie spice and brown sugar.
4. Soften the butter and add to the mixture, mixing gently until spread throughout.
5. Lightly add the filling to the apples. (Do not pack inside or the mixture will expand and the apple will burst!)
6. Bake for 30 minutes
7. Drizzle with caramel sauce
All images and text ©
Follow Jamie on Instagram. We love to see what you're baking from MBA! Be sure to tag @jamiemba and use the hashtag #mbarecipes!