I'm officially done with work for the school year and I must admit, I'm pretty stoked about doing my own thing for the next few months. No alarm clock buzzing in my ear at 5:45, no last minute wardrobe changes because I'm a clutz with my morning coffee and certainly no more fitting in baking time between chores and dinner. The summer gives me the opportunity to experience what it would be like to blog full time and I must say, I'm kind of digging it.
The first couple of days were spent basking in the fact that there is nothing I have to do. I watched random TV shows – hello, Breaking Pointe on the CW – who knew ballerinas could be so catty?! Watched way too many makeup videos on YouTube and filled a virtual cart at both The Gap and The Limited. However, I got bored pretty quick and decided that I needed cheesecake in my non-working life.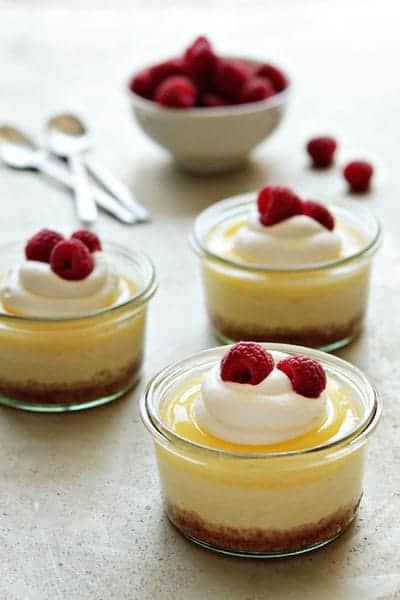 You know that I am a sucker for anything mini – especially when the mini-fied creations are served in Weck jars (see the notes section below for details). I created a foundation for this sweet and tart cheesecake by using Newtons Lemon Fruit Thins. Amber recommended them to me and I must admit, I'm kind of addicted. They're crisp, sweet and just perfect for a cheesecake base. After the cheesecakes were baked and cooled, I topped each one with a layer of homemade lemon curd, fresh whipped cream and ripe raspberries.
Light and crisp, just like their cookie base, these mini cheesecakes are the perfect dessert for your next barbecue. Especially because they can be made ahead of time and simply grabbed from the fridge when you've had time to let all the hot dogs, hamburgers and guacamole time to settle. Your guests will love the little jars, and you'll love the minimal effort.
If raspberries aren't your thing, you can top them with any berry that strikes your fancy – strawberries or blackberries would also be a nice addition.
[pinit]

Lemon Cheesecake in a Jar
Ingredients:
For the Crust
12 Newtons Lemon Fruit Thins (see notes section for substitution)
3 tablespoons unsalted butter, melted
For the Cheesecake
1/2 cup plus granulated sugar
zest of one lemon
2 packages cream cheese, 8 oz each; room temperature
2 large eggs; room temperature
1/4 cup heavy cream
1 teaspoon pure vanilla extract
For the Garnish
1/2 cup homemade lemon curd
fresh whipped cream
fresh berries
Directions:
1. Preheat the oven to 350°F.
2. Place the Newtons Lemon Fruit Thins into the bowl of a food processor, attach the lid and pulse the machine until you have fine cookie crumbs.
3. In a medium bowl, stir together cookie crumbs and melted butter. Evenly divide the crumbs between your individual serving, oven-safe dishes and lightly press the crumbs into the bottoms of each dish to form a crust layer. Place the prepared cheesecake crusts on a baking sheet and bake the crusts in preheated oven for 6 minutes, carefully remove them to a wire rack to cool.
4. Begin to boil a large pot of water for the water bath.
5. In the bowl of your stand mixer fitted with your paddle attachment, combine the sugar and lemon zest and mix until the sugar is moistened and fragrant. Add in the cream cheese and cream together until smooth. Add eggs, one at a time, fully incorporating each before adding the next. Make sure to scrape down the bowl in between each egg. Add heavy cream and vanilla and mix until smooth.
6. Pour batter into serving dishes , directly onto the prebaked crusts, until about 3/4 of the way full. Place jars into a larger pan with high sides and pour boiling water into the larger pan until halfway up the sides of the jars.
7. Bake 25 to 30 minutes, the edges will appear to be set, but the center will still have a little jiggle to it.
8. Carefully remove the cheesecake jars from the water bath and place on a cooling rack to cool completely. Once the cheesecakes are completely cooled, place them into the refrigerator for at least 5 hours. Before serving, top each cheesecake with lemon curd, fresh whipped cream and berries.
Notes:
- If you cannot find the Newtons Lemon Fruit Thins (I purchased them from Walmart), you can substitute them with about 3/4 cup graham cracker crumbs.
- The Jars seen in the photos are Weck Mini Mold Jars 976 - 165. Their volume is 5.6 fl oz.
- If you do not have jars, you can use oven-safe ramekins.
All images and text ©
Follow Jamie on Instagram. We love to see what you're baking from MBA! Be sure to tag @jamiemba and use the hashtag #mbarecipes!