Last week Mother Nature teased us Ohioans and gave us a short lived burst of spring weather. The temperatures hit the high fifties so, of course, I had to make something citrus. After browsing the web for a few minutes, I encountered a recipe that included not only citrus…but citrus and coconut. How can you go wrong with this combo?
I had all the ingredients in the pantry, so I headed into the kitchen and got to baking! This recipe is so easy, I utilized my food processor which made the crust come together in a matter of minutes. The end result was a lovely citrus flavored bar dessert with an amazing toasted coconut topping…seriously, these bars scream warm weather!
Unfortunately, that warm weather made the snow melt, thus making my backyard a swamp…and to ice the cake, the temps dipped back down to forties. I think I need a pair of these wellies, yep, wellies will make me feel better while dodging muddy puddles and geese in my backyard. If you're as ready for warm weather and sunshine as I am, make these bars…they may help ya withstand the wait! Thanks for stopping by, have a scruptious day.
Oh and in case you're interested in winning a fabulous apron from The Hip Hostess, you need to head over to Facebook and become a fan of my new page. Details about the giveaway and apron will be posted later this week, but here's a hint…The Hip Hostess apron is an adorable new style that is not even available yet!!! Head over to their site and check out all of their gorgeous designs!
Note: This giveaway is sponsored by My Baking Addiction, yep I am shelling out the loot to make you look chic in your kitchen!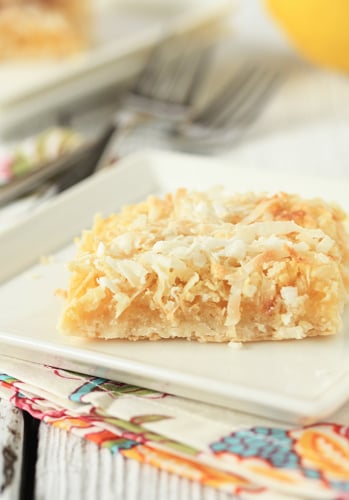 Lemon Coconut Bars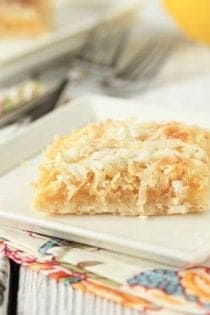 Ingredients:
1 1/2 cups all-purpose flour
1/2 cup confectioners' sugar
3/4 cup cold butter or margarine
4 eggs
1 1/2 cups sugar
1/2 cup lemon juice
1 teaspoon baking powder
1 cup flaked coconut
Directions:
1. Preheat oven to 350 degrees and line a 9 x 13 x 2 inch pan with foil or parchment paper and spray with non-stick cooking spray.
2. In a bowl, combine flour and confectioners' sugar; cut in the butter until crumbly (I used my food processor and pulsed the ingredients until thoroughly combined).
3. Press into the bottom of a lightly greased 13-in. x 9-in. x 2-in. baking pan. Bake at 350°F for 15 minutes.
4. Meanwhile, in a mixing bowl, beat the eggs, sugar, lemon juice and baking powder until well mixed. Pour over crust; sprinkle coconut evenly over the top.
5. Bake at 350°F for 20-25 minutes or until golden brown.
6. Cool on a wire rack. Cut into bars.
adapted from allrecipes
All images and text ©
Follow Jamie on Instagram. We love to see what you're baking from MBA! Be sure to tag @jamiemba and use the hashtag #mbarecipes!
[pinit]