Lemon-Blueberry Cupcakes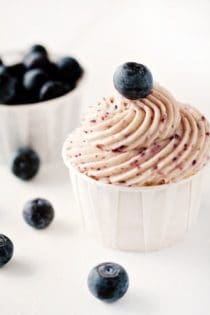 Ingredients:
For the Cake
2 1/4 cups cake flour (I used Swan's Down brand)
1 tablespoon baking powder
1/2 teaspoon kosher salt
1 1/4 cups buttermilk, room temperature
4 large egg whites, room temperature
1 1/2 cups sugar
lemon zest from two lemons (finely grated)
1 stick (8 tablespoons) unsalted butter, at room temperature
1 teaspoon pure vanilla extract
1/2 teaspoon pure lemon extract
For Lemon Curd
1 cup white sugar
3 eggs
1 cup fresh lemon juice (about 4-5 lemons)
zest of 3 lemons
1/2 cup unsalted butter, melted
Lemon Blueberry Buttercream
4 sticks unsalted butter, softened
2 pounds confectioners' sugar, sifted
pinch of fine grain sea salt
2 teaspoons vanilla extract
zest of one lemon (finely grated)
½ cup fresh blueberries, pureed with 1 tablespoon fresh lemon juice
1-3 tablespoons very cold milk (add until you reach desired consistency)
Directions:
For the Cake
Getting Ready: Center a rack in the oven to 350 degrees F. Line cupcake tins with paper liners or spray with non-stick cooking spray.
1. In a large bowl, sift together the flour, baking powder and salt.
2. In a medium bowl, whisk together the milk and egg whites.
3. Place the sugar and lemon zest in the bowl of your mixer or another large bowl and rub them together with your fingers until the sugar is moist and fragrant. Add the butter and, working with the paddle or whisk attachment, or with a hand mixer, beat at medium speed for a full 3 minutes, until the butter and sugar are very light. Beat in the extracts, then add one third of the flour mixture, still beating on medium speed. Beat in half of the milk-egg mixture, then beat in half of the remaining dry ingredients until incorporated. Add the rest of the milk and eggs, beating until the batter is homogeneous, then add the last of the dry ingredients. Finally, give the batter a good 2-minute beating to ensure that it is thoroughly mixed and well aerated. Using a large scoop (about 3 tablespoons), distribute the batter between 24 muffin wells, filling each well 2/3 full.
4. Bake for 18-22 minutes, or until the cupcakes are springy to the touch and a toothpick inserted into the centers come out clean. Cool on wire rack.
5. Once cupcakes have cooled, hollow out a small circle in the center of each cupcake; I use an apple corer because I am anal and obsessed with symmetry.
For Lemon Curd
1. In a large microwave-safe bowl, whisk together the sugar and eggs until smooth and thoroughly combined. Whisk in lemon juice, lemon zest and butter.
2. Cook in the microwave on full power for one minute intervals, stirring after each minute. This process will take about 3-5 minutes depending on the strength of your microwave. You will know the lemon curd is done cooking when it coats the back of a metal spoon.
3. Remove from the microwave, and allow to cool completely before filling cupcakes.
4. Pipe or spoon the lemon curd into each hollowed cupcake and top with buttercream.
For the Lemon Blueberry Buttercream
1. In a large mixing bowl, cream butter until fluffy. Slowly add in confectioner's sugar, and continue creaming until well blended.
2. Add salt, vanilla, lemon zest and blueberry puree and mix until well combined. If buttercream is too thick, slowly drizzle in milk until you reach the desired consistency. Beat at high speed until frosting is smooth and fluffy.
Notes:
- If you want more of a lemon kick in the frosting, simply add a bit more zest.
- Frosting was piped using the large French tip from Bake It Pretty.
- Be sure to use a zester to prepare the lemon zest, you want it to be extremely fine for the cake, lemon curd and the buttercream.
- Cupcakes are best served the day they are made, but you can store them covered in the refrigerator for up to two days. Bring cupcakes to room temperature for about an hour before serving.
-Adapted from Dorie Greenspan.
All images and text ©
Follow Jamie on Instagram. We love to see what you're baking from MBA! Be sure to tag @jamiemba and use the hashtag #mbarecipes!