Summer has simply flown by. And if I'm being honest, the fact that I am back at work today makes me want to cry a little – or a lot. I've enjoyed working on the blog full time and have certainly disrupted my normal school year sleeping habits. I'm trying to get back into a normal routine, so I woke up super early on Friday morning and decided to whip up some summery cupcakes. It was pretty much a desperate attempt to hold onto my last weekend of summer.
I was staring into my refrigerator for inspiration and after moving some stuff around, (yeah I totally need to add clean fridge to my to-do list) I discovered about a cup of leftover lemon curd and immediately had a plan. Lemon Meringue Cupcakes – perfect for the last few weeks of warm weather.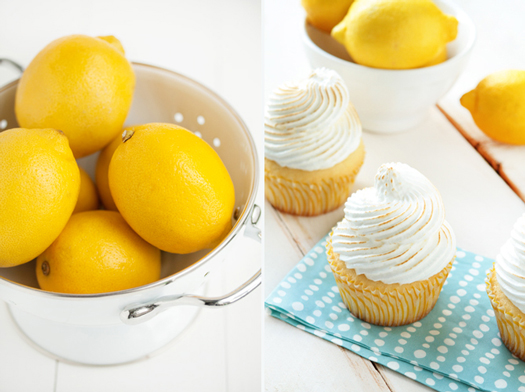 Because it was 7:30 am and I had only downed a quarter cup of coffee, I decided that I'd stick with the basics. So I went with my favorite lemon infused white cupcake recipe, cored the center and added a dollop of homemade microwave lemon curd. Then I added a beautiful swirl of 7 minute frosting and then gave a quick pass with my kitchen torch.
The result was an ultra light, sweet, yet perfectly tart cupcake that was so incredibly delicious it totally made me forgot about my impending 5:30 am wake up time!
Lemon Meringue Cupcakes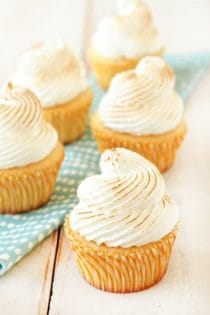 Ingredients:
For the Cake
2 1/4 cups cake flour (I used Swan's Down brand)
1 tablespoon baking powder
1/2 teaspoon kosher salt
1 1/4 cups buttermilk, room temperature
4 large egg whites, room temperature
1 1/2 cups sugar
lemon zest from two lemons (finely grated)
1 stick (8 tablespoons) unsalted butter, at room temperature
1 teaspoon pure vanilla extract
For the Filling
1 cup lemon curd
7-Minute Frosting
1 1/2 cups plus 2 tablespoons sugar
2/3 cup water
2 tablespoons light corn syrup
6 large egg whites, room temperature
Directions:
For the cupcakes
1. Preheat oven to 350 degrees F. Line cupcake tins with paper liners or spray with non-stick cooking spray.
2. In a large bowl, sift together the flour, baking powder and salt.
3. In a medium bowl, whisk together the buttermilk and egg whites.
4. Place the sugar and lemon zest in the bowl of your mixer or another large bowl and rub them together with your fingers until the sugar is moist and fragrant. Add the butter and, working with the paddle or whisk attachment, or with a hand mixer, beat at medium speed for 3 minutes, until the butter and sugar are light and fluffy. Beat in the vanilla, then add one third of the flour mixture, still beating on medium speed. Beat in half of the milk-egg mixture, then beat in half of the remaining dry ingredients until incorporated. Add the rest of the milk and eggs, beating until the batter is thoroughly combined. Add the last of the dry ingredients. Finally, give the batter a good 2-minute beating to ensure that it is thoroughly mixed and well aerated.
5. Using a large scoop (about 3 tablespoons), distribute the batter between 24 muffin wells, filling each well 2/3 full.
6. Bake for 18-22 minutes, or until the cupcakes are springy to the touch and a toothpick inserted into the centers come out clean. Cool on wire rack.
7. Once cupcakes have cooled, hollow out a small circle in the center of each cupcake; I use an apple corer because I am little OCD and obsessed with symmetry. Spoon or pipe in a dollop of lemon curd.
For the frosting
1. In a small saucepan, combine 1 1/2 cups sugar with the water and corn syrup; clip a candy thermometer to side of pan. Bring mixture to a boil over medium heat, stirring occasionally, until sugar dissolves. Continue boiling, without stirring, until syrup reaches 230 degrees.
2. Meawhile, in the bowl of a stand mixer fitted with the whisk attachment, whisk egg whites on medium-high speed until soft peaks form. With mixer running, add remaining 2 tablespoons sugar, beating to combine.
3. As soon as sugar syrup reaches 230 degrees, remove from heat. With mixer on medium-low speed, pour syrup down side of bowl in a slow, steady stream. Raise speed to medium-high; whisk until mixture is completely cool (test by touching the bottom of the bowl) and stiff (but not dry) peaks form, about 7 minutes. Use immediately.
4. Frost cooled cupcakes. Use a kitchen torch to lightly brown the meringue frosting.
Notes:
- Cake recipe from Dorie Greenspan
- 7-Minute Frosting from Martha Stewart
- Cupcake liners from Bake It Pretty
- Cupcake tip used to pipe these cupcakes is the Giant French Tip from Bake It Pretty
All images and text ©
Follow Jamie on Instagram. We love to see what you're baking from MBA! Be sure to tag @jamiemba and use the hashtag #mbarecipes!