September 1st was the day – the day that I was going to transition my house from Summer to Fall. I'm a seasonal scent kind of girl, so I planned on packing away all the tropical, fruity candles, deodorizing sprays and decor and even make a little room in the pantry for a gazillion cans of pumpkin. However, two things got in the way – blazing hot temperatures and a big bag of lemons.
I simply couldn't couldn't bring myself to hang an Autumn wreath when there's no doubt that I would have broken a sweat unpacking it from the garage. So, I decided to whip up a batch a Homemade Microwave Lemon Curd, paint my nails a pretty shade of pink and embrace the last few days of Summer.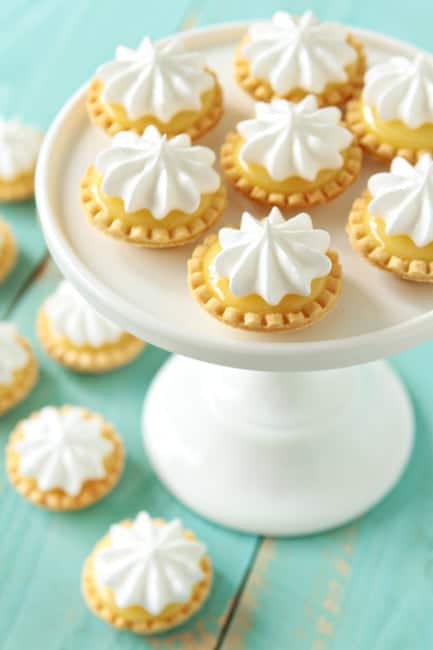 I was baking up a storm with my friend Brittany and unlike me, she doesn't think it's okay to eat lemon curd straight from the jar with a spoon. Lucky for her, I had a couple of semi-homemade tricks up my sleeve that allowed me to create a simple, delicious, Summery dessert without bribing her into a grocery store run.
A few weeks ago, I came across a box of miniature tart shells at my local market – knowing that they'd come in handy sooner rather than later, I tossed them into my cart. I filled the cute, mini shortbread shells with lemon curd and topped them with a dollop of meringue.
I have a little confession, I didn't exactly make the meringue by hand. I did whip it up in my stand mixer, but I totally took a little help from The Miracle Meringue. It's a little packet of powder that allows you to create a perfect meringue topping in minutes – all you need to add is warm water.
Fall is just around the corner – I promise, but until the temps drop and leaves start turning, celebrate Summer with simple Lemon Meringue Pies.
Mini Lemon Meringue Pies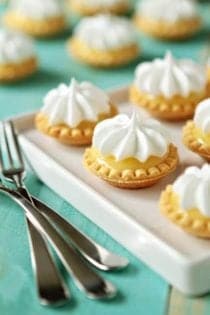 Ingredients:
Directions:
Place the tart shells on a tray or baking sheet.
Spoon the lemon curd into a piping bag and fill each tart with lemon curd.
Fit a piping bag with a large Star Tip. Spoon the meringue into the piping bag and pipe a small dollop of meringue onto each mini tart. Store tarts in the refrigerator until ready serve.
Notes:
I purchased my tart shells from my local market for $5.99, so definitely check a store near you before purchasing from Amazon as the price seems a bit high.
If you want to make your own meringue topping, I really like this one from Alton Brown.
I used a large Star Tip to pipe the meringue.
All images and text ©
Follow Jamie on Instagram. We love to see what you're baking from MBA! Be sure to tag @jamiemba and use the hashtag #mbarecipes!
– The Amazon links within this post are derived from an affiliate program. My Baking Addiction receives a small commission on products that are purchased through these links.
– The Miracle Meringue is a current sponsor of My Baking Addiction; however, the views and opinions expressed within this post are our own.