Ever since having Elle, my social life has definitely not been all that amazing. In fact, it's pretty much been nonexistent. Although I must say, I've never been much of a socialite. I totally prefer sitting on the couch in yoga pants eating cereal out of the box, than wining and dining at some posh restaurant. It's just not my scene. Now if that posh restaurant were to have to-go and curbside pick-up, I'd probably be all over it.
It's not that I feel guilty leaving Elle, but more so because she's my bff, and I simply love spending every minute that I can with her. However, every once in a great while, I feel the need for some in-person interaction with my girls. That's why when Lindt approached me about hosting a Chocolate and Wine Pairing Party, I pretty much jumped at the opportunity. Yep, this girl can get down with some chocolate and the wine – well, that was just a bonus.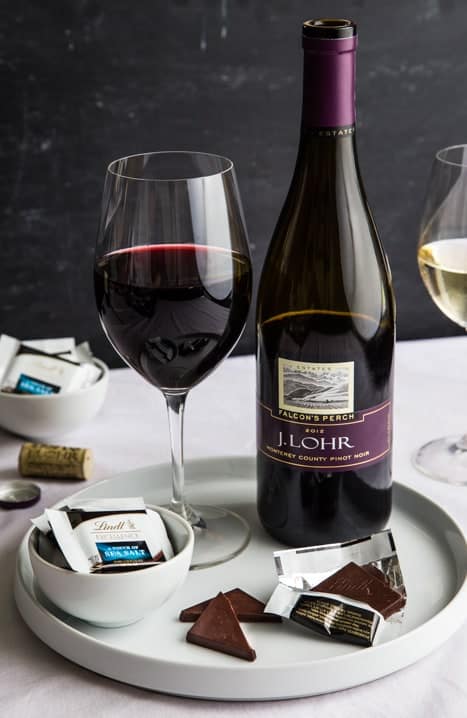 Lindt provided me with an amazing selection of their dark chocolate and a variety of wine from J. Lohr. I immediately text messaged Emily informing her that we were going to be throwing ourselves a little chocolate and wine par-tay! Of course she was down – who wouldn't be? We're talking wine and chocolate here.
Being that we love us some food, we had to have a few snacks on hand as well. We even got all fancy with shrimp cocktail, flatbreads and a variety of cheeses. Can it really get any better than snacks, wine and chocolate? Nope. It simply can't – well, unless you throw a cheesecake into the mix because cheesecake is always necessary. We had a blast snacking, sipping wine and taking photos of our little get together.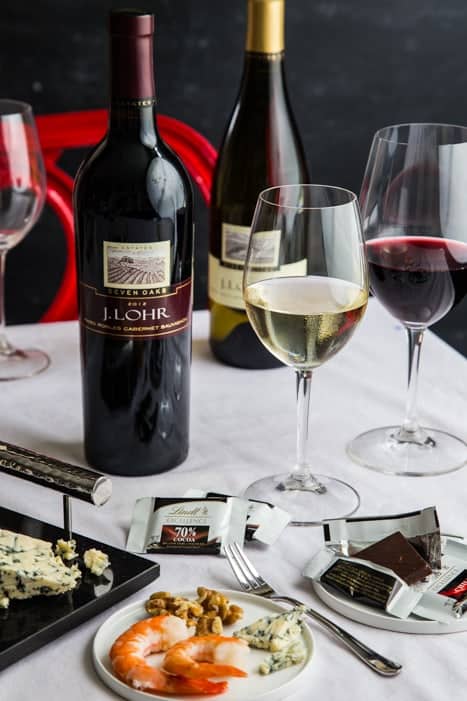 The Perfect Pairings
Lindt EXCELLENCE 70% Cocoa + J. Lohr Estates Seven Oaks Cabernet Sauvignon
Lindt EXCELLENCE Chili + J. Lohr Estates South Ridge Syrah
Lindt EXCELLENCE Sea Salt + J. Lohr Estates Falcon's Perch Pinot Noir
Lindt EXCELLENCE Pineapple + J. Lohr Estates Riverstone Chardonnay
Lindt EXCELLENCE Intense Orange + J. Lohr Estates Bay Mist White Riesling
My favorite pairings were the Lindt EXCELLENCE Sea Salt paired with J. Lohr Estates Falcon's Perch Pinot Noir and Lindt EXCELLENCE Pineapple paired with J. Lohr Estates Riverstone Chardonnay. Who knew pineapple and chocolate was such an amazing combination?
To discover more about these delicious pairings, head over to Lindt.
The lovely folks at Lindt wanted to spread the chocolate love, so they are giving away this fantastic selection of Lindt EXCELLENCE bars to one one lucky reader. Simply fill out the widget below to enter.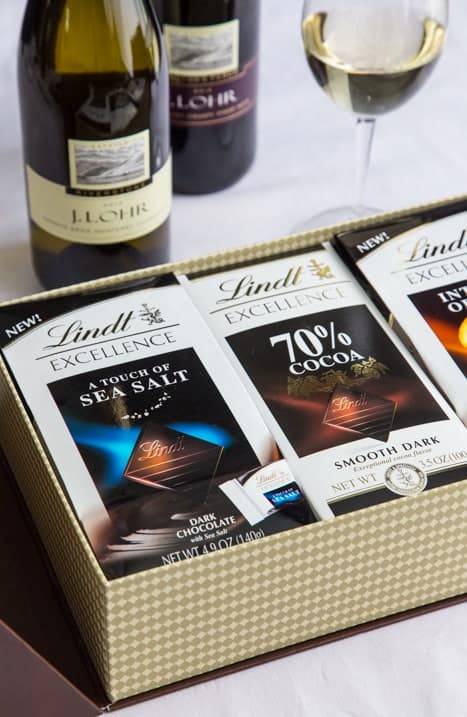 Lindt EXCELLENCE Giveaway

Disclosure: This post is sponsored by Lindt; however, the views and opinions expressed by Jamie Lothridge on My Baking Addiction are my own, and based upon my experiences with the brand.