Packed with Cadbury Mini Eggs, marshmallows, and two kinds of chocolate chips, these Loaded Candy Cookie Bars will satisfy just about anyone's sweet tooth. And if you're anything like me, they'll also use up the stash of seasonal candy you have lying around your kitchen.
I don't know what it is, but there is something about a seasonal candy display that draws me in like a moth to a flame. As much as I try, I simply can't resist a 5 foot inflatable bunny rabbit peddling egg shaped candies and neon colored marshmallow chicks. It's a weakness.
These cookie bars are product of an impulse buy from last time I was sucked into the Easter Bunny's sugary orbit. I saw a bag of Cadbury Mini Eggs (not the cream filled kind, but I love those as well) with the words 'Royal Dark' emblazoned across the front. Needless to say, Mr. Rabbit had my immediate attention.
Seasonal shaped candies? Check. Dark Chocolate? Check. Pretty pastel colors? Check. It was a match made in chocoholic heaven.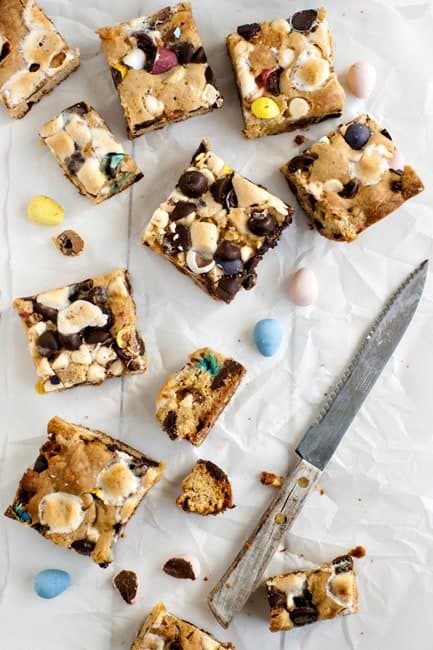 Well, I quickly snatched up 3 bags of these mini eggs (lest I run out) and happily headed home. The sensible part of me soon regretted the 'three bag' choice because frankly, I'm still carrying a little holiday weight (do the holiday's ever really stop?) and having 3 bags of these little dark chocolate, candy coated eggs around the house was bound to be bad news. Luckily, because they are peanut-free, I could pawn some off on my kids (my 3 year old has a peanut allergy), but that was only going to take care of so many.
The answer to my problem lay in a seriously candy packed recipe. That coupled with the fact that I have been in a completely casual and fuss free dessert mode lately, made a simple batch of cookie bars the obvious choice.
The base of these bars is a fairly straight forward chocolate chip cookie but that's where the normalcy ends. These Loaded Candy Cookie Bars are stuffed and topped with mini marshmallows, dark and white chocolate chips, as well as those Cadbury Mini Eggs that I mentioned. You could honestly use any little chocolate candy that you like in place of the Cadbury Mini Eggs. This recipe is very flexible. Go wild and experiment with your very own favorite candies. I'm sure the results will be delicious.
Enjoy!
Loaded Candy Cookie Bars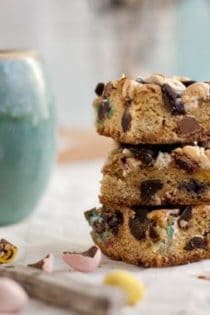 Ingredients:
2 1/4 cups all-purpose flour
2 1/4 teaspoons baking powder
1 teaspoon coarse salt
1/2 cup (1 stick) unsalted butter, room temperature
1 1/2 cups packed light brown sugar
3 large eggs
1 teaspoon pure vanilla extract
1 cup chopped Cadbury Mini Eggs (I used Royal Dark but you could use Milk Chocolate if you prefer), divided
1 cup miniature marshmallows, divided
1 cup dark chocolate chips, divided
1 cup white chocolate, coarsely chopped, divided
Directions:
1. Preheat oven to 350 degrees. Grease a 9x13 inch baking pan with non-stick spray. Set aside.
2. In a medium bowl, whisk together flour, baking powder and salt. In the bowl of a stand mixer, cream together butter and sugar until light and fluffy. Add eggs, one at a time, beating briefly between each egg. Add vanilla and beat for an addition 30 seconds.
3. With the mixer on low, slowly add the dry ingredients to the mixer bowl. Beat until ingredients are just combined.
4. Using a sturdy wooden spoon or spatula, fold in half of the Cadbury Mini Eggs, half of mini marshmallows, half of the dark chocolate chips and half of the white chocolate chips. The dough will be very stiff.
5. Spread cookie dough evenly into the prepared baking pan. Sprinkle the top of the cookie dough with the remaining Cadbury Mini Eggs, marshmallows, and both kinds of chocolate chips.
6. Bake cookie bars for about 35 minutes or until the top is golden brown and a toothpick inserted into the cookie bars comes out clean.
7. Allow the bars to cool completely before cutting. Cut into 24 bars and serve. Extra cookie bars can be stored, covered, at room temp for up 4 days.
Follow Jamie on Instagram. We love to see what you're baking from MBA! Be sure to tag @jamiemba and use the hashtag #mbarecipes!