The concept of Mallo Cup Cupcakes have been a long time in the making. I was first introduced to the Fun Size variation by my mom's boyfriend, John, who happens to stock the bites of marshmallowy goodness at his business. He sent an entire 60 count box up with my brother and dad when they came to visit. Obviously all 60 did not make the hour and a half drive. Then there were 50.
I sent a few more home with my dad and stuffed them into the back of our snack cupboard where I thought they remained untouched for a couple of months – not so much. Then there were 30 and they went directly into the freezer to prepare them for cupcake baking. However, they turned into something pretty splendid in the freezer. Then there were 25.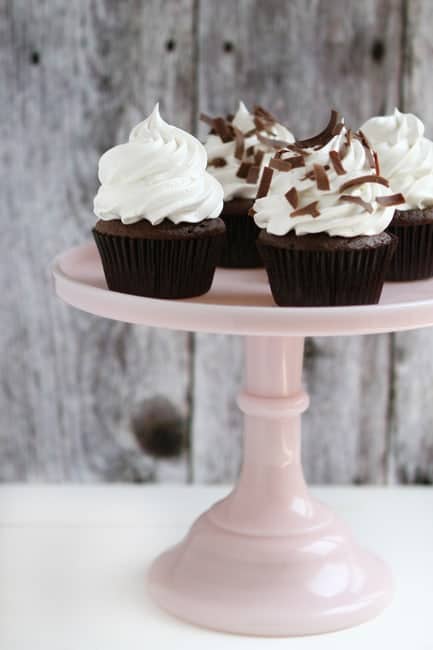 My mama came up to visit on Wednesday and since her birthday is today, I figured I'd finally use the rest of the Mallo Cups to create her a delicious birthday treat.
You guys know that I am a huge fan of stuffing candy into cupcakes, but I was a little apprehensive due to the puff factor marshmallows. And I was right. The Mallow Cups kind puffed up, then shrunk back – which created a less than perfect cupcake top; however, we decided to embrace the imperfections and cover the little crater with a glorious swirl of 7-minute frosting.
I honestly had no intention of posting these cupcakes; however, after hearing my mom rave about their slightly gooey, chewy centers, incredible moistness and cloud-like frosting, I knew I had to share them with you!
So, here to embracing imperfections. Sometimes the best things come from letting go of the idea of perfection!
Happy Birthday to the best mom a girl could ever ask for. Your patience, humor, work ethic and unconditional love have a positive impact on my life each and every day. You're my rock and my best friend and I'm incredibly grateful to have you in my life.
Note: If you can't find Mallo Cups in your area, visit the Boyer Candies site for a retailer near you.
[pinit]

Mallo Cup Cupcakes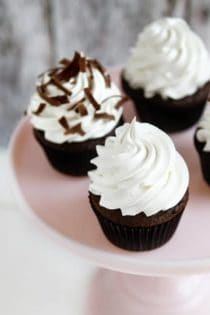 Ingredients:
For the Cupcakes
1 (18.25 ounce) package devil's food cake mix
1 (3.9 ounce) package instant chocolate pudding mix
1 cup sour cream
1 cup vegetable oil
4 eggs, lightly beaten
2 teaspoons pure vanilla extract
1 tablespoon instant espresso granules dissolved in 1/2 cup warm water or 1/2 cup warm coffee
24 Fun Size Mallow Cups, frozen
For the Frosting
1 1/2 cups sugar
2 tablespoons light corn syrup
1/4 cup water
6 large egg whites
1 teaspoon pure vanilla extract
Directions:
For the Cupcakes
1. Preheat oven to 350°F. Line muffin tin with paper liners or spray with non-stick cooking spray.
2. In the bowl of a stand mixer or a large bowl with a hand mixer, add the cake and pudding mixes, sour cream, oil, eggs, vanilla and espresso water mixture or coffee. Mix on medium speed for about 2 minutes until all ingredients are well combined and the batter is mostly smooth.
3. Spoon about 2 tablespoons of batter into 24 cupcake wells. Add a Fun Size Mallow Cup on top of the batter, pushing it slightly into the batter. Add a little more batter (about 1 1/2 teaspoons and spread it around to cover the Mallow Cup. It doesn't need to be perfectly covered.
4. Bake in preheated oven for 18-23 minutes or until the tops of the cakes spring back when lightly touched. Allow cupcakes to cool inside muffin tins for about 10 minutes.
5. Remove cupcakes from muffin tins and allow to fully cool on a wire rack. Once cupcakes are cool, prepare your frosting.
For the 7-Minute Frosting
1. In the heatproof bowl of an electric mixer, set over a saucepan of simmering water, combine sugar, corn syrup, 1/4 cup water, and egg whites. Cook over medium heat, whisking frequently, until mixture registers 160 degrees on an instant-read thermometer. This will take about about 2 minutes.
2. Attach the bowl to a stand mixer fitted with the whisk attachment. Beat mixture on high speed until glossy and voluminous, about 5 minutes. Beat in vanilla. Pipe onto cooled cupcakes.
Notes:
- Cupcakes will not be perfect on top, but don't worry because you'll cover it with frosting.
- Cupcakes are best served the day they are made.
- If your boxed cake mix contains pudding, still add the chocolate pudding mix to the batter.
- Follow the directions as written here - do not worry about the directions on the back of the boxed mixes.
- The piping tip used for this recipe is the Star Tip from TomKat Studio.
Source: My Baking Addiction - frosting from Martha Stewart
All images and text ©
Follow Jamie on Instagram. We love to see what you're baking from MBA! Be sure to tag @jamiemba and use the hashtag #mbarecipes!