I like to sleep, quite frankly it's one of my favorite hobbies, but unfortunately I don't get much of it during the week. So when the weekend hits, I am all about getting my sleep on…yep, sleeping in and making waffles!
My dad gave me this Waring Pro Waffle Iron last year and it sat unused for a couple of months. However, once I pulled it out of the box, I was in love and addicted to making waffles! I think part of the addiction stems from the fact that I thoroughly enjoy the flipping mechanism on this machine, plus the timer makes the waffles foolproof! What can I say…I have a habit of burning toast, so I am all about timers!
Making homemade waffles is simple and only requires a handful of ingredients. Once you find your go-to waffle recipe, you can experiment with a variety of ingredients. Anything from chocolate chips to bananas can be tossed into the batter to make plain waffles go from ordinary to extraordinary. Last Sunday, I whipped together these Maple Chip Waffles for a hungry crowd. I cooked them up until they were crisp and slathered them with butter and pure maple syrup. They were the perfect Sunday morning breakfast served alongside some crispy bacon and piping hot coffee. If you are staring at the photos in search of maple chips, you are not going nuts, they all just kinda sink to the bottom of the waffle and are not all that visible in the photos! They are there, I promise!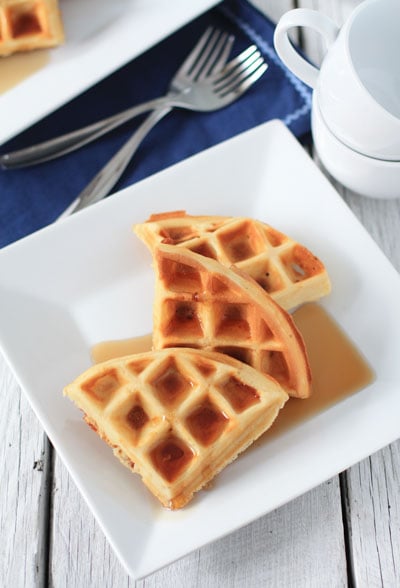 This Sunday, we are attempting homemade doughnuts, I will definitely report back on this adventure…that is unless I burn down my house because me+frying= a hot mess! Have a great day and thanks so much for stopping by!

Maple Chip Waffles
Ingredients:
2 eggs
2 cups all-purpose flour
1 3/4 cups milk (I used 2%)
1/2 cup vegetable oil
1 tablespoon white sugar
4 teaspoons baking powder
1/4 teaspoon salt
1/2 teaspoon vanilla extract
3/4 cup mini maple chips
Directions:
1. Preheat waffle iron. Beat eggs in large bowl with hand beater until fluffy. Beat in flour, milk, vegetable oil, sugar, baking powder, salt and vanilla, just until smooth. Fold in mini maple chips.
2. Spray preheated waffle iron with non-stick cooking spray. Pour mix onto hot waffle iron. Cook until golden brown. Serve hot.
Notes:
- I use level 5 on my Waring Pro Waffle Iron, we like them crispy.
- I purchased the Maple Chips from preparedpantry.com
This recipe is adapted from allrecipes.com
All images and text ©
Follow Jamie on Instagram. We love to see what you're baking from MBA! Be sure to tag @jamiemba and use the hashtag #mbarecipes!
[pinit]