I need to tell you that I am currently in the middle of a little love affair with meringue. There is something so mysterious about the fact that egg whites and sugar can be whipped up into ethereal clouds of absolute delight. The crispy and airy, yet slightly chewy qualities of meringue have me completely smitten.
I've even gone as far as trolling Pinterest for the most beautiful meringue creations that I can find. It doesn't matter if they're tiny cookies, mini meringue shells or large elaborate pavlovas; I love them all.
While I've made meringue cookies on several occasions, I've never made a large, layered pavlova, but it is definitely a baking goal of mine. In order to warm up and stretch my meringue muscles, I thought I would start by baking some Meringue Nests with Basil Scented Strawberry-Rhubarb Compote. These individual meringues are light and crispy shells topped with syrupy fruit and finished off with a dollop of sweet whipped cream. Whipped cream seems to make everything better, right?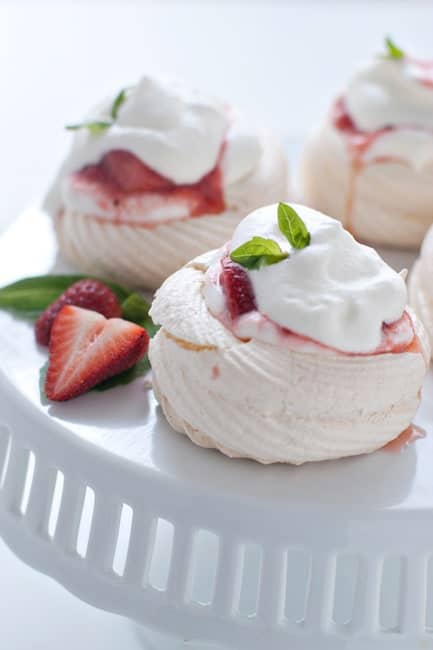 The addition of basil to this Spring inspired strawberry-rhubarb compote is a continuation of my herb kick that started a few months ago with my Rosemary Lemon Shortbread Cookies. I'm happy to report that the herb kick is still going strong – especially thanks to all of your fabulous herb-pairing suggestions! You guys are the best!
These airy meringue nests make a perfect dessert for any Spring meal. Not too heavy, but extremely satisfying in the sweet tooth department. Plus, the strawberries and rhubarb are a classic combination that is only enhanced by the surprisingly delightful presence of the basil. Although, I would pretty much eat anything if it was served in a sweet little meringue shell. Just saying.
What's your favorite way to eat meringue?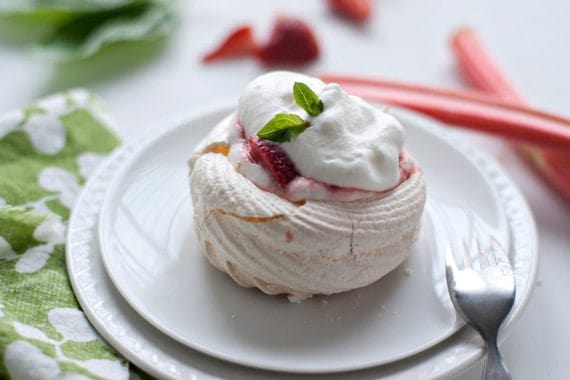 Meringue Nests with Basil Scented Strawberry-Rhubarb Compote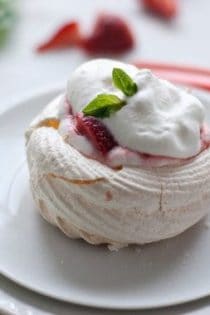 Ingredients:
For the Nests:
3 large egg whites, room temperature
1/2 teaspoon vanilla extract
1/4 teaspoon cream of tartar
3/4 cup sugar
For the Basil Scented Strawberry-Rhubarb Compote:
1/2 lb strawberries, rinsed, hulled and quartered + ½ cup of strawberries, rinsed, hulled and chopped
1/2 lb of rhubarb
2 Tablespoons of honey
1 Tablespoon of water
3-4 whole basil leaves
For the Whipped Cream
1/2 cup of heavy cream
2 Tablespoons powdered sugar
Directions:
Preheat oven to 275°F. Line a baking sheet with parchment paper and set aside.
Place egg whites, vanilla and cream of tartar in the bowl of a stand mixer and beat with a whisk attachment until soft peaks form. Gradually add sugar (about 1 Tablespoon at a time) and beat on high speed until stiff peaks form.
Using a spoon, drop eight dollops of meringue onto prepared baking sheet. Use the back of your spoon to create a well in each 'nest'. Nests should be around 3-4 inches wide. You can alternately transfer meringue mixture to a piping bag and pipe the nests, making sure that the bottom is a solid circle so that the filling won't leak out later.
Bake the nests for 45-50 minutes or until they are totally set and dry. Leaving the oven door closed, turn off the oven and allow meringues to sit in the oven for an additional 1 hour.
In the meantime, place rhubarb, 1/2 lb of the strawberries, water, basil and honey in a small sauce pan set over medium heat. Bring mixture to a gentle boil and reduce to a simmer. Allow mixture to cook, stirring occasionally, until fruit is soft and syrupy, about 15 minutes. Remove saucepan from heat and discard basil leaves. Stir in the reserved ½ cup of chopped strawberries and allow mixture to cool.
In the bowl of a stand mixer, beat heavy cream until soft peaks form. Add sugar and beat until cream is thick and fluffy. Be careful not to over beat or you'll end up with butter.
Top each meringue nest with several spoonfuls of compote and whipped cream. Serve immediately.
Enjoy!
Notes:
– If making the meringue nests head of time, store unfilled nests in an airtight container for up to 2 days.
– The Strawberry-Rhubarb compote can also be made ahead of time and stored in the refrigerator.
– Extra compote is delicious over a bowl of Greek yogurt or oatmeal.
Follow Jamie on Instagram. We love to see what you're baking from MBA! Be sure to tag @jamiemba and use the hashtag #mbarecipes!