Meyer lemon cake drenched in a sweet cream cheese glaze.
I thought spring had finally sprung until I was greeted with swirling snow this morning. I live in Ohio, so I am very well aware of snow and I'm not much of a weather whiner – but seriously, is this winter ever going to end? I'm starting to think Elle is going to outgrow the bassinet attachment for her stroller before we can actually put the thing to use.
Eric and I were going through our latest produce delivery from Door-to-Door Organics and we were pretty pumped to find a large bag of Meyer lemons. It was like happening upon a much-needed little piece of sunshine tucked inside a cardboard box.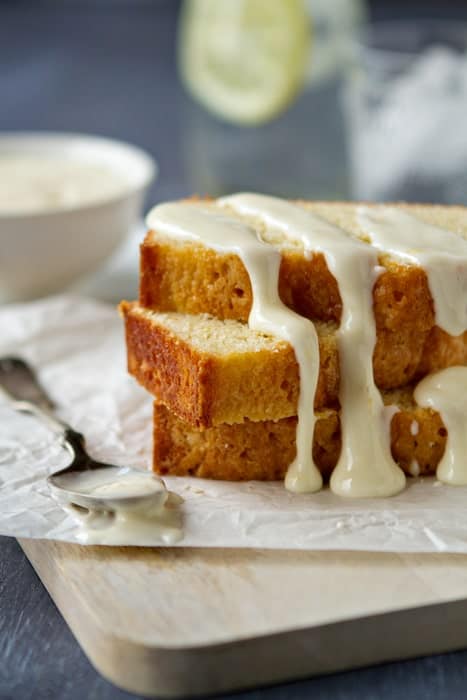 I wanted to bake with them immediately and I wanted cake – so it was kind of like dessert serendipity. As soon as Elle took her afternoon nap, I headed into the kitchen and started zesting away. The fresh citrus scent flooded the kitchen and for a moment, I forgot that I could go outside and have a legit snowball fight.
This recipe is baked in two loaf pans, so there's plenty to go around. It's perfect on its own as a sweet breakfast treat or layered with fresh berries in mini glasses to create a stunning and springy dessert.
It also freezes well, either in the full loaf or in individual slices separated by wax paper. Perfect for when you need just a tiny little snack fix with your afternoon cup of tea.
So while I stare out at the winter tundra that has been my backyard for the better part of four months now, I'll savor each bite of this Meyer Lemon Cake, and its promise that spring is coming. I'm sure of it. It has to be. Otherwise, I might have to succumb to Eric's pleas for an impromptu Florida vacation just so Elle can actually go outside without four layers and a snowsuit.
Meyer Lemon Cake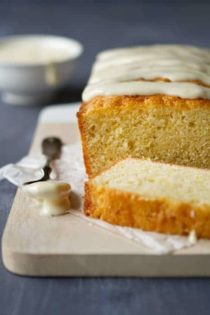 Ingredients:
For the Cake
2 1/2 cups granulated sugar, divided use
1/3 cup grated lemon zest (6 to 8 large Meyer lemons)
1/2 pound (2 sticks) unsalted butter, at room temperature
4 large eggs, at room temperature
3 cups all-purpose flour
1/2 teaspoon baking powder
1/2 teaspoon baking soda
1 teaspoon salt
3/4 cup freshly squeezed Meyer lemon juice, divided use
3/4 cup buttermilk, at room temperature
1 1/2 teaspoons pure vanilla extract
For the Cream Cheese Icing
8 ounces cream cheese, at room temperature
2 cups confectioners' sugar, sifted
2 tablespoons milk
1 tablespoon freshly squeezed lemon juice
1/2 teaspoon pure vanilla extract
Directions:
Preheat the oven to 350 degrees F. Grease and flour 2 (8 1/2 by 4 1/4 by 2 1/2-inch) loaf pans. Line the bottoms of both pans with parchment paper.
In a medium bowl, combine 2 cups of sugar and lemon zest with your fingertips until moist and fragrant.
In the bowl of a stand mixer fitted with the paddle attachment, or in a large bowl with an electric mixer, cream the butter and lemon sugar mixture until light and fluffy, about 5 minutes. With the mixer on medium speed, add the eggs, one at time, mixing thoroughly after each addition.
Sift together the flour, baking powder, baking soda, and salt in a bowl. In another bowl, combine 1/4 cup lemon juice, the buttermilk, and vanilla. Add the flour and buttermilk mixtures alternately to the batter, beginning and ending with the flour. Divide the batter evenly between the prepared pans, smooth the tops, and bake for 45 minutes to 1 hour, until a toothpick inserted into the center comes out clean.
Combine 1/2 cup granulated sugar with 1/2 cup lemon juice in a small saucepan and cook over low heat until the sugar dissolves. When the cakes are done, allow to cool for 10 minutes. Remove the cakes from the pans and set them on a rack set over a baking sheet; spoon the lemon syrup over them. Allow the cakes to cool completely.
For the cream cheese icing: Beat together cream cheese, confectioners' sugar until smooth. Add milk, lemon juice, and vanilla extract, Continue beating until smooth. If the mixture is too thick, gradually add a little more milk 1 teaspoon at a time until you reach the desired consistency. Spoon cream cheese icing over the tops of the cakes.
Notes:
Meyer Lemon Bread is best served the day it is made, but it will store at room temperature in an airtight container for up to 2 days or frozen for up to 3 months.
Top with cream cheese icing before serving.
Recipe adapted from Ina Garten via the Food Network
All images and text ©
Follow Jamie on Instagram. We love to see what you're baking from MBA! Be sure to tag @jamiemba and use the hashtag #mbarecipes!