Last week, my boss said he had cheated on me. Say what?
Apparently said boss ate a Mint Chocolate Chip Cupcake from a local bakery and thought it was amazing. I shrugged my shoulders because I didn't really know that an exclusivity clause came with consuming my cupcakes. Then came the words, We were wondering if you can make a better batch? Seriously, did he just propose a challenge? Game on.
My game face lasted about 2 minutes because I realized that I had no more than 1/4 cup of cocoa powder in the house. I have no idea how this happened because I'm kind of a cocoa powder hoarder – it's a bit of a problem.
However, after a quick fridge scan, I realized that I did have all the ingredients for my favorite boxed mix recipe. Game back on.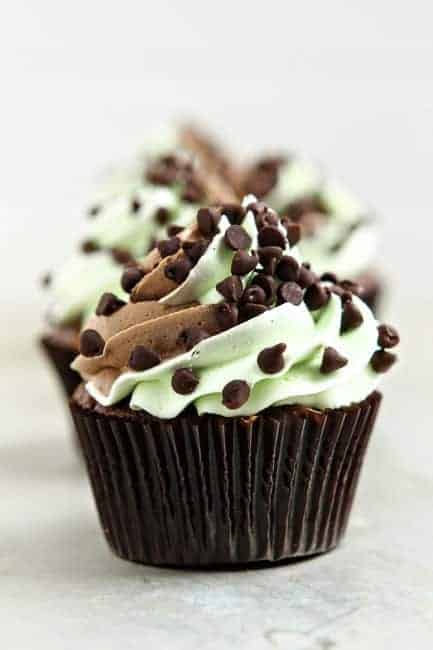 I figured if anything, I could play around with mint-chocolate buttercream to get the recipe just right and then test out a scratch recipe later.
Since I wanted the mint flavor to really shine through in both the cupcakes and the frosting, I took advantage of the bag of Andes Crème de Menthe baking chips that I have been taking up space in my pantry for months.
A quick swirl of two-tone, mint-chocolate frosting and a sprinkling of mini chocolate chips created Mint-Chocolate Chip cupcake perfection.
All this mint chocolate cupcake perfection ended up completely for naught! A huge storm blew through that resulted in downed trees, power lines, no electricity, and work being closed for a day and a half. Sorry, Bossman! Better luck next time.
You'll have to let me know what you think!
Mint Chocolate Chip Cupcakes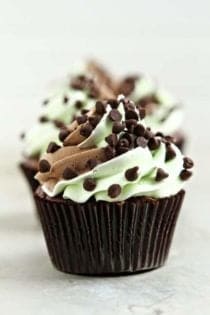 Ingredients:
For the Cupcakes
1 (18.25 ounce) package devil's food cake mix
1 (3.9 ounce) package instant chocolate pudding mix
1 cup sour cream
1 cup vegetable oil
4 eggs, lightly beaten
2 teaspoons pure vanilla extract
1/2 cup warm water
1 1/2 cups Andes Crème de Menthe baking chips
For the Frosting
4 sticks (2 cups) unsalted butter, room temperature
1.5 pounds (28 ounces) confectioners' sugar, sifted
2 teaspoons pure vanilla extract
3-4 tablespoons heavy cream
green gel dye
1/4 teaspoon pure peppermint extract
2 ounces semi sweet chocolate, melted and cooled
2 tablespoons unsweetened cocoa powder
mini chocolate chips
Directions:
Preheat oven to 350°F. Line muffin tin with paper liners or spray with non-stick cooking spray.
In the bowl of a stand mixer or a large bowl with a hand mixer, add the cake and pudding mixes, sour cream, oil, eggs, vanilla and water. Mix on medium speed for about 2 minutes until all ingredients are well combined and the batter is smooth. Stir in the Andes Crème de Menthe baking chips.
Using a large scoop distribute the batter between 24 muffin wells; about 3 tablespoons of batter per well.
Bake in preheated oven for 18-23 minutes or until the tops of the cakes spring back when lightly touched. Allow cupcakes to cool inside muffin tins for about 10 minutes.
Remove cupcakes from muffin tins and allow to fully cool on a wire rack. Once cupcakes are cool, prepare your frosting.
For the Frosting
In the bowl of a stand mixer fitted with the paddle attachment, beat the butter on medium-high speed for about 5 minutes.
Turn the mixture down to low speed and gradually add in the confectioners' sugar until it is completely incorporated. Add in vanilla and heavy cream. Turn the mixer back up to medium-high speed and beat the mixture for about 3-4 minutes or until light and fluffy.
Remove half of the frosting from the mixer bowl and set aside. Add a tiny amount of green gel dye to the remaining frosting (I used Wilton Leaf Green). Turn the mixer on and fully incorporate the dye. Slowly add more dye until you achieve a nice minty green color. Stir in peppermint extract.
Remove the mint frosting from the mixing bowl and set aside. Add the other half of the frosting back into the bowl of your stand mixer. Add in the cooled, melted chocolate and cocoa powder. Mix until fully incorporated.
For the two-toned effect, I used this method from GoodLife Eats. You can also carefully layer the two colors into the piping bag, but I find Katie's method to be much easier and cleaner.
Pipe the frosting onto the cooled cupcakes and garnish with mini chocolate chips.
Notes:
Mint Chocolate Cupcakes are best served the day they are made. However, they will keep in an airtight container within the refrigerator for up to 2 days. Remove to room temperature one hour before serving.
If you want a mintier kick, gradually add more peppermint extract to the green frosting. Just use a light hand, peppermint extract can be pretty potent.
Dark brown liners were purchased from TomKat Studio. A large star tip was used to pipe the frosting.
DISCLOSURE: My Baking Addiction is an Amazon.com affiliate and will receive a small commission on the linked cookie scoop if purchased through the Amazon link within this post.
Source: My Baking Addiction
All images and text ©
Follow Jamie on Instagram. We love to see what you're baking from MBA! Be sure to tag @jamiemba and use the hashtag #mbarecipes!