Although I consider myself to be somewhat adventurous when it comes to food, I had never experienced Indian cuisine until last summer. On a whim, I decided I wanted to go out for Indian food; Brian reluctantly obliged.
We had preconceived ideas of Indian dining, specifically the sweating scene from Along Came Polly, so we weren't sure what to expect.
We started our meal with an order of Naan and honestly, from the moment I tasted it, I was smitten. We also ordered Tandoori Chicken and Chicken Tikka Masala. Every single item we ordered was absolutely amazing, but the Naan was the real stunner!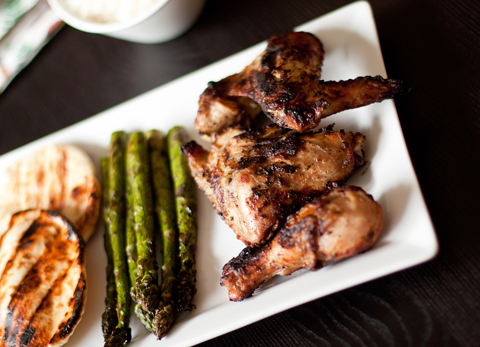 I have made this Naan recipe several times and it is always the most sought after item on the dinner table. The meal pictured in these less than stellar photos consisted of a Tandoori Chicken recipe*, grilled asparagus and jasmine rice. This was a satisfying meal that we talked about for days. Although Naan is great by itself, it's also pretty versatile. Definitely consider using it to make pita type sandwiches, and even as a pizza crust! If I have your craving some Naan, definitely give this recipe a whirl and come back here to let us know what you think!
Naan Bread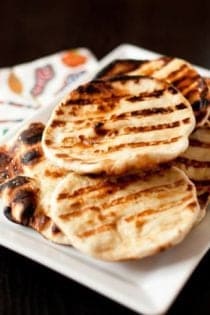 Ingredients:
1 (.25 ounce) package active dry yeast
1 cup warm water
1/4 cup white sugar
3 tablespoons milk
1 egg, beaten
2 teaspoons salt
4 1/2 cups bread flour
2 teaspoons minced garlic (optional)
1/4 cup butter, melted
Directions:
1. In a large bowl, dissolve yeast in warm water. Let stand about 10 minutes, until frothy. Stir in sugar, milk, egg, salt, and enough flour to make a soft dough. Knead for 6 to 8 minutes on a lightly floured surface, or until smooth. Place dough in a well oiled bowl, cover with a damp cloth, and set aside to rise.
2. Let it rise 1 hour, until the dough has doubled in volume.
3. Punch down dough, and knead in garlic. Pinch off small handfuls of dough about the size of a golf ball.
4. Roll into balls, and place on a tray. Cover with a towel, and allow to rise until doubled in size, about 30 minutes.
5. During the second rising, preheat grill to high heat.
6. At grill side, roll one ball of dough out into a thin circle. Lightly oil grill. Place dough on grill, and cook for 2 to 3 minutes, or until puffy and lightly browned. Brush uncooked side with butter, and turn over. Brush cooked side with butter, and cook until browned, another 2 to 4 minutes. Remove from grill, and continue the process until all the naan has been prepared.
Notes:
– If you use the Tandoori Chicken recipe that I linked to above, I wanted to note that I did not use the food coloring. I thought it was unnecessary, but to each their own!
from allrecipes
All images and text ©
Follow Jamie on Instagram. We love to see what you're baking from MBA! Be sure to tag @jamiemba and use the hashtag #mbarecipes!
[pinit]