No Bake Lemon Oreo Cheesecake – This dessert couldn't be easier, it's full of lemon flavor and perfect for summer.
When I was in high school, my mom started making something that we dubbed Cottage Cheese Fluff. Now that I think of it, that probably wasn't the best name because, well, it doesn't sound all that appetizing. The recipe is pretty simple, cottage cheese that we buzz in blender until smooth combined with jello powder and Cool Whip. Mix it all together, let it chill and just like that you have a fluffy dessert with a little protein. Because that totally negates the Cool Whip – duh.
My affinity for this fluffy goodness followed me to college. People thought I was nuts, but as soon as they snagged a spoonful of the stuff they'd be smitten – throwing out jello flavor suggestions and stocking the fridge with cottage cheese and Cool Whip.
Every so often I get a hankering for mom's fluff and I whip up a batch and happily shove spoonfuls from the tub directly into my face all week long.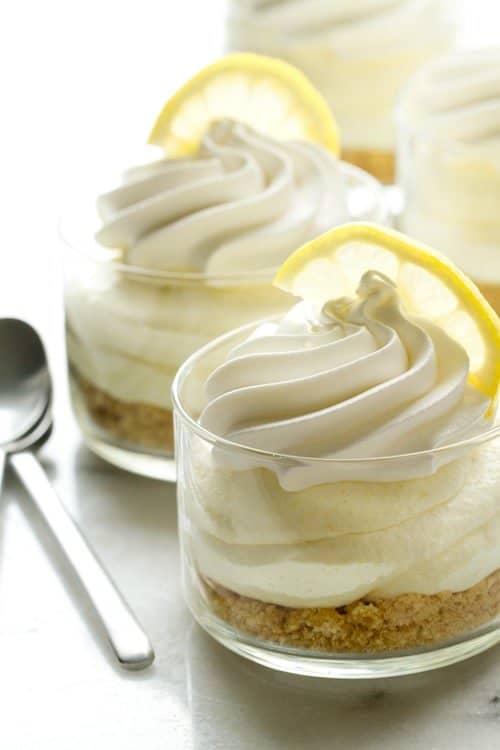 Lemon is my most favorite fluff flavor and last week I just so happened to pick up a bag of Lemon Oreos from the market. Eric isn't a fan of lemon flavored desserts, so I'll blame the purchase on recipe testing. And of course I just had to snag a few for – um, quality control.
Have you tasted these? OMG they are amazing. I usually don't go out binge buying Oreos, but I may or may not be hoarding a few packages of these in the pantry. Just sayin'.
While I was snacking on a few cookies, I decided that they'd make an excellent crust, so I decided to whip up mom's fluff, only I subbed cream cheese for the cottage cheese which created an ultra thick, fluffy No Bake Lemon Oreo Cheesecake that's full of sweet, tart lemon flavor.
It's easy peasy lemon squeezy.
No Bake Lemon Oreo Cheesecake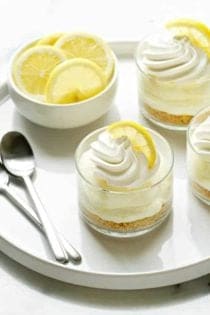 Ingredients:
12 Lemon Oreo Cookies crushed into crumbs
1 (8 ounce) package cream cheese, softened
zest of two lemons
2 tablespoons freshly squeezed lemon juice
1/2 teaspoon pure vanilla extract
4 tablespoons lemon jello powder
1 (8 ounce) tub frozen whipped topping, thawed (see note below)
Directions:
Evenly divide the crumbs between your individual serving dishes and press into the bottoms of the dishes to form a crust layer.
In a large bowl, with an electric mixer, beat the cream cheese until smooth.
Add lemon zest, lemon juice and vanilla and mix to combine.
Sprinkle the jello powder onto the cream cheese mixture and mix on medium-high speed until thoroughly combined.
Using a rubber spatula, fold in the whipped topping until well blended and no streaks remain.
Evenly pipe or spoon the filling into individual serving dishes. Cover with plastic wrap and refrigerate for at least 2 hours before serving.
If desired, garnish with additional whipped topping and lemon wedges.
Notes:
No Bake Lemon Cheesecakes are best served the day they are made.
You can find frozen whipped topping (Cool Whip) in the freezer section of your grocery store. If you are not a fan of Cool Whip, Whole Foods sells a great alternative called Truwhip. It's free of high fructose corn syrup, hydrogenated oils, trans fat and gluten.
If you use freshly whipped cream in place of the whipped topped, your results may vary from what is shown here.
All images and text ©
Follow Jamie on Instagram. We love to see what you're baking from MBA! Be sure to tag @jamiemba and use the hashtag #mbarecipes!
Looking for more No-Bake inspiration? Check out these recipes: