When it comes to baking supplies, I am a hoarder. Whether we're talking about cupcake liners, specialty pans, or candy – my cupboards are overflowing with all the goods. And sometimes inspiration just happens to slap me in the face – literally.
Last week, while making a feeble attempt at tidying my baking supplies, several packs of Ferrero Rocher chocolates flew out of the cupboard and straight into my face. In case you aren't familiar with Ferrero Rocher, allow me to enlighten you. They are a layered chocolate candy that consists of a whole hazelnut surrounded by a smooth chocolate cream inside a wafer shell that is covered with chocolate and bits of hazelnuts. Seriously, how could stuffing these babies into a recipe possibly go wrong?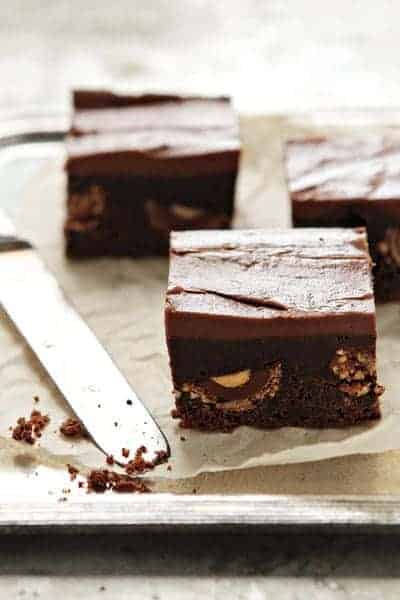 I immediately popped one into my mouth – ya know for quality control. I'm fairly certain they were buried in the depths of my cupboard since Christmas. (I told you I've got issues.) They tasted just fine, so I dropped the whole cleaning agenda and decided to instead create a little mess by making one incredible brownie.
As though rich, chocolate brownies stuffed with Ferrero Rocher chocolates weren't enough, I had to take them to a completely different level by slathering on a layer of Nutella Frosting. Delightful? Absolutely. And completely worth enduring one extra day of Brian's incessant nagging about the bulging cupboard door.
[pinit]

Nutella Brownies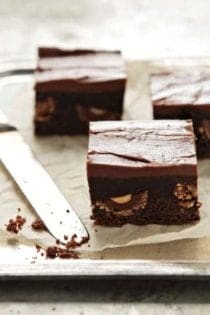 Ingredients:
4 ounces unsweetened chocolate; coarsely chopped
3/4 cup unsalted butter, cut into cubes
1 1/4 cups sugar
3 large eggs
1 teaspoon pure vanilla extract
1/4 teaspoon salt
1 cup all-purpose flour
12 Ferrero Rocher candies, sliced in half
For the Nutella Buttercream
1/4 cup unsalted butter, softened
1/3 cup Nutella
1/2 teaspoon pure vanilla extract
1 1/2 cups confectioners' sugar
2 tablespoons heavy cream
Directions:
1. Preheat oven to 350 degrees. Line an 8×8 inch baking pan with foil and spray with nonstick cooking spray.
2. Microwave chocolate and butter in a large bowl microwave-safe bowl at medium (50% power) for 3-4 minutes or until butter is melted.
3. Stir until chocolate is melted. Whisk in sugar, eggs, vanilla and salt. Gradually add in flour; stir until just combined.
4. Spread 1/2 the batter into prepared pan. Add an even layer of Ferrero Rocher candies and cover with remaining 1/2 of brownie batter. Bake for 30-35 minutes; do not over bake.
5. Remove to cooling rack to cool completely.
6. Prepare the Nutella Frosting. In a medium bowl with an electric hand mixer, cream the butter and Nutella until fully combined. Add in the vanilla extract, confectioners' sugar and heavy cream and mix on low speed until all sugar is incorporated. Turn mixer to medium-high speed and beat the frosting for about two minutes. The frosting will be thick, smooth and creamy. Frost cooled brownies and slice before serving.
Notes:
- Nutella Brownies are best served the day they are made, but will keep in an airtight container for up to 2 days.
All images and text ©
Follow Jamie on Instagram. We love to see what you're baking from MBA! Be sure to tag @jamiemba and use the hashtag #mbarecipes!