I have a confession to make. I just recently bought my very first cast iron skillets. Besides one enameled cast iron skillet, I have never owned a traditional non-enameled piece of cast iron cookware. Ever. That is, until a couple of months ago.
Let me try to explain why I hadn't previously owned one. There are myths about cast iron that were filling my head; myths that made me nervous and unsure if cast iron would fit into our lifestyle. For one, I was under the (false) assumption that one needed to use an obscene amount of butter or fat in order to cook in cast iron and that is just not something that we are in the habit of doing. We try to keep things light whenever possible. In reality, a properly seasoned skillet only needs a modest amount of oil to cook foods to perfection. Who knew?
What's your favorite thing to cook in cast iron?
Another myth was the care of cast iron. No soap? Needing to be cleaned right away aka no sink soaking? I'm not sure those are two things I can get on board with because at my core, I am a sink soaker. It turns out, the no soap thing, is no big deal, and the need for immediate clean up? Also, not something that has bothered me. In fact, it helps to keep me on track and curb my gut instinct to simply throw a pan in the sink, fill it with water and deal with it in the morning. So it seems that I owe cast iron a debt of gratitude for my kitchen being clean.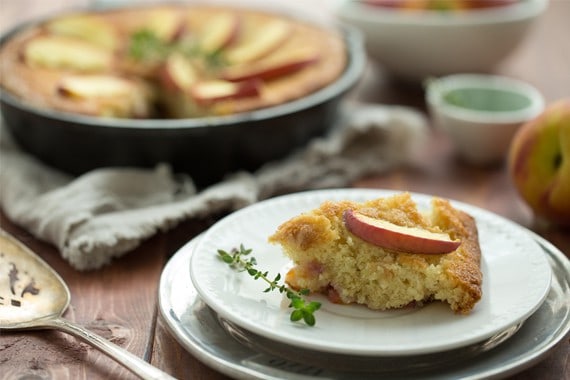 This discovery of cast iron has been an eye opener. From seared chicken to fried eggs to this moist, sweet Peach Thyme Skillet Cake (I just had to try out a dessert) my new cast iron pans have hardly left my stove top.
This Peach Thyme Skillet Cake is divine – simple to mix together, but utterly superb with a beautifully moist crumb. The fresh thyme brings a subtle herbal quality to the cake and the succulent peaches add to its sweetness. Being baked in an 8 inch skillet, this cake is petite, but perfect for a weeknight dessert or even a special occasion treat. I am so thrilled to have this cake in my arsenal of go-to recipes – all thanks to my 'discovery' of cast iron.
Peach Thyme Skillet Cake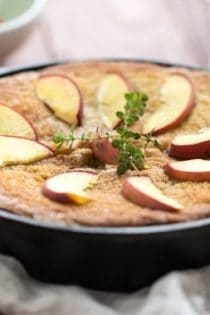 Ingredients:
4 tablespoons unsalted butter, room temperature, plus more for skillet
1 cup all-purpose flour, plus more for skillet
1/2 teaspoon baking powder
1/4 teaspoon baking soda
1 1/2 teaspoons chopped fresh thyme leaves
1/2 teaspoon coarse salt
3/4 cup plus 2 tablespoons sugar
1 large egg
1/2 cup low-fat buttermilk
2 small ripe peaches (or 1 large), thinly sliced
Directions:
1. Preheat oven to 375 degrees. Butter and flour an 8 inch cast iron skillet (or other oven safe skillet) and set aside.
2. In a medium bowl, whisk together flour, baking powder, baking soda, thyme and salt. In the bowl of an electric mixer, cream together butter and 3/4 cup of sugar until light and fluffy. Beat in egg. With the mixer on low, add flour mixture in three additions, alternating with the buttermilk. Be sure to start and end with the flour mixture.
3. Pour batter into prepared skillet and smooth with an offset spatula. Spread 3/4 of the peach slices over the top of the cake. Sprinkle the top of the cake with 2 tablespoons of sugar.
4. Bake for 35-40 minutes or until toothpick inserted into the cake comes out clean. Add remaining peach slices to the top of the cake in the last 25 minutes of baking. Allow cake to cool slightly before slicing.
Enjoy!
Notes:
- During baking, the cake will most likely bake up over the peach slices. Adding the reserved peaches at the end of the baking time is purely for presentation. If you forget to reserve the peaches, the cake will still be delicious!
- Extra cake can be stored in an air tight container in the refrigerator for up to 2 days. Reheat for about 20 seconds in the microwave before serving.
- Peach Thyme Skillet Cake is wonderful when served with a scoop of vanilla bean ice cream.
Follow Jamie on Instagram. We love to see what you're baking from MBA! Be sure to tag @jamiemba and use the hashtag #mbarecipes!