From decadent Peanut Butter Trifles to Amber's Peanut Butter Snickeroos, I filled up the week with pure peanut butter goodness, so I knew I had to wrap up the week with something extra special. The idea for Peanut Butter and Jelly Cupcakes has been filed away in my recipe notebook for months just waiting to debut in spectacular style.
I have forever been a fan of peanut butter and jelly sandwiches, especially when fluffy white bread is involved. I know, I know, this is certainly not the most nutritious bread choice, but hey, this is My Baking Addiction, so I am giving the white bread some love to go along with this week's peanut butter love.
I get on food kicks a lot, meaning I'll eat the same thing over and over again until I simply can't stand the thought of it, but somehow, I never tire of PB&J sandwiches!
There is something very whimsical and nostalgic about these cupcakes that take me back to being a kid and noshing on PB&J sandwiches and Fruit Roll-Ups. Keeping with my love of fluffy white bread, I decided to use my favorite white cake recipe as the base. I then hollowed out the center of each cupcake and filled them with strawberry and grape jellies. I then piped on a fluffy peanut butter frosting and finished them off with a dollop of jelly. Really, does it get any better than that?
Oh, one more thing…I am not oblivious to fact that these kind of look like boobs; just consider this your monthly breast self-examination reminder! Go ahead…scroll back up and check them out, although not intentional, we got a good laugh out of these!

Peanut Butter and Jelly Cupcakes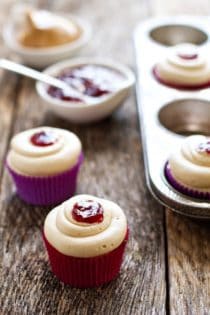 Ingredients:
For the Cake
2 1/4 cups cake flour (I used Swan's Down brand)
1 tablespoon baking powder
1/2 teaspoon kosher salt
1 1/4 cups buttermilk, room temperature
4 large egg whites, room temperature
1 1/2 cups sugar
1 stick (8 tablespoons) unsalted butter, at room temperature
1 teaspoon pure vanilla extract
For the Peanut Butter Buttercream
Ingredients
3 sticks unsalted butter, softened
1 cup creamy peanut butter
2 tablespoons vanilla extract
2 pounds confectioners' sugar, sifted
6-8 tablespoons heavy cream (if using milk, amount will be less)
For the Filling:
Jelly or Jam in your favorite flavor(s)
Directions:
For the Cake
Getting Ready:
Center a rack in the oven to 350 degrees F. Line cupcake tins with paper liners or spray with non-stick cooking spray.
1. In a large bowl, sift together the flour, baking powder and salt.
2. In a medium bowl, whisk together the milk and egg whites.
3. Place the sugar and butter into the bowl of a stand mixer fitted with the paddle attachment, or with a hand mixer and beat at medium speed for a full 3 minutes, until the butter and sugar are very light. Beat in the vanilla, then add one third of the flour mixture, still beating on medium speed. Beat in half of the buttermilk-egg mixture, then beat in half of the remaining dry ingredients until incorporated. Add the rest of the milk and eggs, beating until the batter is homogeneous, then add the last of the dry ingredients. Finally, give the batter a good 2-minute beating to ensure that it is thoroughly mixed and well aerated. Using a large scoop (about 3 tablespoons), distribute the batter between 24 muffin wells, filling each well 2/3 full.
4. Bake for 18-22 minutes, or until the cupcakes are springy to the touch and a toothpick inserted into the centers come out clean. Cool on wire rack.
5. Once cupcakes have cooled, hollow out a small circle in the center of each cupcake; I use an apple corer because I am anal and obsessed with symmetry. Fill the center of each cupcake with a dollop of jelly or jam in your favorite flavor.
For the Peanut Butter Buttercream
1. In the bowl of a stand mixer, fitted with the paddle attachment, or with a hand mixer in a large bowl, cream butter and peanut butter on medium speed until fluffy. Turn your mixer down to low speed and slowly add in the confectioner's sugar, and continue mixing until well blended.
2. Add vanilla and 4 tablespoons of heavy cream. Blend on low speed until moistened. Add an additional 1 to 4 tablespoons of heavy cream until you reach the desired consistency. Beat at high speed until frosting is smooth and fluffy
3. Pipe frosting onto cooled cupcakes and finish with a dollop of jelly or jam.
Notes:
- Frosting was piped onto cupcakes using the large round tip from Bake It Pretty.
- Cupcakes are best served the day they are made, but will store in a sealed container within the refrigerator for two days.
- Cake recipe adapted from Dorie Greenspan
All images and text ©
Follow Jamie on Instagram. We love to see what you're baking from MBA! Be sure to tag @jamiemba and use the hashtag #mbarecipes!