Chewy peanut butter cookies drenched in chocolate and chopped peanuts? Yes, please. I've always been a sucker for peanut butter. I remember being a kid and sneaking into the pantry to smuggle out the jar of Jif.
I would quietly open the jar and jam a tablespoon into the ooey, gooey goodness. Then I'd pretend the peanut butter spoon was a lollipop and spend minutes trying to release the deliciousness off the roof of my mouth. At one point, I vividly recall my mom telling me that I was going to get worms if I continued to eat it off of a spoon. The "worm" threat certainly did not deter from that jar of Jif…in fact, to this day I often eat PB&J for dinner.
At 31 years of age, I still indulge in a spoonful of peanut butter every so often, but now I choose to add mass quantities of it to my baked goods…especially peanut butter cookies. A simple dip in melted chocolate and a sprinkling of chopped peanuts can give a modern and upscale twist to a timeless classic. If you don't have time for the dipping, no worries, they're still quite delectable on their own.
These peanut butter cookies are full of flavor and texture, plus they make the perfect afternoon snack with an ice cold glass of milk. Thanks so much for stopping by, I hope you all have a rocking weekend!
Searching for more deliciousness? Check out these recipes:
Peanut Butter and Jelly Bars from My Baking Addiction
Peanut Butter Buckeye Bars from My Baking Addiction
Boiled Peanuts, Fried Peanuts and Peanut Brittle from Three Many Cooks
Almond Butter Cookies from Good Life Eats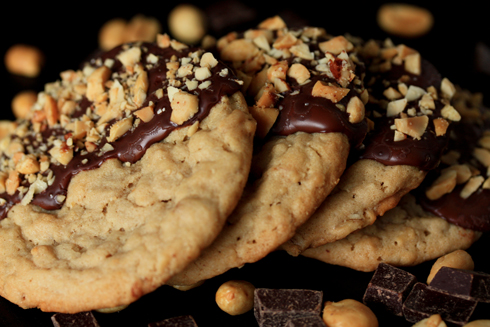 Chocolate Dipped Peanut Butter Cookies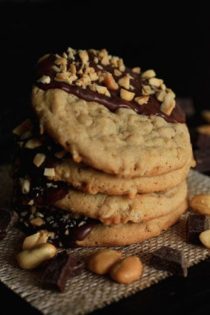 Ingredients:
1 cup unsalted butter; softened
1 cup packed brown sugar
1/2 cup sugar
1/2 cup creamy peanut butter
1/2 cup chunky peanut butter
2 eggs
1 teaspoon pure vanilla extract
1 3/4 cups all-purpose flour
2 teaspoons baking soda
1/2 teaspoon kosher salt
1 cup quick oats
2 cups semisweet chocolate chips
½ cup chopped peanuts
Directions:
1. Preheat oven to 350 degrees F.
2. In a large bowl, cream together butter, brown sugar, white sugar, and peanut butter until smooth. Beat in the eggs one at a time until well blended add in vanilla and mix to combine.
3. In a medium bowl, combine the flour, baking soda, and salt; stir into the creamed mixture. Mix in the oats until just combined. Drop by tablespoons onto ungreased cookie sheets.
4. Bake for 12-14 minutes, or until just lightly browned around the edges. Cool for 5 minutes on cookie sheet then transfer to cooling rack.
5. Once cookies are completely cooled, melt the chocolate chips in the microwave on medium power. Stir every 30 seconds until the chips are melted and smooth.
6. Working over the bowl of melted chocolate, spoon the chocolate over 1/2 of each cookie. Allow the access chocolate to flow back into the bowl. Sprinkle the wet chocolate with chopped peanuts and place on wax paper to harden.
Notes:
- If you are not fond of chunky peanut butter, simply replace it with creamy.
- Stored in an airtight container, these cookies will maintain their freshness for up to 3 days.
All images and text ©
Follow Jamie on Instagram. We love to see what you're baking from MBA! Be sure to tag @jamiemba and use the hashtag #mbarecipes!