Pumpkin Mocha – is that even a thing? I refuse to Google it – I prefer to think I'm awesomely brilliant, even though I am sure that's not even remotely the case.
These cupcakes came about after I received a new comment one of my first posts here on MBA for Chocolate Cupcakes. Sometimes it makes me wince a little to look back at photos, writing, and recipes from over 4 years ago. And even though I've thought about deleting/editing so many of them, they are a constant reminder of the progress I've made as a blogger.
When I approved the comment, I actually laughed out loud at the way the recipe was written and was immediately embarrassed. Yet something compelled me to immediately print it out and make it again – only this time with a Fall spin.
Pumpkin makes any cupcake deliciously moist. Adding mocha flavor to the mix just means an uber-decadent cupcake experience that could just be Thanksgiving-changing.
I'm glad I made these again. Sometimes it's worth going back to see where you've been, so that you can really see how far you've come. Happy Thanksgiving, everyone!
[pinit]
*Edit: Due to a cut and paste error the recipe was edited on 11/21/12 at 1:30 pm EST

Pumpkin Mocha Cupcakes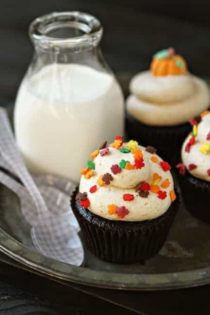 Ingredients:
For the Cupcakes
2 cups Gold Medal all-purpose flour
2 cups granulated sugar
1 teaspoon baking powder
2 teaspoons baking soda
1 teaspoon salt
2 teaspoons homemade pumpkin pie spice
1 cup unsweetened cocoa powder
1 cup vegetable oil
1 cup pumpkin spice coffee, hot
1 cup hot water
2 large eggs
2 teaspoons pure vanilla extract
For the Pumpkin Spice Buttercream
2 cups (4 sticks) unsalted butter, room temperature
2 pounds (about 7 1/2 cups) confectioners' sugar, sifted
1/2 cup pure pumpkin puree
2 teaspoons homemade pumpkin pie spice
2 teaspoons pure vanilla extract
Directions:
1. Preheat oven to 350°F and line a muffin tin with paper liners.
2. In the bowl of a stand mixer fitted with the whisk attachment, or in a large bowl with a whisk, combine the flour, sugar, baking powder, baking soda, salt, pumpkin pie spice, and cocoa powder until thoroughly combined.
3. Add in oil, coffee, water, eggs and vanilla. Mix until well combined and smooth. Batter will be thin.
4. Using a large cookie scoop, distribute the batter between 36 muffin wells; about 3 tablespoons of batter per well.
5. Bake in preheated oven for 18-22 minutes or until the tops of the cakes spring back when lightly touched. Allow cupcakes to cool inside muffin tins for about 10 minutes.
6. Remove cupcakes from muffin tins and allow to fully cool on a wire rack. Once cupcakes are cool, prepare your frosting.
For the Pumpkin Buttercream
1. In the bowl of a stand mixer fitted with the paddle attachment, beat the butter medium-high speed for about 6 minutes.
2. Turn the mixer down to low speed and gradually add in the confectioners' sugar until it is completely incorporated. Add in pumpkin puree, pumpkin pie spice and vanilla and mix until incorporated. Turn off the mixer and check the buttercream for taste and texture - add more spice if necessary. Turn the mixer back up to medium-high speed and beat the mixture for about 3-4 minutes or until light and fluffy. If the buttercream is a bit too thick, you add in a bit of milk one teaspoon at a time until the desired consistency is reached.
3. Pipe the frosting onto the cooled cupcakes and if desired, garnish with a sprinkling of festive Fall sprinkles.
Notes:
-If you don't like the idea of coffee in your cupcakes, simply substitute another cup of hot water for the coffee.
All images and text ©
Follow Jamie on Instagram. We love to see what you're baking from MBA! Be sure to tag @jamiemba and use the hashtag #mbarecipes!
Disclosure
This post is part of an ongoing relationship between My Baking Addiction and Gold Medal Flour. In June of 2012, My Baking Addiction attended a Farm to Table event in Kansas City to learn why Gold Medal has been America's flour of choice for 125 years. Although this is a sponsored post, the views and opinions expressed are our own and based upon our personal experiences with Gold Medal Flour.