Pumpkin Cream Cheese Muffins are everything I love about fall, in muffin form. They're perfect for breakfast with a mug of your favorite coffee, or a sweet ending to a cozy dinner.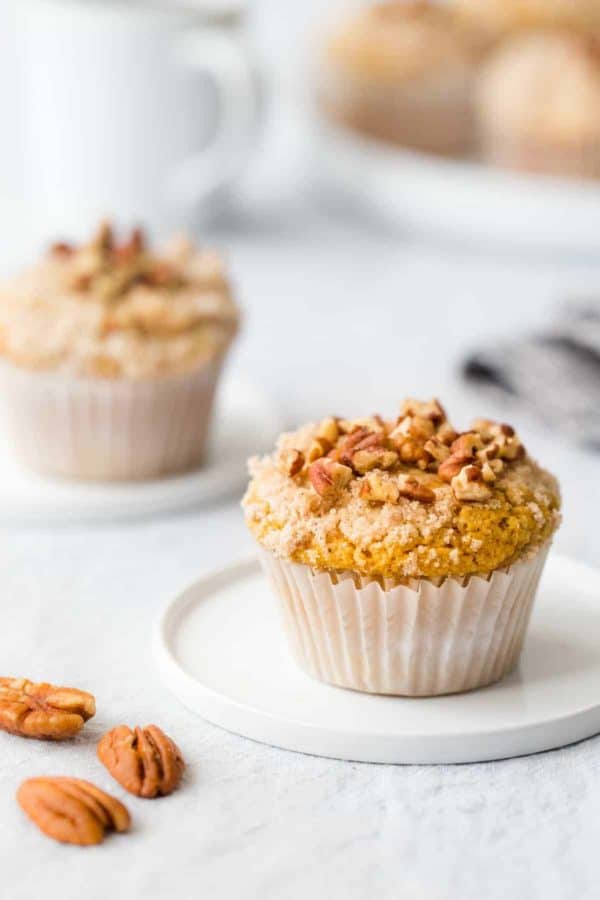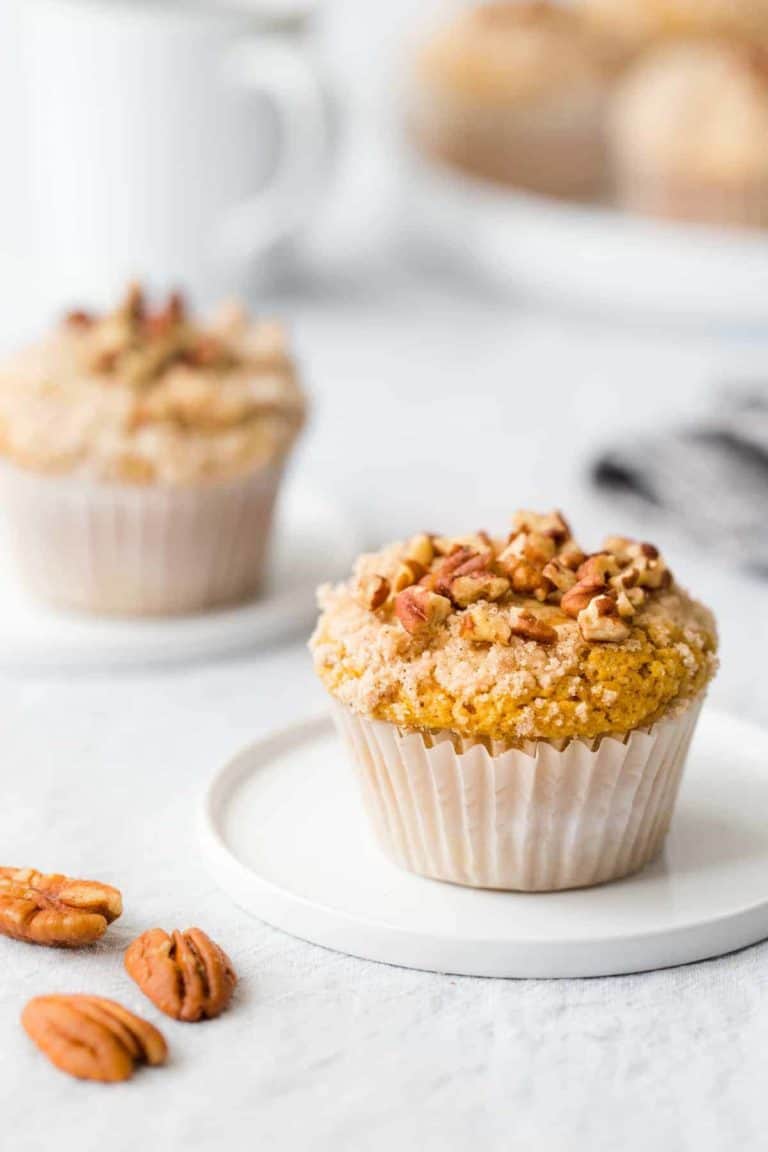 Okay, so do you remember when I was complaining last week that it was too warm outside and that I totally felt like I was being cheated out on fall weather?
If you caught my post for Frosted Maple Pecan Marshmallow Treats you were probably giving me major side-eye as I whined that is was almost 80 degrees and my sweet babe was still rocking her favorite summer dress in October.
I'm giving myself the side-eye now because it's freezing in Ohio. As a matter of fact, it was SNOWING a few days ago. So now we've pretty much skipped over fall and are headed directly into winter.
Which, by the way has prompted me to take down all of our fall decorations and start decorating for Christmas. And we may or may not already have some of our Christmas lights hanging outside.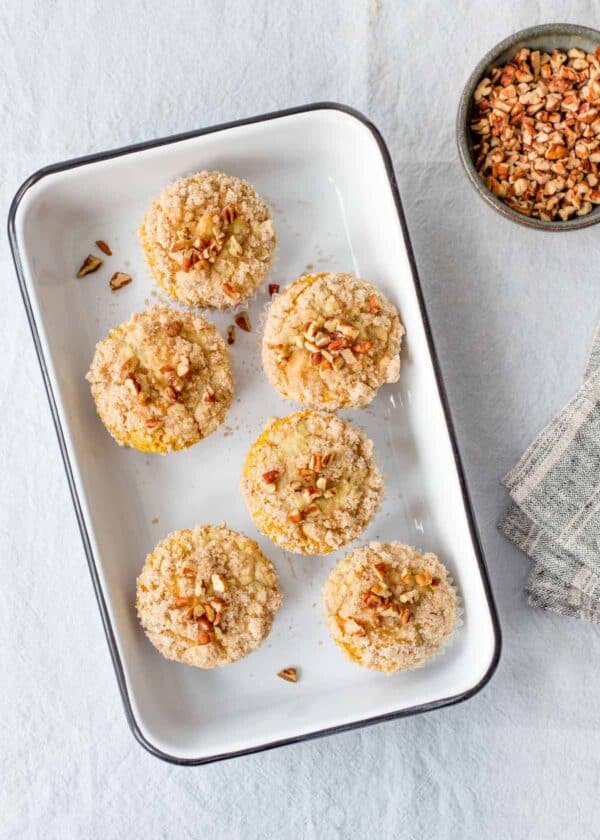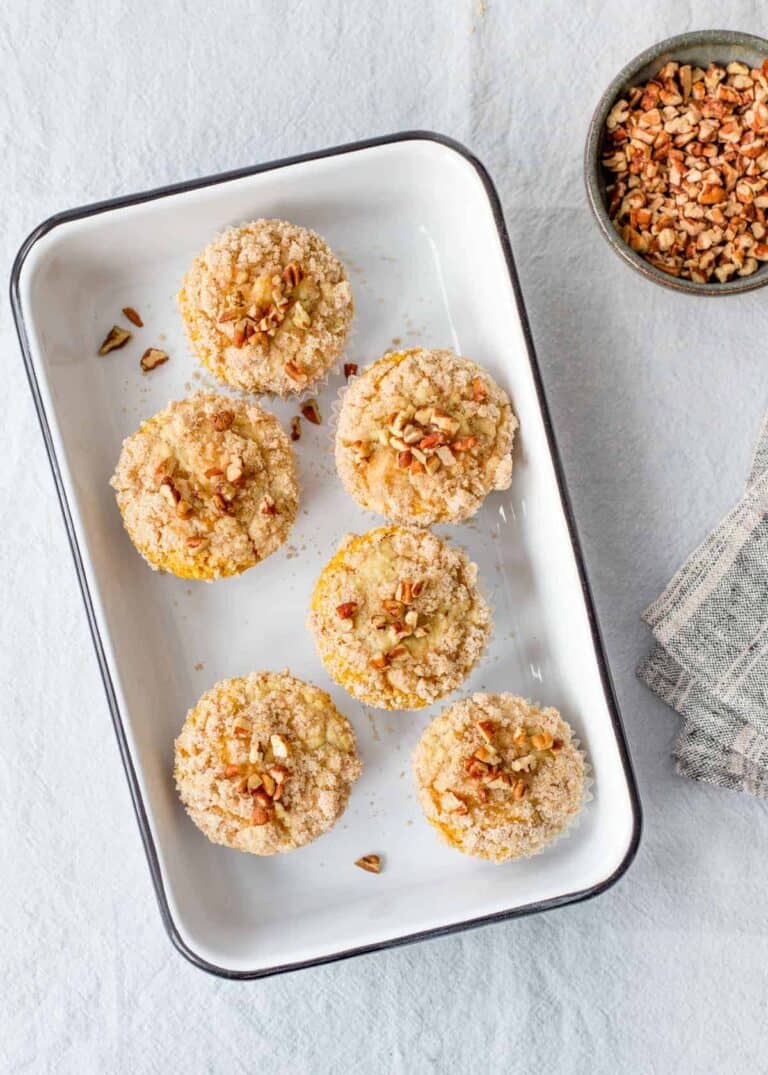 Before you judge me and tell me it's too early, know that we won't flip the switch any sooner than Thanksgiving. Okay, maybe a day or two sooner.
Seriously though, I'm not trying to rush Christmas, but I just love how cozy our house feels with garland, warm white lights, and pretty flocked trees. If I'm being honest, a month just isn't long enough for us, so we're decking our halls ultra early and I'm not one bit sorry about it.
Now that the weather has flipped, I'm totally in the comfort food mindset and have a huge list of recipes that I want to share with you in the coming months. Some are sweet, some are savory, but they're all incredibly delicious and perfect for the holiday season.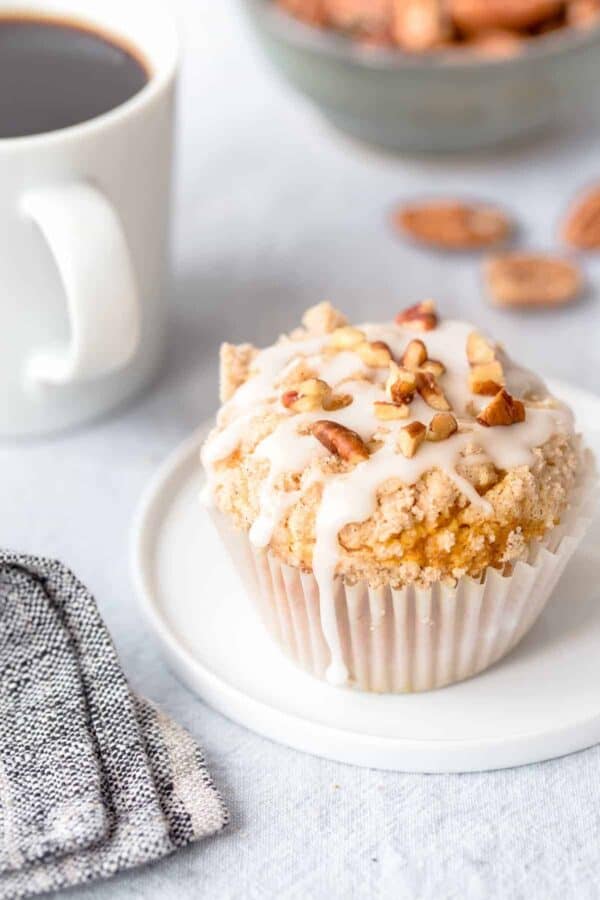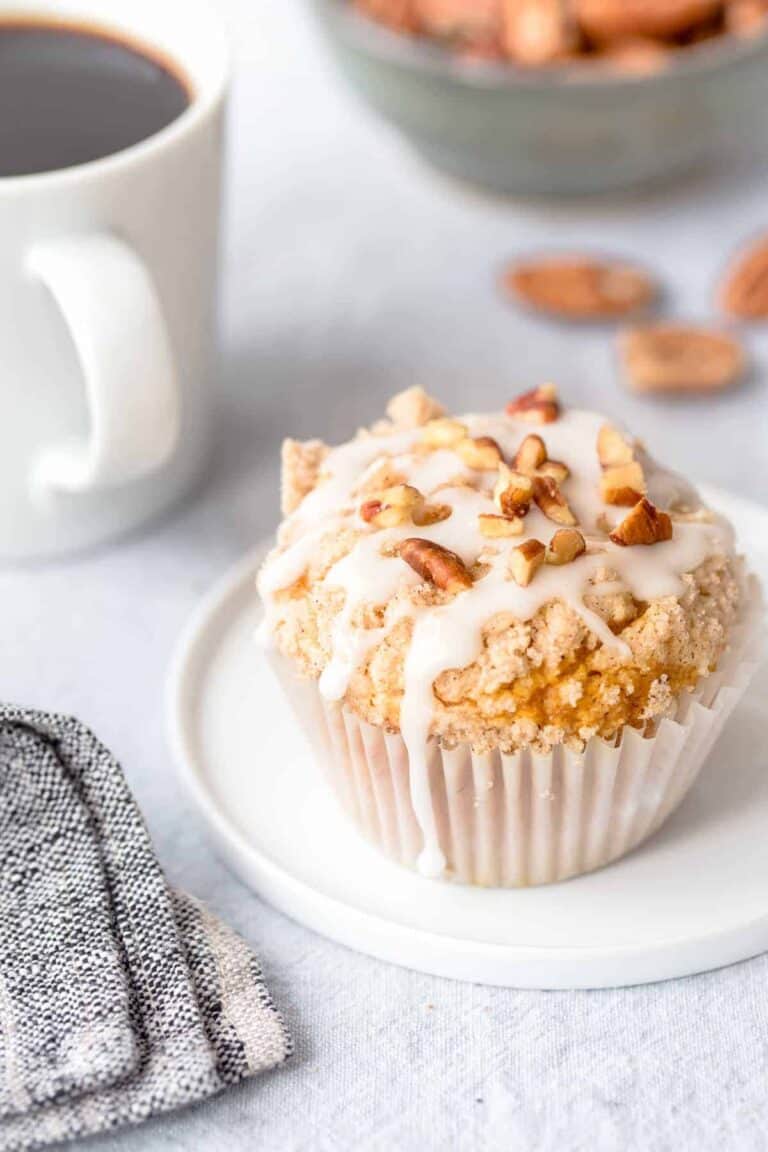 If you've been around My Baking Addiction for quite some time, these pumpkin cream cheese muffins may look a little familiar to you. That's because I originally posted them way back in 2012 and I've been obsessed with them ever since.
Aside from pumpkin bread, pumpkin roll and pumpkin cheesecake, these little pumpkin cream cheese muffins are one of my absolute favorite fall recipes to make and share. I mean, who can resist pumpkin, cream cheese and a streusel topping? Not this girl.
The recipe makes about two dozen muffins, so they're perfect for baking up and sharing with neighbors, coworkers, teachers, and of course family!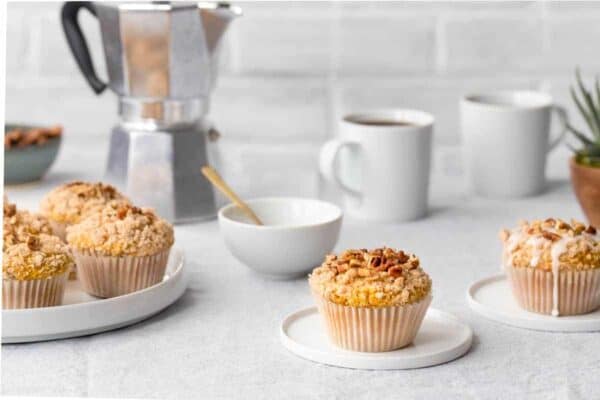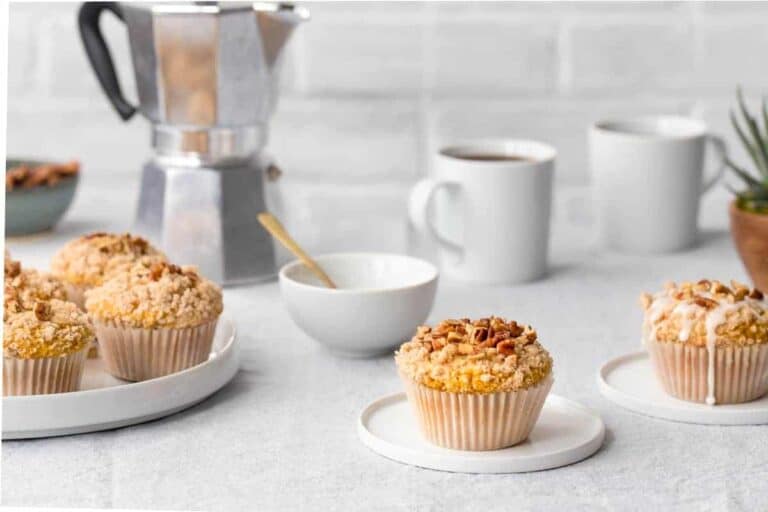 Package them up in a bakery box with some twine and a cute tag and you have a beautiful and delicious hostess gift for any fall occasion.
Toasted up in the oven a day or two later, they might almost be better than fresh out of the oven. Almost.
You know what I'm thinking? I'm thinking Thanksgiving morning breakfast! How about you?
Pumpkin Cream Cheese Muffins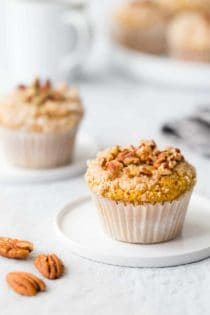 Ingredients:
For the Filling
1 (8 ounce) package cream cheese, slightly softened
1 large egg
1 teaspoon pure vanilla extract
3 tablespoons light brown sugar
For the Streusel Topping
4 1/2 tablespoons all-purpose flour
5 tablespoons granulated sugar
3/4 teaspoon homemade pumpkin pie spice
1/4 cup chopped pecans
3 tablespoons unsalted butter, slightly softened and diced
For the Muffin Batter
2 1/2 cups all-purpose flour
2 cups granulated sugar
2 teaspoons baking powder
2 1/2 teaspoons homemade pumpkin pie spice
1/2 teaspoon salt
2 large eggs
1 1/3 cups canned pumpkin
1/3 cup vegetable oil
2 teaspoons pure vanilla extract
For the Optional Glaze
1 cup powdered sugar
1/2 teaspoon vanilla extract
1 to 2 tablespoons milk
Directions:
Preheat oven to 375°F. Spray muffin tins with nonstick cooking spray or line with paper muffin liners.
Prepare the Filling: In a medium bowl, with an electric mixer, beat cream cheese until soft; about 3 minutes. Add egg, vanilla and brown sugar. Beat until pretty smooth – there may be some cream cheese chunks, that's perfectly fine. Set aside.
Prepare the Streusel Topping: In a medium bowl, mix flour, sugar, pumpkin pie spice and pecans. Add butter and cut it in with a fork until crumbly. Set aside.
Prepare the Muffin Batter: In a large bowl, sift together flour, sugar, baking powder, pumpkin pie spice and salt. Add eggs, pumpkin, oil and vanilla. Beat with an electric mixer until just combined and smooth – do not overbeat .
Using a large scoop, evenly distribute the muffin batter between 24 muffin wells. Add one tablespoon of the cream cheese mixture into the center of the batter of each muffin. Try to keep cream cheese from touching the paper cup. Sprinkle on the streusel topping.
Bake in preheated over for 20 to 25 minutes. Remove muffin pans to cooling racks and allow the muffins to cool completely before serving.
Optional Glaze: Once the muffins are cool, stir together the powdered sugar, vanilla and 1 teaspoon of milk at a time until you reach the desired consistency. You want the glaze to be just thin enough to drizzle over the muffins.
Notes:
Pumpkin Cream Cheese Muffins are best served the day they are made; however, they will keep in an airtight container within the refrigerator for up to 2 days.
Slightly adapted from allrecipes.
All images and text ©
Follow Jamie on Instagram. We love to see what you're baking from MBA! Be sure to tag @jamiemba and use the hashtag #mbarecipes!