Pumpkin Praline Cheesecake
Pumpkin Praline Cheesecake combines sweet praline pecans with creamy pumpkin cheesecake and a gingersnap crust. It's dessert that is as perfect with an afternoon cup of coffee as it is for the Thanksgiving table.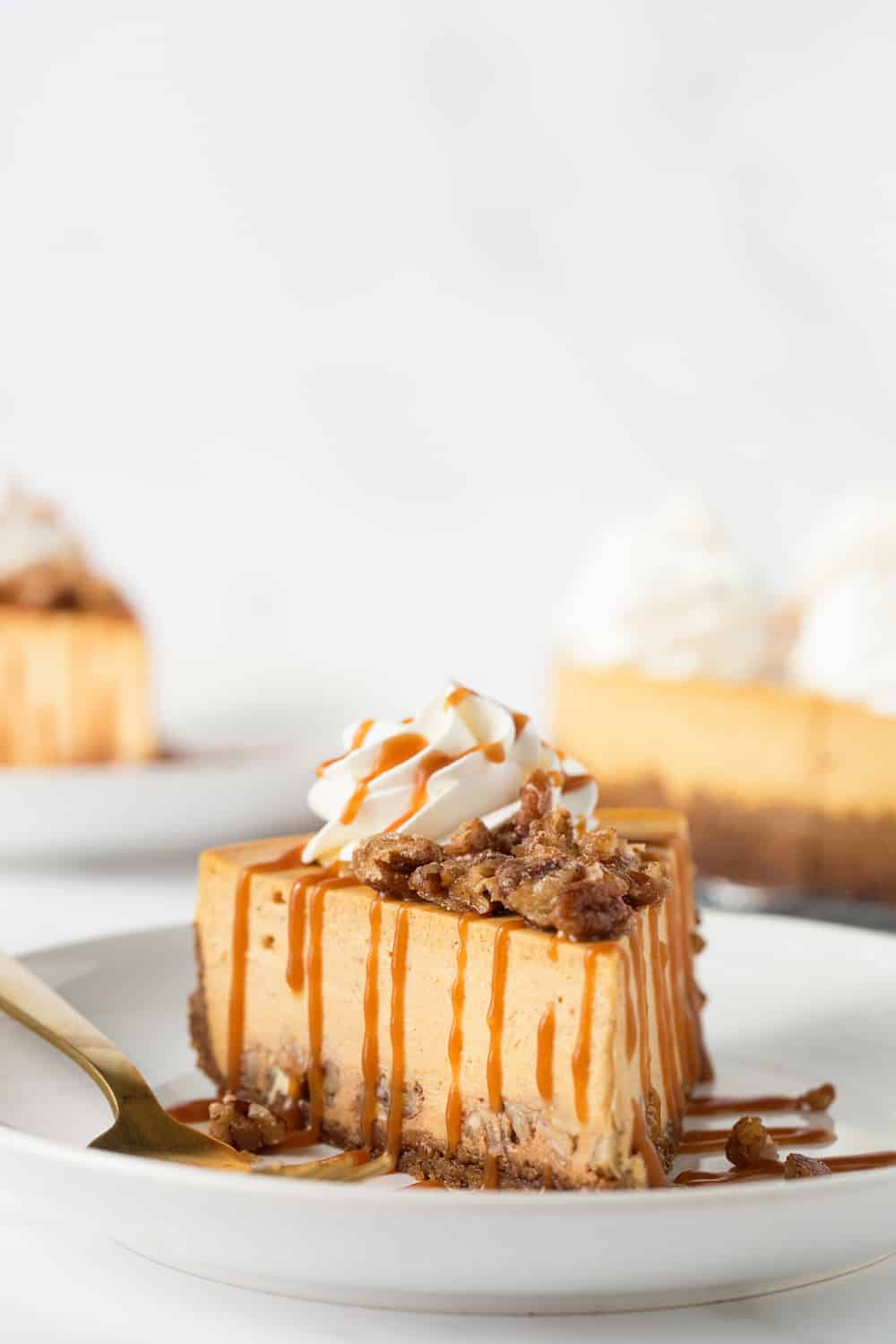 Are you ready for Thanksgiving? Here's your friendly reminder that there are only 2 more days left until the big day!
I was frantically preparing my grocery list earlier today because I knew I wanted to brave the stores tomorrow instead of Wednesday and then I had a thought. Girl, just have your groceries delivered. Um, yes!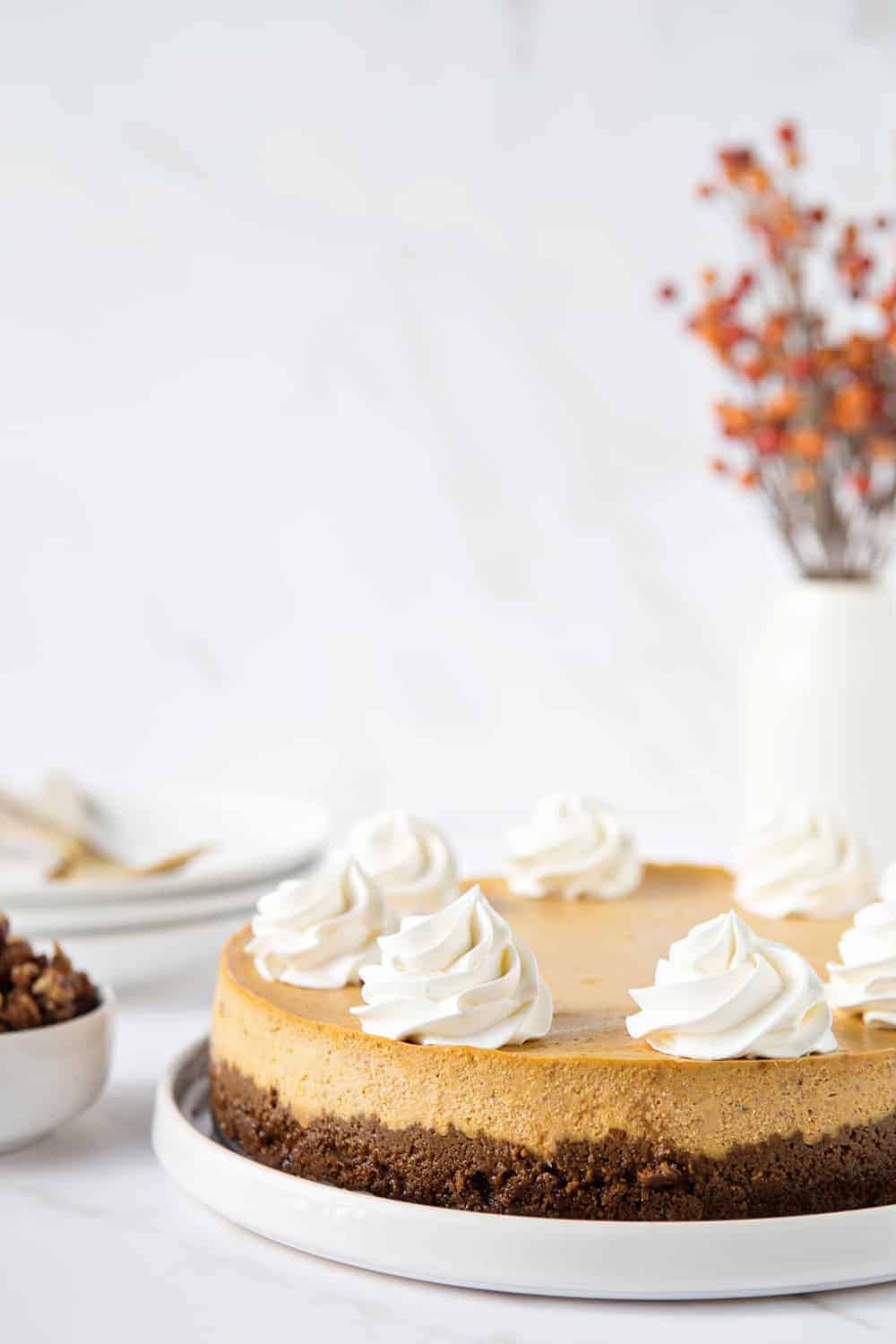 Do you ever use grocery delivery services?
I'm one of the odd ones that actually enjoys grocery shopping if and only if it's early in the morning and it's pretty much me and the employees. That's totally my shopping jam.
Thanksgiving shopping? Basically my nightmare, so this year, I have my whole list checked into the system and my groceries will show up on my doorstep around 2PM.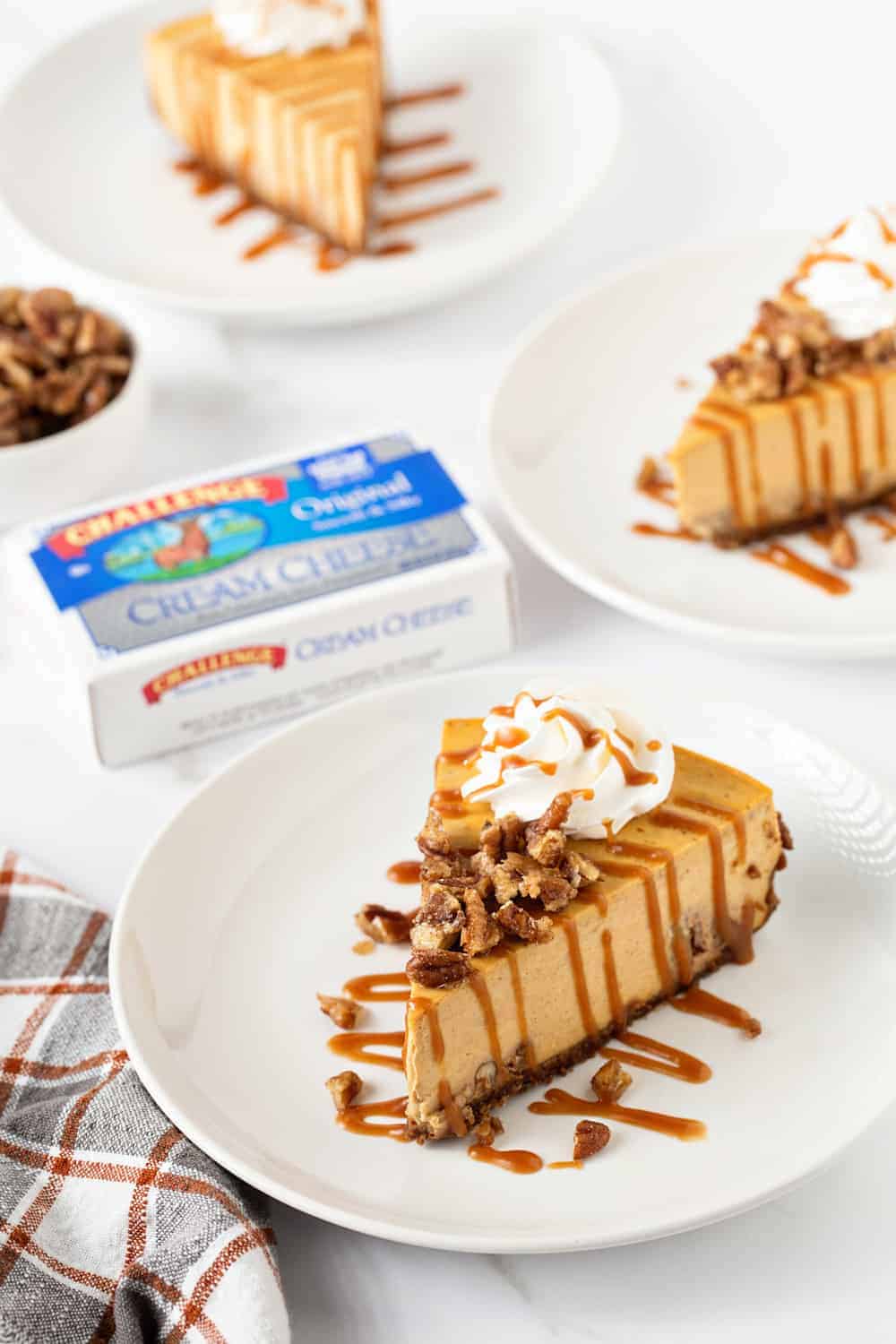 I call that a total win because instead playing chicken down crowed grocery store aisles, I'll be home making a pumpkin roll and this Pumpkin Praline Cheesecake.
PUMPKIN PRALINE CHEESECAKE
Let's talk about this cheesecake, 'kay?
We've made pumpkin cheesecake before. In fact, there are few things better than creamy, tangy cheesecake combined with pumpkin. It's basically a marriage of two of my favorite things.
So why not take pumpkin cheesecake a step further and combine it with Challenge Dairy, praline pecans and a gingersnap crust? We'll get the most dreamy Pumpkin Praline Cheesecake.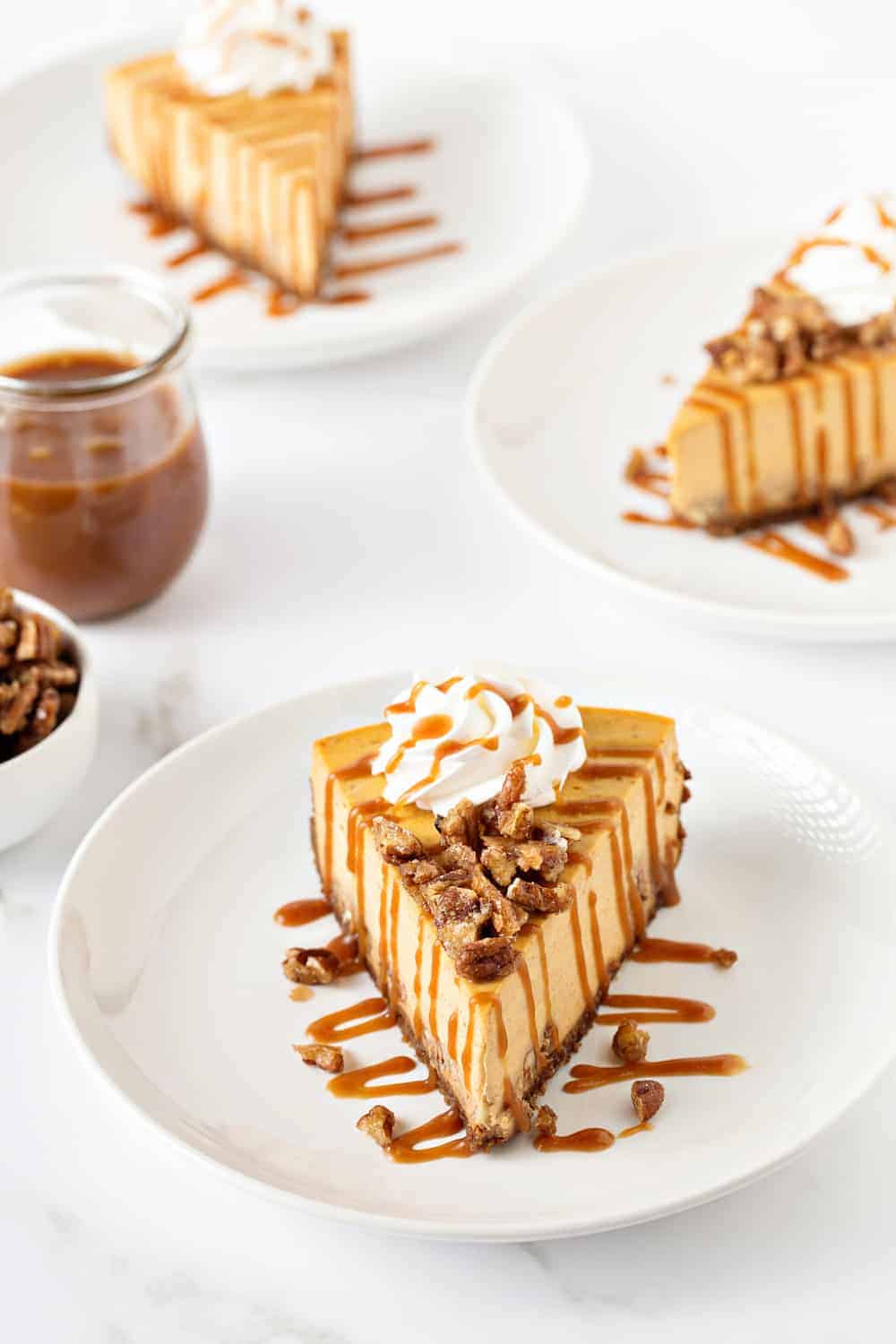 I've been partnering with Challenge Dairy for years because I am such a huge fan of everything they make – from their butter to their cream cheese spreads, all of their products are simply incredible.
Whether I'm using Challenge Dairy products in Instant Pot Cheesecake, Turtle Fudge or Peanut Butter Pie, I know the recipes will always turn out great. That's what happens when you start with great ingredients.
Did you know that they are the only dairy product company that controls the whole process from milking the cows, to transporting milk, to packaging the product? It means that I can feel good about feeding their products to my family, and that's pretty awesome.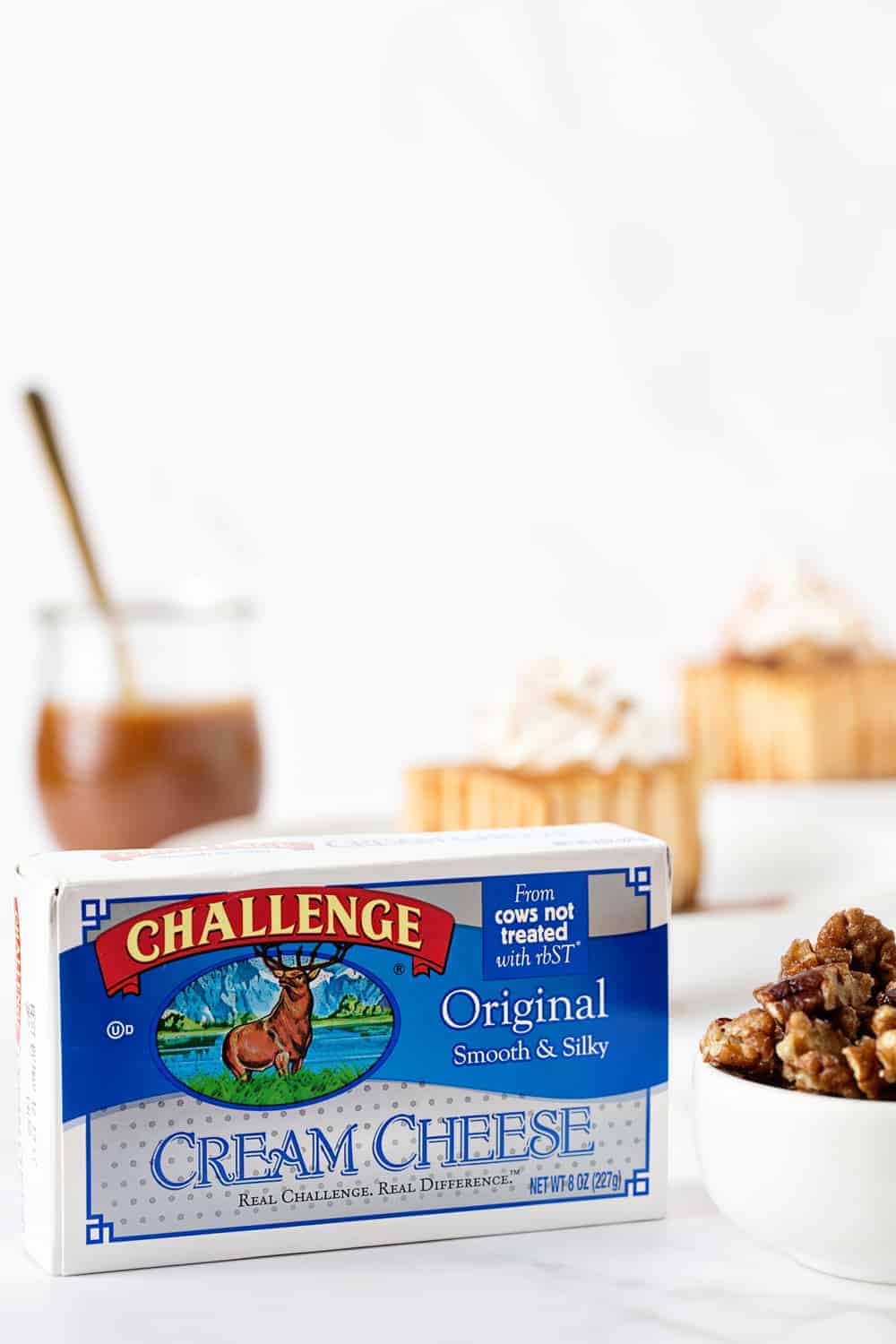 PUMPKIN CHEESECAKE WITH GINGERSNAP CRUST
Sure, you could make Pumpkin Praline Cheesecake with a graham cracker crust and it would be really good.
But then again, why make something really good when you can make something outstandingly delicious?
That's what happened when I swapped the graham cracker crust on this Pumpkin Praline Cheesecake for a gingersnap crust.
When buying cookies for this gingersnap crust, make sure you purchase the crunchy gingersnap cookies. Thicker, softer gingersnap cookies are great for a lot of things (such as Gingerbread Icebox Cupcakes), but we need those crunchy cookies for the perfect gingersnap crust.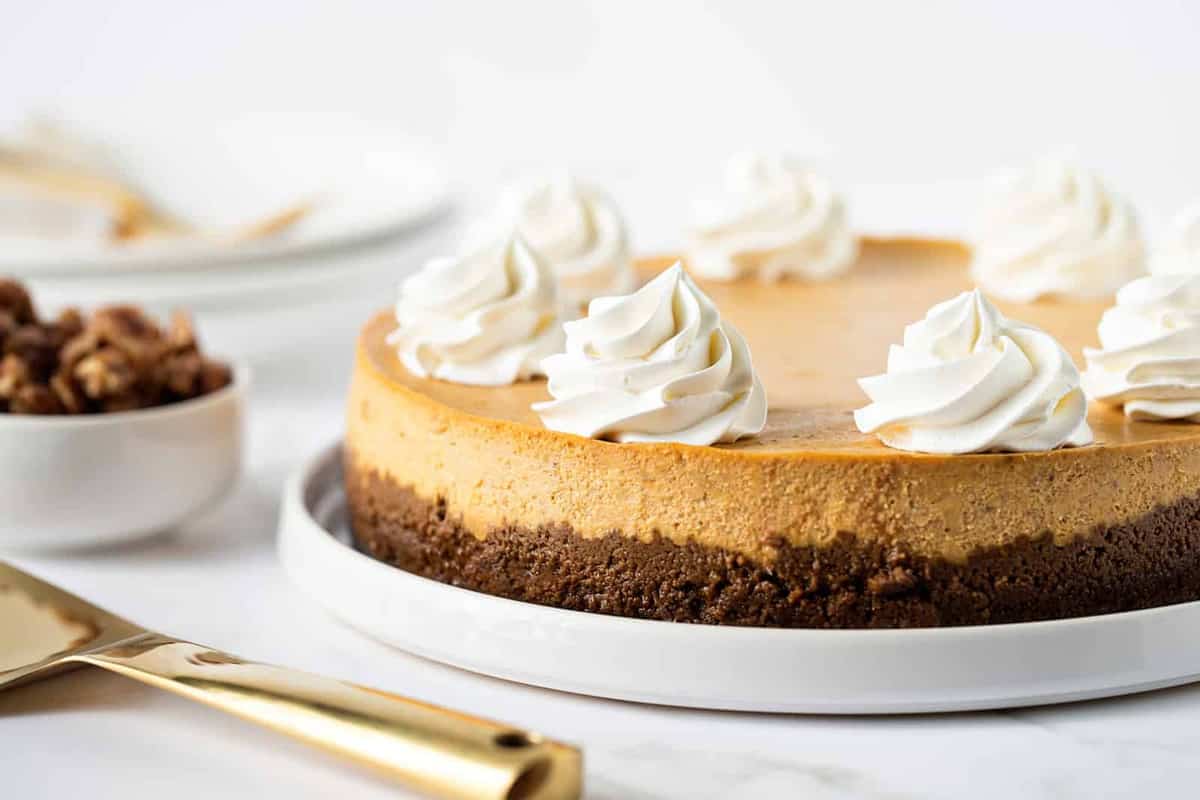 EASY PRALINE PECANS
This Pumpkin Praline Cheesecake is filled and topped with easy praline pecans.
Actual praline candies require a candy thermometer and, while delicious, are probably more work than we want to put into a cheesecake. Ya know?
So instead I made super easy candied pecans that mimic the flavor of a praline but only take a few minutes to make. They also happen to be pretty addictive – try not to eat them all before they get into the cheesecake!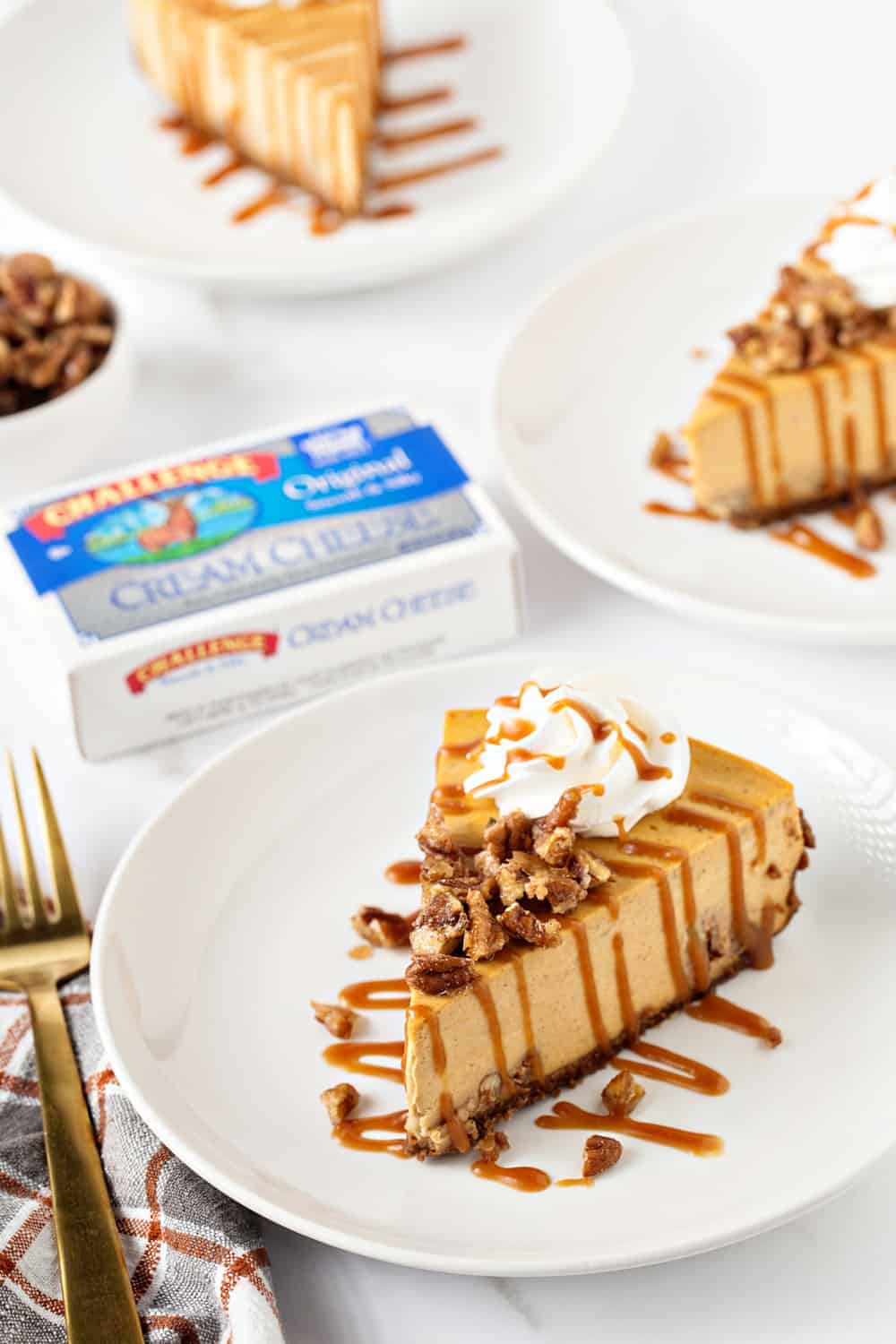 A handful of these easy praline pecans go on top of the baked gingersnap crust, under the pumpkin cheesecake filling while the rest go on top of the finished Pumpkin Praline Cheesecake. Then we drizzle on a salted caramel sauce for pumpkin cheesecake perfection.
Pumpkin Praline Cheesecake is decadent, delicious, and full of so many of my favorite flavors. Give it a try today or save it for Thanksgiving dessert. Either way, you won't be disappointed.
Pumpkin Praline Cheesecake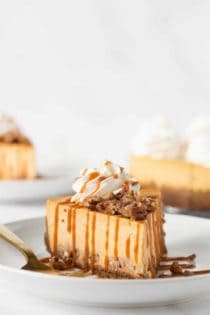 Ingredients:
For the Crust
8 ounces (about 25 cookies) gingersnap cookies, crushed into fine crumbs
3 tablespoons unsalted Challenge Butter, melted
For the Pralines
1 1/2 cups chopped pecans
1/2 cup packed light brown sugar
1/4 teaspoon pumpkin pie spice
2 tablespoons water
For the Cheesecake Filling
4 8-ounce packages Challenge Cream Cheese, at room temperature
1 cup granulated sugar
3 large eggs
1 can (15 oz.) pure pumpkin puree
1/3 cup heavy cream
2 teaspoons pure vanilla extract
1 tablespoon pumpkin pie spice
For Topping
1/2 cup caramel sauce
Directions:
Preheat oven to 350°F.
Tightly wrap a 9-inch springform pan in heavy-duty foil. This step prevents leaks when using a water bath. I also take the extra step of placing the foil-wrapped springform pan inside an oven bag while baking, but this is optional.
Lightly spray pan with nonstick cooking spray. Set aside.
In a medium bowl, stir together crushed gingersnap cookies and melted butter until thoroughly combined.
Press the crumbs into the bottom and about 1 inch up the sides of the prepared springform pan.
Bake gingersnap crust in preheated oven for 8 minutes. Remove pan from oven and cool completely. Leave oven set to 350°F.
Prepare the Pralines: Line a baking sheet with parchment paper. In a medium bowl, stir together the pecans, brown sugar, ¼ teaspoon pumpkin pie spice and water.
Pour pecans onto prepared baking sheet and arrange the pecans into a single layer. Bake in preheated oven for 8-10 minutes, or until toasted and fragrant. Place pan on a cooling rack and allow the pecans to cool.
Prepare the Cheesecake Filling: In the bowl of a stand mixer fitted with your paddle attachment, beat the cream cheese until smooth. Add sugar and mix until combined. Add eggs, one at a time, fully incorporating each before adding the next. Make sure to scrape down the bowl in between each egg. Add in pumpkin puree, heavy cream, vanilla extract, pumpkin pie spice, and mix until smooth.
Sprinkle ½ cup of cooled pralines into the baked and cooled crust. Reserve the remaining pralines for serving.
Pour batter into prepared crust directly over the pecans.
Prepare a Water Bath: Place springform pan into a larger pan and place on oven rack. This will prevent the boiling water from sloshing around while moving the pans into the oven. Pour boiling water into the larger pan until it is halfway up the side of the cheesecake pan.
Bake 60-70 minutes; the edges will appear to be set, but the center will still have some jiggle to it. At this point, turn off the oven, but leave the door cracked and allow the cheesecake to rest in the cooling oven for one hour.
After one hour has passed, carefully remove the cheesecake from the water bath and place on a cooling rack to cool completely. Once the cheesecake is completely cooled, place it into the refrigerator for at least 12 hours.
Before serving, drizzle with caramel sauce and top with reserved pralines.
All images and text ©
Follow Jamie on Instagram. We love to see what you're baking from MBA! Be sure to tag @jamiemba and use the hashtag #mbarecipes!