Now that October is in full swing, I feel like I can make and post all the pumpkin and apple recipes my heart desires without having to make excuses for the early autumn recipes. The thing is, I love seasonal cooking, but fall is my absolute favorite and I tend to want to start making autumn recipes in the middle of July.
For the sake my family's sanity, I try to hold off until at least September. This is the time of year when their eyes tend to glaze over if I mention 'butternut squash' too many times in one week. You see, there isn't a fall food that I dislike; comfort foods, pumpkin breads and apple desserts are all I crave when the calendar flips to September. Throw a bag of mellow creme pumpkins into the mix and I'm a happy camper.
Speaking of campers, we threw my son a camping themed party for his 6th birthday last month and for some reason I went completely overboard buying s'mores ingredients. I have bags of mini marshmallows, jumbo marshmallows, chocolate bars and about 3 different types of graham crackers shoved into various cabinets in my kitchen. It was if I had become some weird sort of s'mores hoarder stock piling for the apocalypse and it starting to encroach on some much needed kitchen storage space. I figured I needed to put some of these s'mores makings to good use.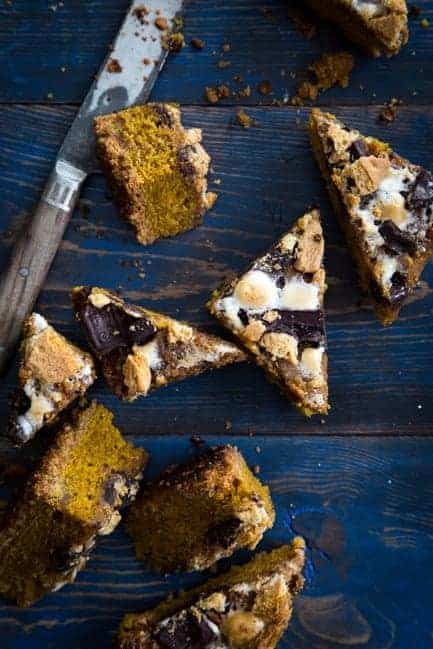 I decided to merge my favorite summer treat (s'mores) with one of my favorite fall flavors (pumpkin) to make some sweet and slightly spiced Pumpkin S'mores Bars. These are thick, cake-like pumpkin blondies topped with all of the toasted, melty s'mores toppings you could ask for. I'm not quite sure why I had never thought to put these two desserts together before, but based on how fast they disappeared from my kitchen, I think they would be welcome again anytime.
Happy Baking!
Pumpkin S'mores Recipe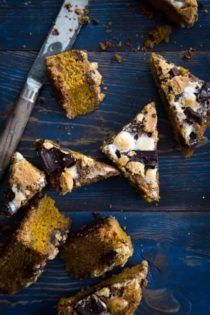 Ingredients:
2 cups all-purpose flour
1 teaspoom baking soda
1 tablespoon pumpkin pie spice
3/4 teaspoon salt
2 sticks unsalted butter
1 cup sugar
1/4 cup light brown sugar
1 large egg
1 cup pure pumpkin puree
2 teaspoon pure vanilla extract
3 chocolate bars - 1.45 oz each, chopped
2 graham crackers, broken into chunky crumbs
1 3/4 cup mini marshmallows
Directions:
1. Preheat oven to 350 degrees. Line the bottom and sides of a 9 x13 inch baking pan with foil. Leave a bit of foil over the edges to help with removal of bars after baking. Lightly spray foil with non-stick spray. Set aside.
2. In a medium bowl, whisk together flour, baking soda, pumpkin pie spice and salt; set aside.
3. In the bowl of a stand mixer, cream together butter and sugars on medium-high speed until smooth. Add egg and vanilla and mix until incorporated. Beat in pumpkin puree (mixture may appear curdled). Reduce speed to low and gently add dry ingredients, mixing until just combined.
4. Spread mixture in prepared baking dish and top with crushed graham crackers, chocolate bars and mini marshmallows. Bake for 35-40 minutes or until toothpick comes out with moist crumbs. Cool completely before removing from pan.
5. Use foil flaps to gently lift bars from baking dish. Cut bars and serve.
Follow Jamie on Instagram. We love to see what you're baking from MBA! Be sure to tag @jamiemba and use the hashtag #mbarecipes!