Pumpkin Spice Chex Mix is loaded with sweet and spicy coated cereal, pretzels, yogurt raisins, and candy corn. It's perfect for a party or game day snacking!
So, Halloween is over and if you're at all like me you've got gobs of candy corn sitting around. I honestly have no idea why I hoard the stuff every single year and rarely do I actually eat it. It's not that I don't like candy corn, it's just that there are far superior Fall candies to be had.
Hello, Pumpkin Reese's – can someone please explain to me why these are so much better than a regular Reese's Cup? I'm thinking it's the peanut butter to chocolate ratio, but that's just me. I may or may not have picked up a couple of bags of them on clearance for 50% off and hid them from myself in the freezer. Who am I kidding? They're so not hidden, they're just frozen – exactly the way I like 'em!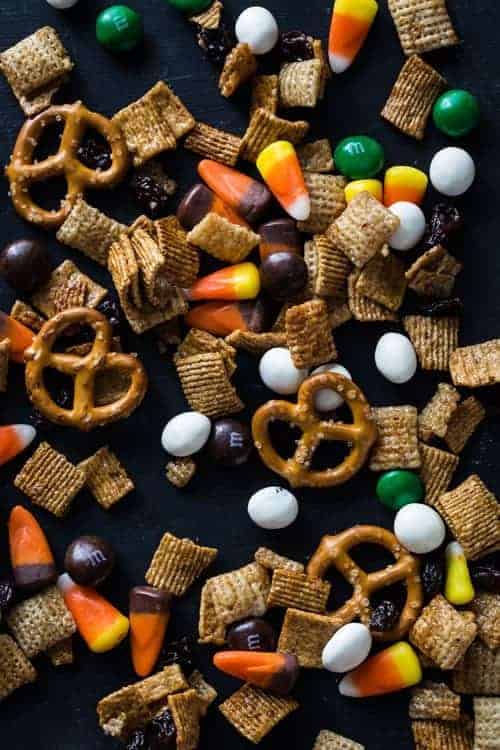 It's no surprise that my favorite ingredient for fall baking is homemade pumpkin pie spice. If you frequent MBA during the holiday season, you know it winds up in allthethings. And fall snack mix is no exception.
Pumpkin Spice Chex Party Mix is pretty much the result of having a pantry snack cabinet bulging at the seams. Seriously, who needs 3 types of pretzels? And don't even get me starting on the flavor varieties of yogurt covered raisins and cereals. I'm fairly certain that Eric has a legit cereal addiction that I'm only just now realizing exists.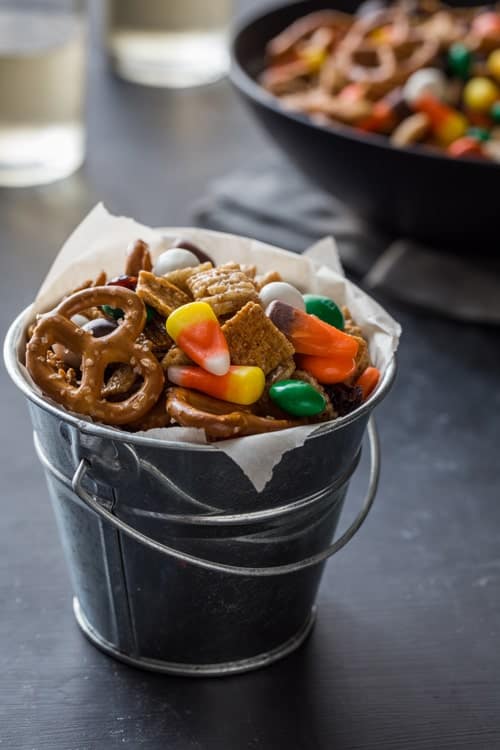 This stuff is fantastic for serving in your game day spread. Put some out in little bowls, scattered around your living room. Everyone will be snack-happy as they watch the Browns win (hey, they're doing pretty darn good!) and Peyton-what's-his-name yell "Omaha!", whatever that's about.
I never claimed to understand football. I'm just here for the snacks.
Pumpkin Spice Chex Mix couldn't be easier and it's incredibly adaptable, so you can just use what you have on hand. And it's a great way to use up some of that candy corn – just sayin'.
Photo Credit: Emily Caruso of Jelly Toast
Pumpkin Spice Chex Mix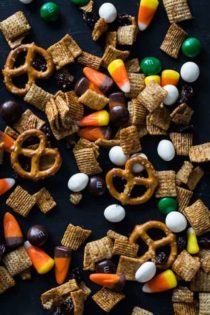 Ingredients:
4 cups Vanilla Chex cereal
4 cups Golden Grahams cereal
1 1/2 cups mini salted pretzels
3/4 cup raisins
1/2 cup unsalted butter, melted
1/4 cup honey
2 teaspoons homemade pumpkin pie spice
1 cup yogurt covered raisins
3/4 cup M&Ms
3/4 cup candy corn
Directions:
1. Preheat oven to 350°F.
2. In a large bowl, stir together cereals, pretzels and raisins. If you'd like to add nuts to this Chex mix, add them at this time.
3. In a medium bowl, whisk together the melted butter, honey and pumpkin pie spice. Pour butter mixture over cereal mixture and stir to evenly coat the cereal, pretzels and raisins. Spread mixture onto a large baking sheet and bake in preheated oven for 12-15 minutes, stirring twice during the baking process. Allow the Pumpkin Spice Chex Mix to cool for one hour. Stir in yogurt covered raisins, M&Ms, and candy corn.
Notes:
Pumpkin Spice Chex Mix will store in an airtight container for several days.
All images and text ©
Follow Jamie on Instagram. We love to see what you're baking from MBA! Be sure to tag @jamiemba and use the hashtag #mbarecipes!