I love spring… the warmer weather, the smell of fresh cut grass and blooming flowers makes me a happy girl. Spring means the farmers' markets begin to open with plentiful supplies of rhubarb and asparagus.
Although we love us some spring asparagus, I have never used rhubarb in any way, shape or form. Well, I found some stunning rhubarb last week and knew I would find a way to put it to good use.
I got home and began searching for inspiration…I found a bunch of amazing recipes, but decided on this lovely rhubarb cake with a vanilla bean sauce. As I was chopping the rhubarb, I snagged a bite-let's just say I am not too fond fresh rhubarb. However, I thoroughly enjoyed the flavor of the rhubarb baked into this gorgeous cake…plus I am a sucker for anything with a streusel topping.
I will say that we liked this cake much more without the vanilla bean sauce. Although the sauce had a nice flavor, there was just something about the simplicity of the cake on its own that I adored. It paired perfectly with a cup of tea for breakfast. I can't wait to experiment with this cake recipe, I imagine good things to come. If you make this cake, definitely come back and let me know what you think. Have an amazing day!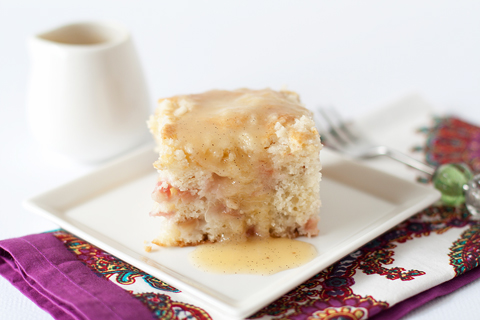 Rhubarb Streusel Cake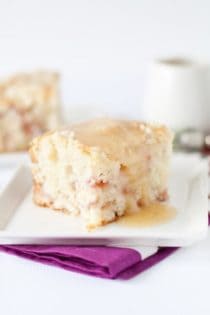 Ingredients:
For the Cake
2 tablespoons butter (no substitutes), softened
1 cup sugar
1 egg
2 cups all-purpose flour
1 teaspoon baking powder
1/2 teaspoon baking soda
1/2 teaspoon salt
1 cup buttermilk
3 cups chopped fresh or frozen rhubarb
STREUSEL TOPPING:
1/4 cup all-purpose flour
1/4 cup sugar
2 tablespoons butter, melted
For the Vanilla Sauce
1/2 cup butter
3/4 cup sugar
1/2 cup evaporated milk
1/2 vanilla bean
Directions:
1. In a mixing bowl, cream butter and sugar. Beat in egg. Combine flour, baking powder, baking soda and salt; add to creamed mixture alternately with buttermilk, beating just until moistened. Fold in the rhubarb. Pour into a greased 9-in. square baking dish.
2. Combine topping ingredients; sprinkle over batter. Bake at 350 degrees F for 40-45 minutes or until a toothpick comes out clean. Cool on a wire rack.
3. For sauce, melt butter in a saucepan. Add sugar, milk and scraped vanilla bean. Bring to a boil; cook and stir for 2-3 minutes or until thickened. Remove from the heat. Serve with cake.
- adapted from allrecipes
All images and text ©
Follow Jamie on Instagram. We love to see what you're baking from MBA! Be sure to tag @jamiemba and use the hashtag #mbarecipes!
[pinit]