It was a crisp 102 here today and couple that with awesome Ohio humidity and you pretty much have my worst nightmare. My blinds and curtains have been for closed 72 hours straight and I'm starting to feel very hermit-esque.
While I was taking care of some random stuff around the house, Brian quickly sensed my foul mood and offered to cook dinner. He actually stood outside and fully embraced the insanity to cook himself a steak – I opted for watermelon and this super simple Roasted Garlic and Tomato Bruschetta. Although I am a self-professed tomato hater, I actually really like this little appetizer, although I'll admit to pushing a few of the maters off to the side.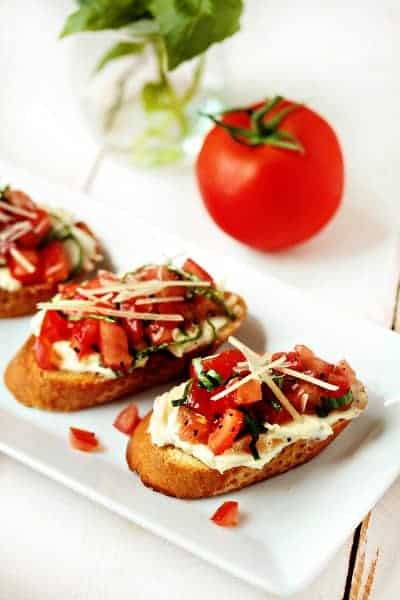 This bruschetta is not only extremely flavorful, but it's also the perfect little snack or appetizer for those lazy summer nights. Toasted pieces of baguette create the perfect canvas for a rich and creamy layer of roasted garlic cream cheese spread. Top that off with a mixture of tomatoes and basil for a burst of freshness.
Tip: Since I am anti-oven right now, I roasted the garlic and toasted my baguette in my toaster oven and it turned out perfectly.
I hope you enjoy this recipe as much as we do. Have great weekend and stay cool.
Roasted Garlic & Tomato Bruschetta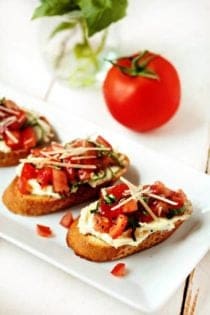 Ingredients:
1 garlic head, whole
3 teaspoons olive oil
salt and pepper to taste
1 medium tomato, diced
¼ cup fresh basil, chiffonaded
4 ounces cream cheese, softened
½ cup Sargento® Artisan Blends® Shredded Parmesan Cheese, divided use
12 slices baguette, 1/2-inch thick
Directions:
Preheat oven to 350°F.
Cut the top 1/3 off of the garlic head, exposing cloves. Place on foil; drizzle 1 teaspoon olive oil over the head of garlic and sprinkle with a dash of salt and pepper. Wrap with foil. Bake in preheated oven 1 hour or until tender. Let cool.
Meanwhile, combine tomato, basil, 2 teaspoons olive oil, salt and pepper to taste in medium bowl; set aside.
Squeeze garlic out of skins. Mix garlic, cream cheese and 1/4 cup Parmesan cheese in a small bowl; set aside
Arrange bread slices on baking sheet; spread garlic cream cheese mixture over one side of each slice; sprinkle with 1/4 cup cheese. Bake in preheated 350°F oven 12 minutes or until golden brown. Top with tomato mixture and remaining cheese.
Follow Jamie on Instagram. We love to see what you're baking from MBA! Be sure to tag @jamiemba and use the hashtag #mbarecipes!
Disclosure
This is a sponsored post for Sargento, all opinions are my own.