Homemade Rolo Ice Cream? Yep, I went there! Trust me when I tell you that you need this recipe in your life. Today. Not tomorrow, TODAY.
I'm guessing by now, you've caught on to the fact that I'm obsessed with Rolos. I mean, come on, I've devoted an entire week to them. Well, technically a week and two days because I got a little side tracked by the gorgeous weather and decided cook a pretty serious Southern meal. By serious I mean fried chicken, mashed potatoes with country gravy, corn on the cob and some incredible biscuits that I'll be blogging next week.
I got inspired to make this Rolo Ice Cream after stopping at McDonald's for my daily dose of their unsweetened iced tea and happened to lay my eyes upon something that I am going to go ahead and deem as glorious – A Rolo McFlurry. I don't partake in much from McDonald's aside from their iced tea and the occasional Filet-O-Fish, but this Rolo McFlurry is pretty genius is my book.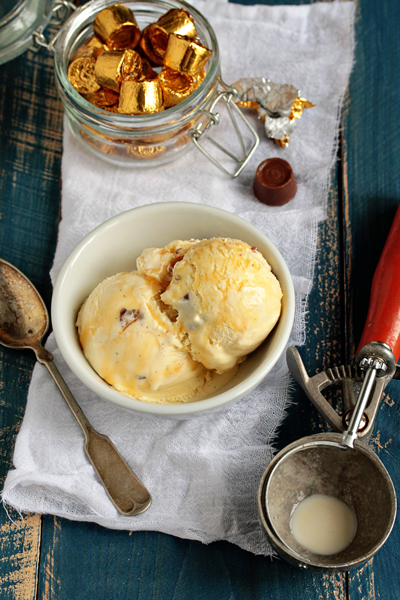 Vanilla soft serve with ribbons of caramel and little bits of Rolo deliciousness – how could this be a bad thing? I didn't succumb to the pressure of the strategically placed brightly colored ad in the drive-thru though, something I consider a small miracle. But I decided to duplicate this amazing concoction in my own kitchen using my favorite vanilla ice cream base.
This homemade vanilla ice cream recipe does use a custard base, so it's a little more involved than the Key Lime Pie Ice Cream recipe that I posted earlier in the month, but trust me it's worth the effort. Plus, it's adapted from Alton Brown and in my experience, you can't really go wrong with his recipes.
The vanilla ice cream recipe is pretty stunning on it's own, but when you drizzle in caramel syrup and chopped Rolos, you'll pretty much be in ice cream bliss.
Looking for more ice cream recipes?
Blueberry Pie Ice Cream from She Wears Many Hats
Salted Caramel Ice Cream from Food For My Family
Dried Apricot Pistachio Ice Cream from Brown Eyed Baker

Homemade Rolo Ice Cream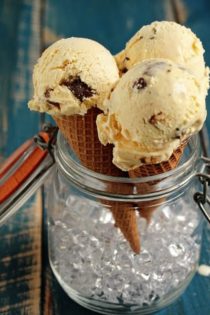 Ingredients:
3 cups half-and-half
1 cup heavy cream
1 vanilla bean, split in half and scraped
7 large egg yolks
1 ¼ cups granulated sugar
30 Rolos, unwrapped and chopped
1/3 cup caramel syrup
Directions:
1. In a medium saucepan, over medium heat, combine the half-and-half, heavy cream and vanilla bean with pulp. Bring the mixture just to a simmer, stirring occasionally, and remove from the heat. Set aside.
2. In the bowl of a stand mixer, fitted with the whisk attachment, or with a hand mixer in a large bowl, whisk the egg yolks until they lighten in color and thicken; about 3 minutes.
3. Gradually add the sugar and whisk to combine.
4. Remove vanilla bean pod from cream and discard. Temper the cream mixture into the eggs and sugar by gradually adding small amounts, until about a third of the cream mixture has been added. Pour in the remainder and return the entire mixture to the saucepan and place over low heat. Continue to cook, stirring frequently, until the mixture thickens slightly and coats the back of a spoon and reaches 170 to 175 degrees F.
5. Strain mixture into a container and allow to sit at room temperature for about 30 minutes. If you don't have a fine mesh sieve, no worries, just make sure there aren't any cooked egg bits in your base.
6. Place the mixture into the refrigerator and once it is cool enough not to form condensation on the lid, cover and store for 4 to 8 hours or until the temperature reaches 40 degrees F or below.
7. Pour into an ice cream maker and freeze according to the manufacturer's directions. This should take approximately 25 to 35 minutes. Once the ice cream is at the soft serve stage, fold in the Rolos.
8. Place half of the ice cream into a freezer-safe, sealable container. Drizzle the caramel syrup over the ice cream and layer the remaining ice cream over the syrup. Drag a knife or skewer through the ice cream to swirl in the caramel, smooth out the top and freeze for 3-5 hours or until ready to serve.
Notes:
- Rolos do freeze, so the pieces will be slightly hard and crunchy. Basically watch your pearly whites when noshing on this Rolo Ice Cream recipe straight out of the freezer.
- Recipe adapted from Alton Brown via Food Network
All images and text ©
Follow Jamie on Instagram. We love to see what you're baking from MBA! Be sure to tag @jamiemba and use the hashtag #mbarecipes!